When 18th-ranked Auburn takes on No. 1 Alabama in the Iron Bowl later this year, the Tigers will likely be the underdogs. But student teams at both Sullivan Foundation partner schools have a solid chance to win a competition to raise donations for a pair of regional food banks in the weeks leading up to the big game.
The Beat Auburn Beat Hunger (BABH) and Beat Bama Food Drive (BBFD) events started in 1994 to help the West Alabama Food Bank and the Food Bank of East Alabama respectively. Since then, students at the two rival universities have combined to raise more than 7 million pounds of donated food for Alabamians dealing with food insecurity.
In Alabama, nearly 800,000 people face food insecurity every day, and more than 225,000 of those are children, according to Feeding America, a U.S. hunger relief nonprofit. It's a staggering figure, and something far too many have faced.
Related: Elon Musk's brother wants to build "super farm" to combat food insecurity
Student teams at both Alabama and Auburn will work to raise awareness about food insecurity while collecting donations for their regional food banks during the annual food and fund drive.
This year's event started on Oct. 1 and runs through Nov. 18.
"Food insecurity is in every state and every city," Olivia Hannum, president of this year's BABH team, said. "One in six Alabamians and one in four children face this. That's what stood out to me. I really can't imagine taking what I've learned and not doing anything with it."
Last year, the Alabama team beat Auburn by raising 291,047 pounds of food, which fed people from November 2020 to June 2021. This year, the team has set a goal of 300,000 pounds for the food bank, which serves Tuscaloosa, Greene, Fayette, Hale, Lamar, Sumter, Pickens, Marion and Bibb counties.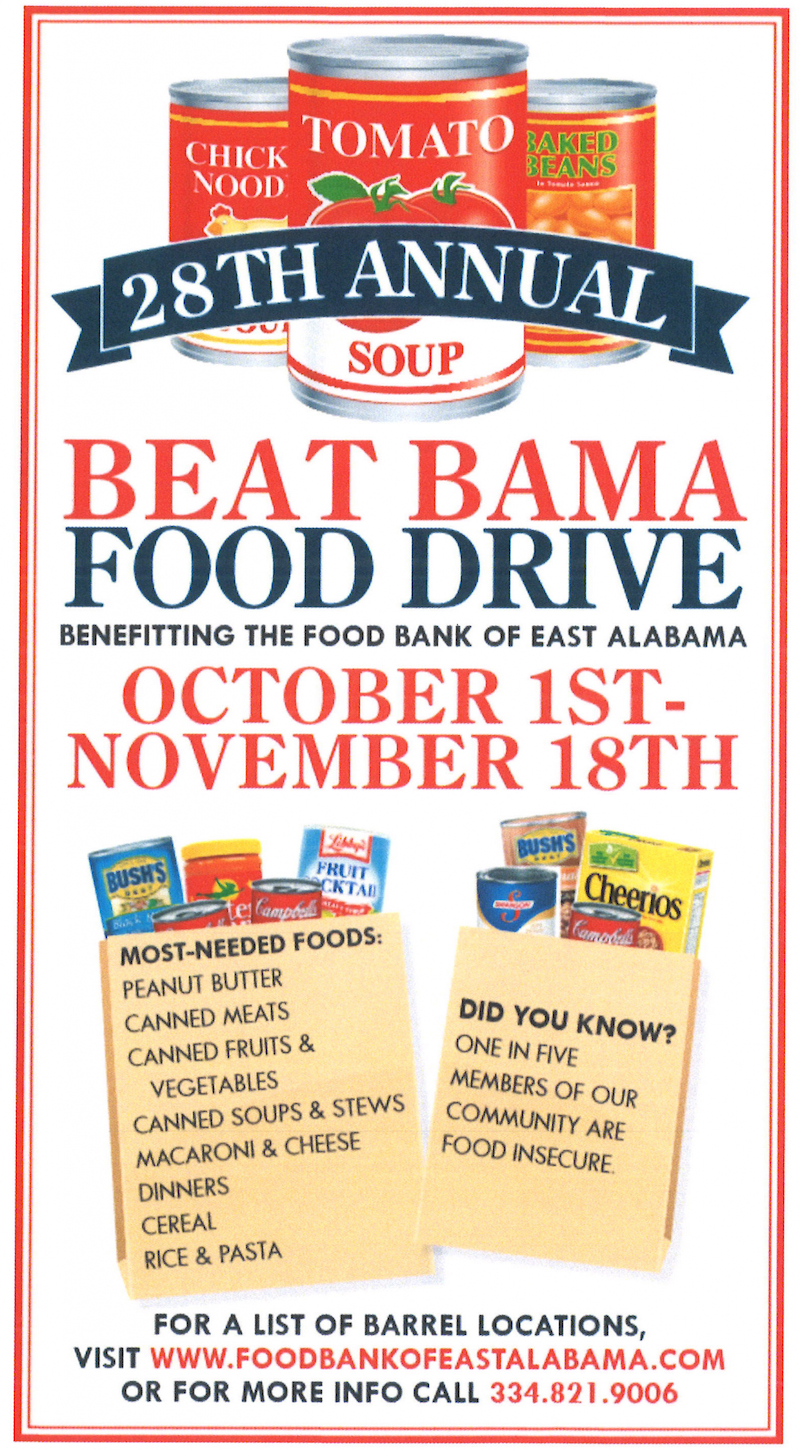 The BBFD team at Auburn didn't capture last year's trophy, but they still collected 259,160 pounds of food for the Food Bank of East Alabama.
Related: Student volunteers pack 30,000 meals at Elon University's Rise Against Hunger event
With more than 1,000 donation barrels stationed across campus and the city of Tuscaloosa, UA students, faculty, staff and community members can donate conveniently. The BABH team will collect the goods throughout the campaign, bringing them to the West Alabama Food Bank. Last year, due to the pandemic, the BABH team went virtual, accepting monetary donations in addition to canned goods. The team will offer the same options—along with invaluable learning experiences—this year.
"It was my freshman year, and what really struck me was when I learned about the children that are food-insecure in our state," Hannum said. "I learned about the secret Meals Program where people put meals in schoolchildren's bags to last them through the weekend. It's so hard to see these little kids who have no control over their situation [and] are worried about their meals for the next three days. That was a driving force for me."
"What began as a relatively small-scale event has become one of Alabama's largest food drives," said a representative for Auburn's BBFD team in an Eagle Eye Auburn video. "The University of Alabama has won this Auburn/Alabama food fight the last four years in a row, so this year Auburn students are looking to take back the victory."