Can solar-powered robotic technologies save the world's bee populations? An Israeli startup called Beewise has created a buzz, so to speak, with a robotic beehive that's designed to protect honeybees from outside threats—such as climate change and pesticides—while significantly increasing their pollination capacity and honey production.
Think of the Beehome—the box's official name—as a high-tech apartment complex for millions of bees. Resembling a rental storage unit, a single Beehome can house 24 bee colonies in a box spanning 8' by 6' and costs the beekeeper $400 per month, along with a delivery fee. It addresses some of the glaring deficiencies of the Langstroth box, an artificial hive that has been in widespread use for about 150 years.
According to Beewise's website, the company's mission is to "help beekeepers pollinate and produce honey by saving their bees, utilizing modern technology." But Beewise's technology can reap huge social dividends as well: Protecting these little master pollinators also protects the global food supply as climate change worsens across the planet.
"It is crazy," Saar Safra, Beewise's founder and CEO, told the Jerusalem Post last year. "Just think that five Israelis from a small Israeli kibbutz have the chutzpah to change the world."
The Beehome's robotic system, which relies on artificial intelligence (AI) and computer vision, responds to threats against the hive in real time without human intervention. The Beehome is thermally regulated and protects the colony from fires, flooding and the dreaded Asian wasp, also known as the murder hornet. It can even feed the honeybees when their local food supply has dried up.
The Beehome offers honeybees an optimized, climate- and humidity-controlled environment. When pests invade the colony, the system automatically detects their presence and uses a chemical-free treatment to get rid of them. If the colony becomes overcrowded and gets ready to swarm and leave the Beehome, the AI system recognizes the signs and adjusts conditions to keep the bees happy and comfortable so they'll stay put.
According to Beewise, "Beehome reduces bee mortality by 80 percent, resulting in increased yields of at least 50 percent while eliminating approximately 90 percent of manual labor when compared to traditional beehives."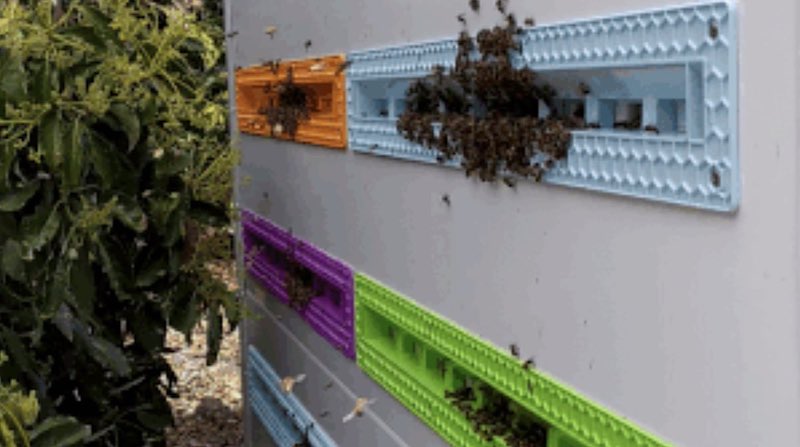 Thirty percent of the world's food supply—including fruits, vegetables, seeds and nuts—depends on the humble bee, yet the insect's worldwide population has declined rapidly in recent years due to threats ranging from pesticides and natural parasites to disease and, above all, climate change.
Beewise says it has saved more than 160 million bees in the past year and currently manages more than 7 billion bees worldwide. It recently received an $80 million boost in a funding round led by Insight Partners, a New York-based global venture capital and private equity firm.
"Our entire global food supply is being threatened by a devastating collapse of the world's honeybee population," Insight Partners Principal Daniel Aronovitz said in a recent statement. "Beewise impressed us as the only solution addressing every complex issue that is contributing to the collapse. Not only have we funded a company with a fantastic business model, it also addresses one of the biggest challenges our planet is facing. We at Insight couldn't be more excited."