The center's mission is to leverage university expertise and resources to meet community needs while helping students connect with meaningful, purpose-driven work and experiential learning opportunities.
"Our mission calls us to do more as a Catholic university to educate students for meaningful lives, rewarding careers, ethical leadership and service to improve the human condition," said Dr. Susan M. Donovan, Bellarmine's president. "Our Center for Community Engagement will build upon Bellarmine's longstanding commitment to serving 'for and with' those in greatest need in the community." 
The creation of the center was inspired by Bellarmine's strategic plan, which prioritizes strengthening connections to the area through collaboration and partnership. Work began last year when Bellarmine students initiated a virtual tutoring program with public-school students in the Beecher Terrace community of the Russell neighborhood. Students also mentored high school students in ways they could prepare for college.
Related: Bellarmine University offers STEM scholarships for low-income, high-achieving students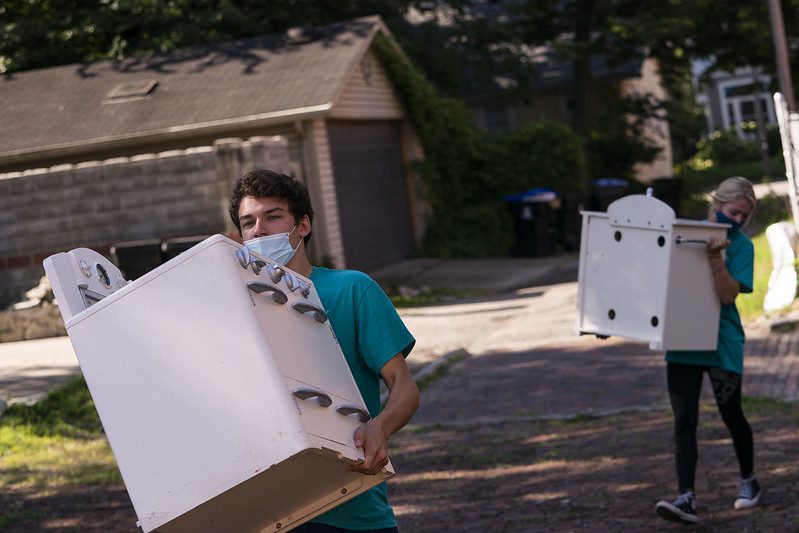 Since then, Bellarmine faculty and staff have formalized those programs while adding others to create a robust center serving a diverse array of community needs. The center currently offers the following signature programs:
Bellarmine Pathways, Knights Lighting a Path for College: Bellarmine students share knowledge gleaned from their college experiences with Kentucky middle and high school students. In small group sessions, they cover subjects such as wellness, financial literacy, identity development, time management, communication, study skills, involvement and major/career exploration.
Bellarmine Bonner Leaders Program: Bellarmine Bonners serve as part-time employees at nonprofit organizations, schools and government agencies that address community issues. Students are paid through the university's work-study program and receive training sessions, workshops and weekly seminars focused on social issues while cultivating career-readiness skills.
"We've intentionally worked with faculty and community partners to ensure these experiences are supported academically as well," said Dr. Liz Todd Byron, associate director of the CCE. "Curricular community engagement allows students to apply their learning to real-world situations, be active in critical social justice work and reflect on their calling and purpose in college and career."
Students can also register for three academic credit hours for a nonprofit internship or add one academic credit hour to an existing course for 30 hours of community engagement. Another option is the Serve and Learn semester, where students can take a structured gap semester to serve the community while staying on track to graduate. 
"We want to remove any financial barriers that keep students from reaching our community. Community engagement at its core is about creating a sustainable, mutually beneficial relationship that is inclusive, authentic and uplifting," Byron said.
For students like Hannah Nett, taking part in the Beecher Terrace tutoring project wasn't just good for the heart and soul; it helped her to hone her skills in non-traditional instruction (NTI) and empowered her for her future career as a teacher. She said the experience "made me more confident that I could virtually work with students on reading. I also did a lot of reading work with students during NTI, so this exposed me to books and lessons I could use with my student."
Nett and her Beecher Terrace Project cohort made it a priority to explore cultural humility and learn the history of the housing development and its residents before they even started. "I think the hardest part of the experience is just balancing student needs with making reading fun, [but] the best part is seeing [my student] excited about reading and the growth he has made, not just academically, but in his confidence in himself."