When Briyana (Bri) Mondesir, then a sophomore at Sullivan Foundation partner school Washington and Lee University, began a remote internship with Amartya, an environmental NGO in Buenos Aires, Argentina, she noticed the organization's name sounded awfully familiar. It turned out to be named after Amartya Sen, an economist she'd just learned about in her Introduction to Poverty Studies class—and the coincidence struck her as meaningful.
"When I saw those connections, I was, like, 'Whoa!'" recalled Mondesir, an environmental studies major with a minor in poverty and human capability studies. "Here is this environmental NGO with the name of this economist I learned first in POV 101, and a lot of the work they're doing is looking at how issues of the environment have a huge impact on low-income communities within Argentina. It was a great moment when I saw how these issues are so intersectional, they're not just in their unique bubbles."
Related: Sullivan Award recipient is hero on and off the football field at Davidson College
Another great moment for Mondesir: She is Washington and Lee's 2022 Algernon Sydney Sullivan Award recipient.
According to an April 2022 article about Mondesir on the university's website, she has a deep interest in the social determinants of health and hopes to weave those threads together into a career in public health.
A Bonner Scholar from New Haven, Conn., Mondesir completed more than 1,800 hours of community service and leadership training while at Washington and Lee. She volunteered at W&L's Campus Kitchen and became president of the Campus Kitchen leadership team. Mondesir also served as a Campus Kitchen intern, collaborating with community partner agencies, working in the Campus Garden, preparing and delivering meals, and planning for the next academic year.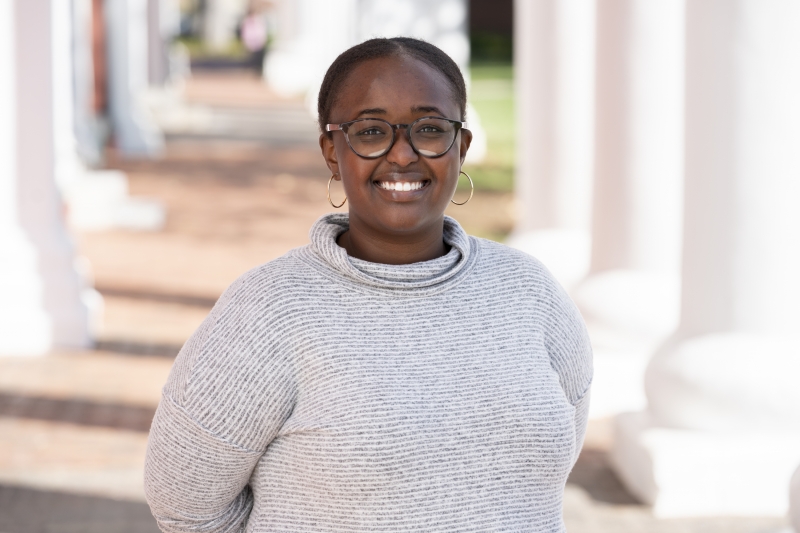 Mondesir has served in leadership roles for many other organizations as well, including Students for Educational Justice, based in New Haven; Live Healthy Rockbridge Coalition; Community First; and the Student Judicial Council. She is an active member of the Student Association for Black Unity, Amnesty International, Tri Beta Biological Honor Society, and the Native American Student Organization.
As part of a W&L project, Mondesir assisted Carilion Clinic with its tri-annual community health assessment for Rockbridge County, which included conducting focus groups to identify barriers to good health. This project, as well as her academic studies, volunteer work and internship experiences, have cemented her interest in public health.
Related: Hannah Roebuck, Sullivan Award recipient at Clemson University, builds "more just and welcoming places"
Being a Bonner Scholar changed the way Mondesir thought about service, she said. "There is such an intentionality that goes behind service in order to ensure that it is respectful and that we're doing good but also not doing harm," she said.
Following graduation, Mondesir will move to Durham, N.C., where she will work for Spark Point Fundraising as a full-time grant writer. Her postgraduate plans also include returning to school to pursue a master's degree and a Ph.D. in public health.
In a congratulatory letter to Mondesir, Sidney S. Evans, W&L's vice president for student affairs and dean of students, noted that her contributions to the university community are "unparalleled." She added, "You are admired and respected by your peers and faculty and staff alike for your leadership, your generosity and kindness, your pleasant, friendly demeanor, and your willingness to go the extra mile … You are truly an excellent recipient of the Algernon Sydney Sullivan Award."