A team of students from the School of Engineering at Sullivan Foundation partner school Campbell University won two national awards in a NASA competition focused on designing new technologies for manned space missions to the moon, Mars and other planets.
In NASA's 27th annual Human Exploration Rover Challenge (HERC), the Campbell team took home the Ingenuity Award and the Project Review Award in the college/university division, besting schools from all over the world in those categories. It was only the third time Campbell's students have competed in the event.
NASA HERC encourages student teams from the United States and around the world to push the limits of innovation and imagine what it will take to explore other worlds in the universe. Competing teams were challenged to design, build and test a human-powered rover on a course that simulated the terrain found on rocky bodies in the solar system. While negotiating the course, the teams also had to perform mission tasks, including sample retrievals and spectrographic analysis.
Related: Past Algernon Sydney Sullivan Award recipient helps prepare girls of color for careers in science
"The two awards we won—innovation and documentation—were the culmination of many hours of hard work and dedication," said CU senior mechanical engineering major Ethan Barry. "Our rover is innovative in the sense of material, included features and sleek design. It consists mostly of carbon fiber and aluminum, both of which were selected for their favorable strength-to-weight ratio. We included features like four-wheel drive, continuously variable transmissions and a rack-and-pinion steering system."
"For documentation, we simply recorded the entire process in a reasonable manner, compiled this information into cohesive reports for NASA, and presented our report virtually to a panel of judges," Barry said. "Campbell prepared us well to draft technical documents and present as a team."
Engineering Dean Dr. Jenna Carpenter said she was proud of Campbell's HERC team, which she said spent "many, many hours" outside the classroom not only building their rover, but writing reports, making presentations and engaging in outreach activities with K-12 students.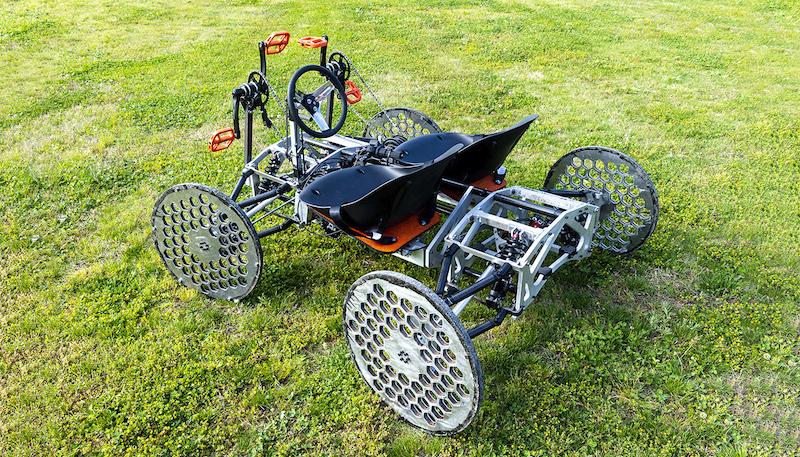 "We are particularly pleased that they were recognized for their outstanding written and oral communication skills and for ingenuity in solving difficult problems in innovative ways," Carpenter said. "We emphasize both of these skills throughout our innovative curriculum. And, of course, this team would not exist without their outstanding faculty mentor, Dr. Lee Rynearson."
Rynearson said he knew they had a strong team heading into this year's event, having worked to iterate and improve on designs and documentation. But he also knew the competition—which consisted of 43 U.S. and international colleges and universities—would be stiff.
Related: Ole Miss journalism students investigate climate change in Mississippi
"We thought we might be in the running if we took what we have learned in previous years and brought our full effort to bear," he said. "Winning two of the nine awards categories shows that student engineers from our program can compete and win against some of the best young engineers from around the world. I am very proud of the work of our team and the recognition that they have earned."
Christian Ruesch, the lead engineer on the team and a mechanical engineering senior, said he was "unbelievably proud" of the team. "The legacy of myself and the other graduating seniors on the team will live on through the mentorship and training we imparted on the younger classes of engineers," he said. "Their potential for greatness is incalculable, and I look forward to seeing how they use it to move the team into new levels of excellence."
This article has been edited from the original version appearing on the Campbell University website.