Dogs, cats, turtles, ferrets. Even a flying squirrel. Students at Campbell University, a Sullivan Foundation partner school, have tried to sneak many a pet into their residence halls over the years, but they rarely ever get away with it.
Those students won't have to hide their favorite animals anymore with the addition of Pet Hall, located near Barker-Lane Stadium. It's especially good news for those students who rely on service pets and emotional-support pets—not to mention folks who just plain feel lost without Fido or Fluffy.
Formerly Stadium Apartments, the recently refurbished Pet Hall can house up to 32 upperclassmen residents. Each apartment is equipped with two private bedrooms (each with a twin bed and mattress), two full bathrooms, a smaller bonus room, a washer and dryer, shared living room and a shared fully equipped kitchen.
Dogs, cats and small caged animals—and, yes, even flying squirrels—will be allowed in the pet-friendly block of apartments, according to Kellie Nothstine, associate vice president of campus life and Title IX coordinator at Campbell University.
"One of the reasons upperclassmen choose to live off campus after their first few years at Campbell is because they want to own a pet," Nothstine said. "We've had to ask students in the past not to bring their pets inside of our residence halls. And so the idea here is, we have a place where we allow it, we can regulate it, and you build a community of students who have 'pets' in common."
Related: This Elon University alumnus runs a "pawsitively purposeful" social venture in Vietnam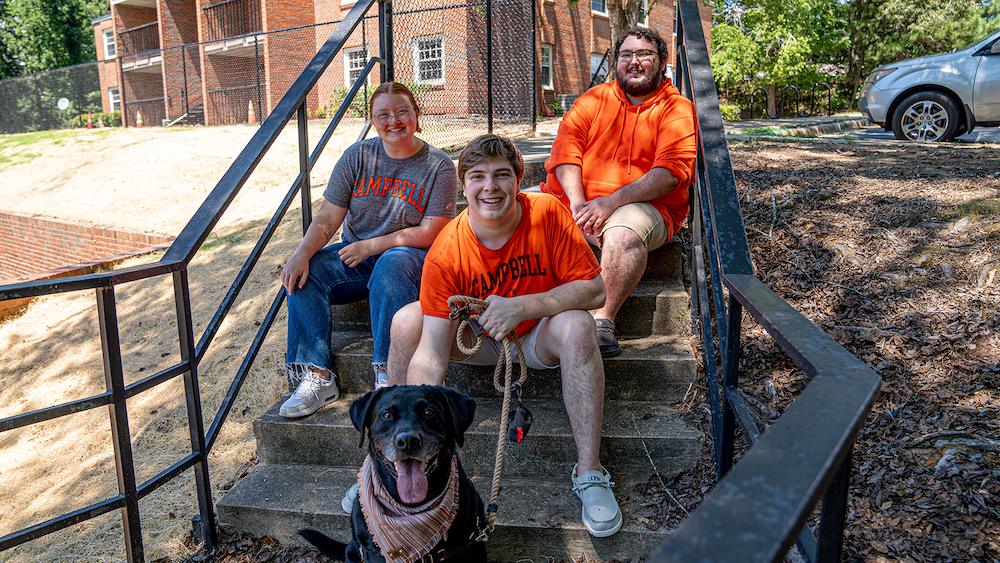 There are restrictions: Pit bulls, rottweilers and dobermans are prohibited, and no dogs over 50 pounds will be accepted. And rules will remain on campus as far as leashing animals, picking up after them and not bringing them into buildings—except for those needed as service animals.
But Nothstine hopes Pet Hall is a step in the right direction toward enticing students to remain on campus and enjoy the benefits of being part of the Campbell residential community.
"There's already green areas around these buildings, but we'd love to be able to add a dog park and some benches to the area once this gets going," Nothstine added. "There are a few other schools in the state that have opened pet-friendly halls, so this is something that's picking up steam on other campuses, especially with the surge in emotional support animals. There are a lot of hoops students have to go through to get those approved, and having [Pet Hall] as an option for them might make that process easier."
By federal law, all college campuses are required to accommodate students who have emotional support and service pets. But students have to provide paperwork to prove they need the animals. Pet-friendly residence halls open to any student are far less common, but at least two other partner schools in the Sullivan Foundation network are pet-friendly, including Lees-McRae College, located in Banner Elk, N.C., and Stetson University in central Florida.
This article has been edited from the original version appearing on the Campbell University website.