Born with Down syndrome and a congenital heart defect, Charlotte Woodward underwent four surgeries as a child and received a heart transplant in 2012 that saved her life. Now a sociology major at George Mason University, a Sullivan Foundation partner school, she is working to make sure healthcare providers can't discriminate against people with disabilities who need organ transplants. And she has picked up some powerful allies in her crusade.
In December 2021, U.S. Senators Maggie Hassan (D-NH) and Marco Rubio (R-FL) introduced legislation named in Woodward's honor: the Charlotte Woodward Organ Transplant Discrimination Prevention Act (S.3301). A similar bill was introduced in the House of Representatives about a year earlier by Rep. Jaime Hererra Beutler (R-WA) and Rep. Katie Porter (D-CA).
Related: Down syndrome is no barrier to entrepreneurship for this Clemson LIFE graduate
Woodward was born with a heart defect that includes a hole in the wall between the heart's chambers and flaws in its valves. About half of all babies with Down syndrome are born with the condition. When it was determined Woodward needed a heart transplant, she was placed on the national organ transplant list and received her new heart in an operation just 11 days later.
But as Forbes.com reported in a January 2021 story about Woodward, her case was an unusual success story. Many people with Down syndrome either get turned away for heart transplants or aren't prioritized to receive new hearts—simply because of their disability.
"Many people with Down syndrome in society aren't considered to be candidates for an organ transplant, and that begs the question: Whose lives are valuable?" Woodward told Forbes.
According to a 2008 survey of 88 transplant centers conducted by Stanford University researchers, 85% of pediatric transplant centers factored in intellectual or developmental disability "at least some of the time" when determining an applicant's eligibility. Seventy-one percent of surveyed heart transplant programs "always" or "usually" considered intellectual or developmental disabilities when determining eligibility for a transplant.
A National Council on Disability study, conducted in 2019, found that disability discrimination by organ transplant centers usually takes the form of refusal to evaluate a person with a disability as a transplant candidate or refusal to place the person on the national organ transplant waiting list.
Related: Fast-growing restaurant chain commits to hiring more people with differing abilities
"It's statistics like that that make people sit back and evaluate why legislation like this is necessary," Ashley Helsing, the director of government relations at the National Down Syndrome Society (NDDS), told Forbes.
Woodward understands that better than most. She knows she was lucky and has been fighting organ transplant discrimination for years, since receiving her own heart transplant 10 years ago. "I've been an advocate my entire life, and I'm always looking for the opportunity to help other people," she said.
More than 25 states currently prohibit organ transplantation discrimination. But discrepancies exist across state laws, and delays in delivering relief to patients have made enforcement difficult.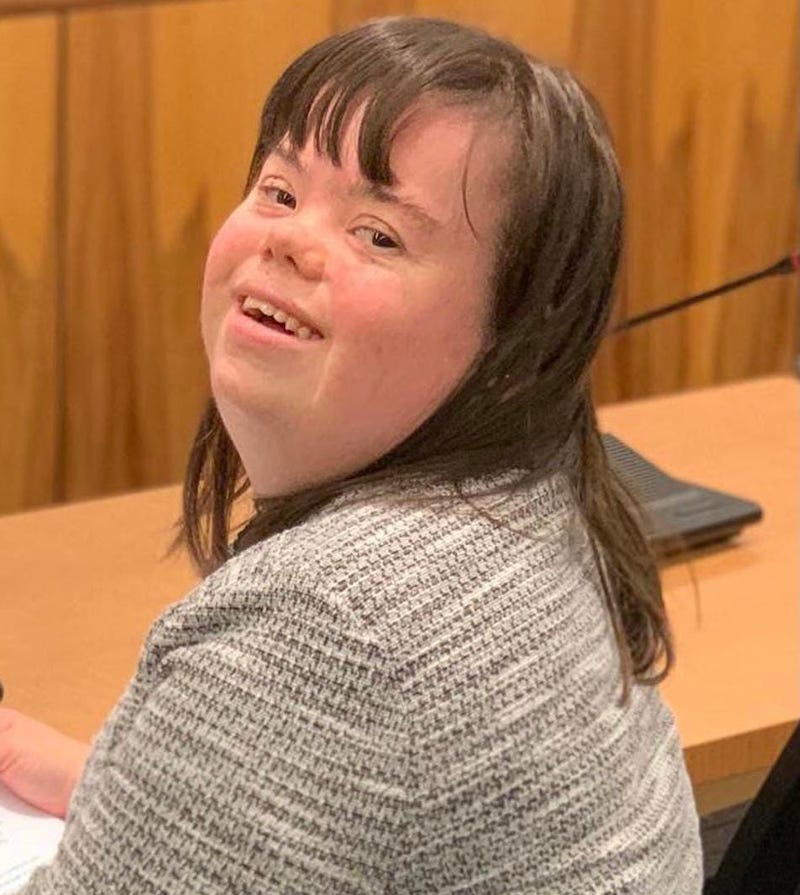 In February 2020, Woodward, a native of Fairfax, Va., testified before the Virginia General Assembly about the issue, and her testimony proved to be an important step in the passage of state legislation that prevents disability-based discrimination against people who need life-saving organ transplants. In fact, that Virginia bill passed unanimously.
Woodward now works for the NDSS, a human rights organization that supports and advocates for the Down syndrome community. As the community outreach associate, Woodward has met with legislators, taken part in numerous advocacy events, served as editor in chief for an upcoming NDSS magazine, and starred in several TikTok videos, one of which has had 4.4 million views.
In her fight for equal rights for the disabled community, Woodward is also working on issues ranging from helping people with disabilities move into community employment settings to protection of federal benefits for people with intellectual or developmental disabilities who want to marry.
"I want society to be aware of the lived experiences of people with disabilities," Woodward said, "as well as the abilities that they bring to the world, even though they were born into a world that wasn't made for them."