Creating positive change in your community can seem like a daunting prospect, but a new book authored by Spud Marshall, the Sullivan Foundation's director of student engagement and leader of the twice-yearly Ignite Retreats, will make it easier for changemakers to get started—and to stay motivated.
Marshall was inspired to write "Designing Creative Communities" by his experiences as an award-winning community builder over the past decade. The book relates many of his adventures in changemaking and leadership development, and focuses on the CANVAS Framework, a process for designing your own creative community.
The book is available for purchase now at Amazon. Click here to buy it.
Additionally, the companion Field Guide will help you take the concepts from the book and apply them to your own community. Click here to buy the Field Guide.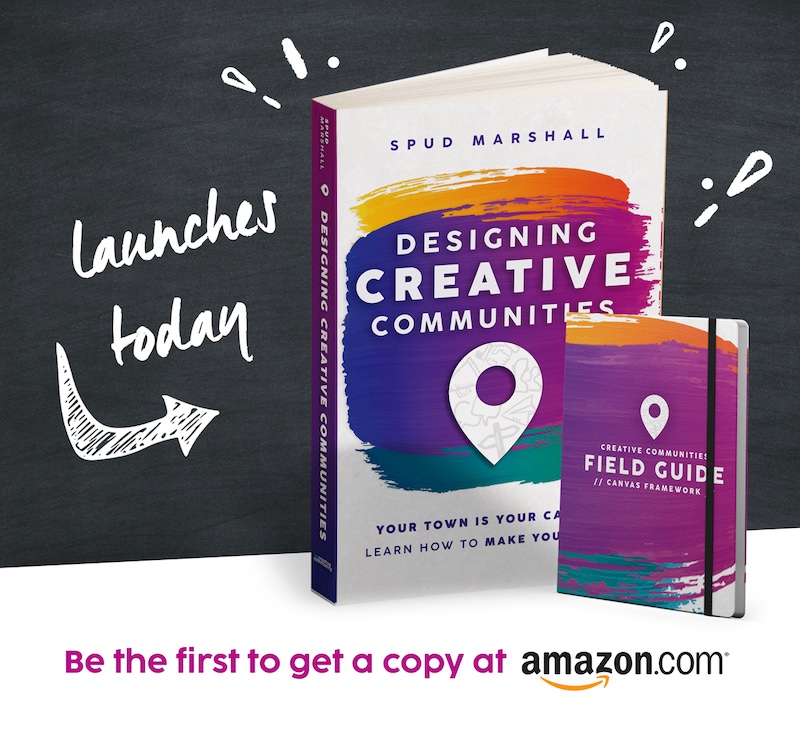 "After working with over 1,000 students at Ignite Retreats and through Sullivan programs, I kept hearing from young, emerging leaders that they were hungry to create change in their community, but weren't sure how to get started," Marshall said. "This book was inspired by many of the conversations that took place at Sullivan events – and even features the stories of some past Sullivan facilitators and participants!"
"Designing Creative Communities" introduces the reader to the CANVAS Framework, where you'll learn how to:
Chart your path (and avoid getting an RV stuck in the mud)
Ask probing questions (by jumping into an inflatable ball pit on the street)
Name early adopters (and create a secret society)
Visualize a prototype (while ensuring that bees don't escape into your home)
Articulate your story (using a giant blue chameleon car)
Sustain efforts with partners (without harming a single piano)
The book has already garnered enthusiastic reviews from change leaders across the country. Erin Krampetz Boyd, cofounder of Ashoka U, described it as "a brilliant take on how to design your own creative community. This is a must-read for any emerging leader."
Michael Fortunato, founding partner of Creative Insight Community Development, said "Designing Creative Communities" is "an essential read for anyone in community and economic development professions, or anyone that just wants to make a positive contribution to their community."
"Spud weaves captivating and highly entertaining stories about success, failure and overcoming adversity from his own creative practice in dozens of communities, providing powerful tools for creative transformation with humor, humility and honest self-reflection," Fortunato added. "This book is hugely relatable and difficult to put down; it is one influential guide that I will be recommending widely to colleagues and communities alike."
Marshall is a serial social entrepreneur, creative community builder and lover of fog machines. In addition to leading the Sullivan Foundation's Ignite Retreats and virtual Ignite Masterclasses for college student changemakers, he is the founder of My Creative Community, which supports groups in designing engaging experiences for their communities. He serves as a facilitator, coach and consultant alongside organizations ranging from the Sullivan Foundation, Nasdaq Entrepreneurial Center, and the Pennsylvania Council on the Arts to Teach for America, the American Planning Association, and Johnson & Johnson.
In addition to his community consultation work, he founded 3 Dots Downtown, a community arts and innovation event center, where he served as the Innovation Director. He is also the founder and chief catalyst for the co.space, a 20-person intentional community for young changemakers, which has been listed as one of the top disruptive innovations to emerge in higher education. Prior to those efforts, Spud founded New Leaf Initiative, which currently serves as a dedicated co-working space and innovation incubator.
Marshall has been honored as a Knight Foundation Emerging Cities Champion, listed as one of the top millennial civic leaders in the country, and been featured as one of the Foremost Under 40 Business Leaders in central Pennsylvania. He lives in State College, Pennsylvania, with his wife, loyal dog, and curious cat. To view his most recent projects and to explore ways to partner with Marshall, visit www.mycreative.community or email him at spud@mycreative.community.