Stephanie Terry once saw herself as a failure – divorced, homeless, separated by trying circumstances from her extended family.

But whatever was missing from her life, she wasn't lacking in talent, faith and determination. Now, as owner of a catering company that provides living-wage jobs for people who ordinarily can't find employment at all, Terry is a successful social entrepreneur who helps others achieve the kind of success that, to her, once seemed so elusive.

Terry, co-owner of Sweeties Southern and Vegan Catering in Durham, N.C., grew up in a family that loved soul food but also knew its drawbacks. Her great-grandmother, nicknamed Sweetie, developed recipes that captured the flavorful essence of soul food without all the salt, pork and fat. "The women in my family were very conscious of the need for healthy food," Terry writes on her company's website. "I just could not let go of the vision of honoring our food traditions while integrating healthy, vegan and vegetarian alternatives. I started Sweeties to do just that, taking my mother, grandmother and great-grandmother's commitment and awareness to the next level."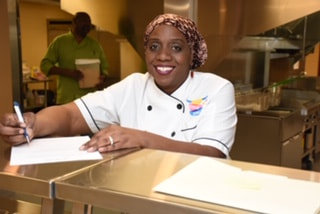 Still, success in the foodservice business didn't come easily. She had worked as a baker and chef in a number of foodservice operations in Tampa, including the famous Wrights Bakery. But in 2001, after her divorce from her first husband, Terry and her four kids found themselves in a poorly run homeless shelter in Tampa.
"I know what it feels like to feel like a failure, just being a failure," Terry said in a video interview with the Alla Faccia blog. (Note that her maiden name is Perry, but she has remarried since this video was created.) "My divorce felt like a failure … and I could not take care of my kids financially, and I became homeless. It was really hard."
Fortunately, cooking wasn't her only talent – she also had a knack for sales and impressive people skills. She was still living in the shelter when she landed a job as a sales coordinator for Marriott Hotels. She was so good at it that, after a bleak year of homelessness, she scraped up enough in savings to rent her own small place and eventually was able to bring her family back to her home state of North Carolina.

There, she became a volunteer for Justice United, which advocates for living wages for hotel workers, and was soon hired as a paid organizer. In 2009, she moved on to Organizing Against Racism (OAR), where she helped coordinate workshops for activists, students and scholars. As an activist herself, she even met with then-president George W. Bush and Florida Governor Jeb Bush to call attention to the often abysmal conditions in homeless shelters.

But things really took off when a caterer backed out of an OAR workshop at the last minute. Terry stepped in and did the job herself, and her food – not to mention her organizational skills – were such a hit that her services were soon in demand around the area.

Before long, Terry had launched Sweeties, serving up delicious soul-food dishes that include both meat and vegan options. As an L3C company, Sweeties makes a profit while also fulfilling a social mission, providing jobs for people with disabilities or criminal records. And it has earned extensive media coverage for its menu that includes everything from red beans and rice and mac and cheese to vegan fried chicken and vegan barbecue ribs.

"Everywhere I go, I tell people this: Vegan is the hottest trend in soul food," she told IndyWeekly in an interview about her company.

She also makes sure to tell people that no dream is impossible – even when you feel like an utter failure.

"If I was talking to a child right now … I've achieved my dream, my visions, my goals, [so] I always say the one thing you must discover is your power," Terry told Alla Faccia. "Along the way, with lots of help from wonderful people, I learned what power really is and how to be powerful. Believing in what you're thinking, putting faith into whatever it is you're dreaming about, and then acting from that place [of faith] will create whatever experience, anything you want."