If your pandemic summer's shaping up to be a bummer, a five-day online workshop series for college-student leaders and changemakers could turn it around—and it won't cost you a dime.
Akimbo's Emerging Leaders Program launched in June with 100 students looking to learn the real skills they need to thrive in the working world—and channel their own changemaking powers. It was such a success that Akimbo will offer it again from Monday, August 3, through Friday, August 7, 2020.
Interested students must apply for the program before midnight, Monday, July 6. Click here to learn more and fill out an application.
The program is free, but spots are limited. Finalists will be contacted via email by Thursday, July 9, and a mandatory group call of all finalists will be held at 10 a.m. (ET) on either Monday, July 13, or Tuesday, July 14. Students will receive notice of acceptance on Wednesday, July 15.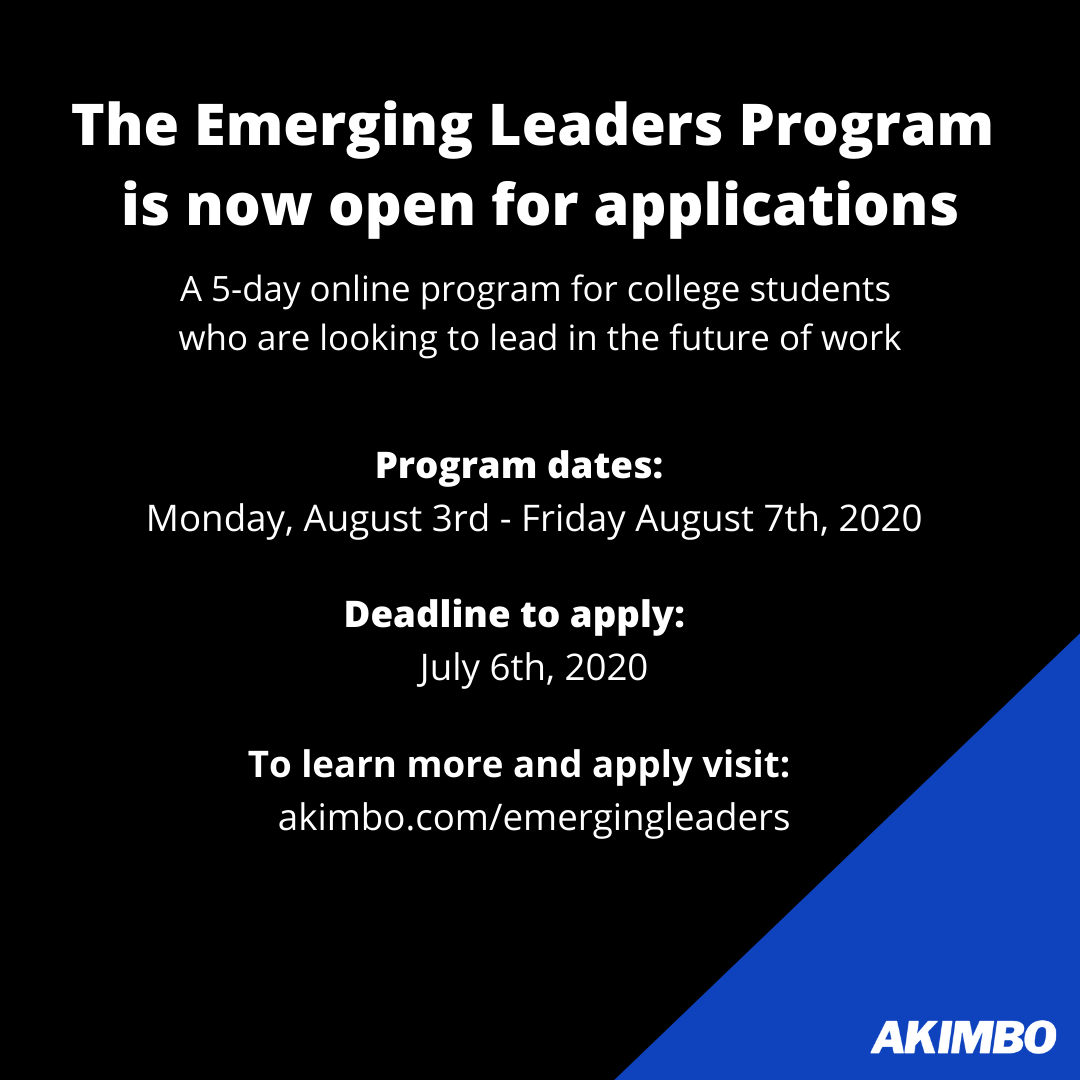 The project-based program is designed for fulltime undergraduate college students from the sophomore level up to 2020 graduates. It's run by two Akimbo coaches with a passion for helping students embrace the unknown and discover their own ability to make change. "It's really all about leaning into the possibility ahead," said Taylor Harrington, who manages the program. "There's no rubric for the projects."
"This program could be the thing that helps Sullivan students realize, 'This is what it takes to help me get where I want to go. This is the path I should take. This is the first step. And I don't have to do it alone,'" Harrington said. "When we ran this program in June 2020, students found their tribe. I had one student reach out and share how reassuring it felt that there were people out there, other college students, who also question the status quo, who want to push the boundaries of what's possible, who were searching for a community of like-minded peers to support them."
Founded by entrepreneur, author and blogger Seth Godin, Akimbo offers a range of online workshops that include the four-week altMBA program focused on leadership and management. According to the company's website, Akimbo's workshops are "about bending the culture, about speaking up and being heard. We believe that each of us has more power than ever before to see the world as it is, to contribute and to make things better."
The Emerging Leaders group will meet online through Zoom starting at 10 a.m. (ET) each day. The program includes a few hours of group conversation led by the coaches, followed by intensive work on daily team projects—the exact nature of which can't be revealed in advance, Harrington said. "I can say they're open enough that everyone will be able to relate to them and interpret them differently," she said. "The assignments won't be silly group projects about something students aren't interested in. Students will be asked to talk about themselves within the projects and the change they want to make in the world."
Recalling the June program, Harrington said, "Students spent a lot of time together. The projects helped them dig deep, to leave with more questions than they had at the beginning of the week. There aren't any case studies. This is about the students, their work and where they want to go … They find the answers within themselves and each other."
One participant, Kimia Tabatabaei, said the June program taught her "what it means to be a lynchpin, the type of leader whose magic and authenticity and commitment to a purpose bring value to every place they enter. And I've learned that being that leader doesn't require any permission. All you need is to choose yourself, to trust yourself and to believe that you have the power to step up and start making that change."
Natalie M. Esparza, another participant, agreed. "No matter how old you are, no matter where you are in the world, you can take ownership of making change happen. You can ask for help from anyone in the world who's just as passionate as you, and you can make things that didn't exist a week ago that are powerful and life-changing."
Since many Sullivan-affiliated students have already built their own network of like-minded changemakers through the Ignite Retreats, field trips and study-abroad adventures, Akimbo's Emerging Leaders Program offers a chance to cast their net even further. "Last time we had students from all over the world join us, including students from Australia who switched their sleep schedule to dedicate time to this," Harrington said. "Experiencing 'aha!' moments with students from around the world whom you've never met in person is something magical."