Changing the world is never easy. In fact, as challenges go, it's downright intimidating, especially for individuals. And when you're still in college, it might seem downright impossible. But that's how meaningful change usually starts—with young, passionate people who genuinely care about their communities, their country, and the planet.
In other words, one person really can change the world. And one person with a network of like-minded peers, coaches and mentors can get it done better and faster. This year's Ignite Retreat, hosted Oct. 8-10 by the Sullivan Foundation in Asheville, N.C., makes leading social change a little easier—and a lot more fun. This event offers college students a chance to meet with and learn from experienced change leaders and coaches who have started nonprofits, built social ventures and dedicated their careers to creating better communities.
Advance registration for the event is required, and the deadline to sign up is Sept. 9. It's coming up fast, so click here to register today!
Three Tracks
So how does the retreat work? For starters, you get to choose your own changemaking adventure through three tracks:
Personal: This track is designed for those who are still trying to uncover their calling in life. If you want to better understand your skills and your passions, build up your self-confidence and learn about the mindset of the social entrepreneur, the Personal Track is for you!
Problems: So let's say you already know what you want to accomplish—there's a specific problem or set of problems that you want to address—but don't know how to get cracking on it. The Problems Track is where you'll learn how to become more involved, organized and proactive and start making a difference. You will leave with concrete and practical skills to put your ideas into action.
Project: This is the deep dive. In this track, you'll be coached along as you develop one concrete solution, campus initiative, project or venture that you want to bring to life! You will leave the retreat excited, motivated and ready to make a difference back home!
It's work, yes, but it's meaningful work, not like the stuffy classroom book-learning that can make your college experience a little, well, tedious. And you'll be connecting one-to-one with potential mentors and fellow students who can help make your dreams a reality—or, at least, give you the ongoing encouragement you need to keep marching forward.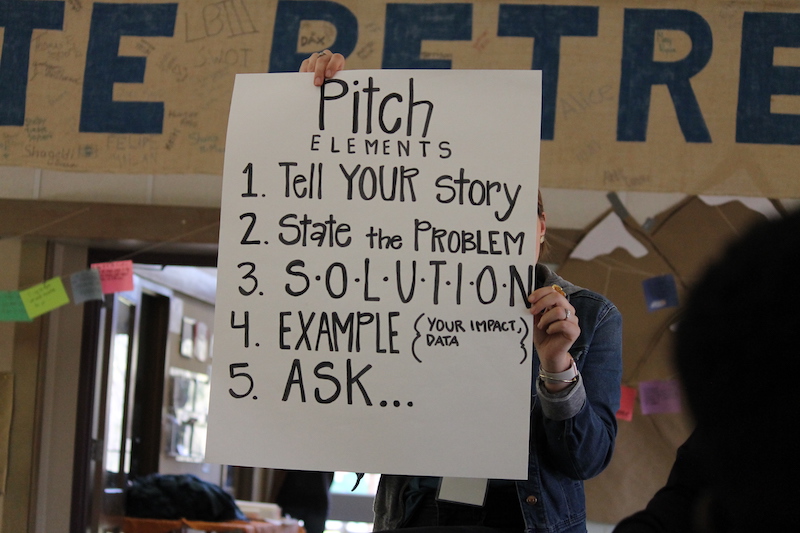 The Ignite Retreat Agenda
In three days, you will receive mentorship from coaches and entrepreneurs, attend workshops and take part in fun, thought-provoking exercises, and rub shoulders with like-minded students from more than 30 universities who will become your friends, cheerleaders and co-conspirators. Here's how it will all play out:
Day 1, Friday, Oct. 8
6-7 p.m.: Dinner
7-9 p.m.: Kick-off Workshop and Welcome
Framing & Introductions
Agenda Overview
A Quick Dive into Social Entrepreneurship
Intention Setting for the Weekend
Day 2, Saturday, Oct. 9
8-9 a.m.: Breakfast
9-10:30 a.m. Morning warm-up
Connection
"What is changemaking?" discussion
Introduction of track sessions (Personal, Problems and Project)
10:45 a.m.-12:15 a.m.: Workshop 1
Personal: Head, Heart, Hustle
Problems: Unlocking Creativity
Project: Charting Your First Steps
12:30-2 pm.: Lunch
2-4 p.m.: Workshop 2
Personal: Farewell Fear
Problems: Grow Your Team
Project: Pitch and Find the Money!
4:45-6 p.m.: Full Group Tiny Reach
6-7 p.m.: Dinner
7-8 p.m.: Changemaker Storytime
8-9 p.m.: Try on a Hustle 
Day 3, Sunday, Oct. 10
8-9 a.m.: Breakfast
9-10:15 a.m.: Prototype Pitch Competition
10:15-11:15 a.m.: Closing debrief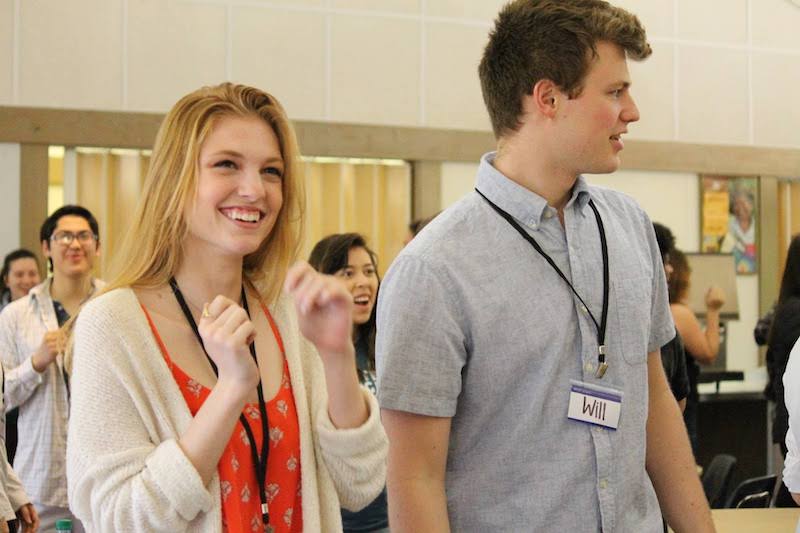 College students from across the country have described their Ignite Retreat as life-changing. "An activity that particularly stood out to me was about empathic listening," said Angy Aguilar, a computer science and entrepreneurship double major from Elon University who attended the Fall 2019 Ignite Retreat. "Students formed groups, and one person in the group shared a problem in their life that they had. We were encouraged to ask 'what' and 'how' questions rather than 'why' questions to really understand the problem. I found this activity very valuable as most of the time we listen to respond rather than listen to understand and empathize."
"After this weekend, I know I have a community of people who understand my motivation," said Imani Vincent, an Elon University health major who joined Aguilar at the retreat. "What amazed me about the Ignite Retreat was being able to be in a space with so many people with different perspectives who all want in some way to make social change."
"My first Ignite Retreat had such a huge impact on me that I wanted to become more involved with the organization," said Amber Merklinger, a past Ignite Retreat attendee and alumnus of Campbell University. "It will ignite in you the desire to go beyond the superficial and dig deep into the heart of the community in order to help those around you."
And Amaya Lyles, a Columbia College graduate, said her Ignite Retreat experience "truly sparked a change in me and ignited a fire that I didn't know I had. I entered with no clue what I was going to get out of it other than some peace of mind and fresh air. I left feeling transcendent and with a new business idea."
Want to feel transcendent? The Ignite Retreat will make it happen. Sign up today!
NOTE: Due to the COVID-19 pandemic, all participants in this year's Ignite Retreat will be required to provide proof of vaccination prior to their arrival. Except for meals, you must wear a mask for all indoor activities, but workshops will be held outdoors whenever possible if the weather permits. Finally, if you develop COVID-19 symptoms in the days leading up to the retreat, you should not attend the event. However, your ticket can be redeemed at no cost for the Spring 2022 Ignite Retreat.