Take your Learning on the Road
Field Trips are a chance for students from across the Sullivan network to meet-up in a city and learn more from local social entrepreneurs and changemakers.
From March 2-4, 2018, we are heading to Chattanooga to learn from some of the incredible organizations and social enterprises that are based in the city. Chattanooga has an incredible history of investing in and supporting social entrepreneurs. Over the course of the weekend, we will be able to visit and speak with a significant number of founders and organizations to learn more about their work.
We'll start our day off by visiting Glass House Collective (GHC) which was founded in 2012 to "bring life back to Glass Street and Glass Street back to life" through artist-led and community involved projects.  GHC's work recognizes and celebrates the distinctiveness of Glass Street's people, place and culture with the goal to inspire, support and ignite the spark that will bring about positive community change.
We'll then hop over to see "Studio Everything" – a creative resource, training, and empowerment studio located in East Chattanooga on Glass Street. The space provides a safe environment for youth to try new things and make better life choices. Rondell, the artist who runs the studio, works specifically with youth participants to develop their professional and personal skills and promotes peer to peer education.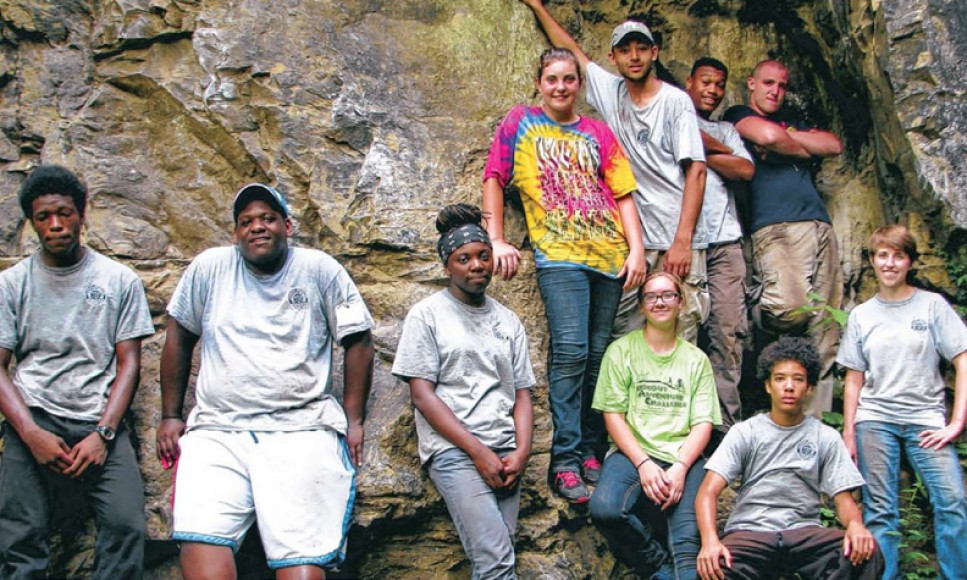 Next it's time for a hike up to Lookout Mountain Conservancy which works in partnership with local schools to create what is rapidly becoming a nationally recognized program using Lookout Mountain as a classroom, to teach critical leadership, academic, social and conservation skills.
For lunch, we'll head downtown to the Edney Innovation Center, which is the front door to Chattanooga's Innovation District. It's a connection point, support base, and catalyst for the local entrepreneurial ecosystem. The Edney is where startups come to accelerate, grow and thrive. Over lunch, you'll have a chance to hear from local social entrepreneurs tackling issues ranging from education to poverty alleviation.
Bingo's Market & Mobile Market
After lunch, we'll go and check out a group tackling food deserts in the heart of Chattanooga. Bingo's Market is a charitable effort meant to bring reasonably priced grocery staples, such as fresh and frozen vegetables, bacon, bologna, milk, eggs and bread, to the roughly 200 residents of Patten Towers, all of whom are either low income or have a mental or physical disability.
We'll then head over to meet the team at the Tomorrow Building, who are creating a unique co-living space for trailblazers in Chattanooga. We'll get a chance to tour their space and learn how focusing on creative living environments can help transform a town.
Throughout the day, we'll also get to connect with the team at CO.LAB who are a nonprofit startup accelerator that supports entrepreneurial growth in southeast Tennessee. They work with companies ranging from street-corner mom and pop shops to tech startups scaling into major markets. No one has a better pulse on the Chattanooga entrepreneurial ecosystem than this org!
For a pit stop, we'll stop by Mad Priest. They are a social venture dedicated to high quality coffee and working with individuals who have been displaced. They employ refugees resettled in and around Chattanooga and are see their role as educating others about injustices and humanitarian crises around the world.
The Main Street Story – co.starters
As the day winds down, we'll meet up with local entrepreneurs who helped catalyze the redevelopment of Main Street and spur both artistic and entrepreneurial startups through creative placemaking efforts.
Treetop Hideaways Dinner Party
To finish out the day, we'll be inviting folks we visited with throughout the day to come and celebrate at a special treehouse dinner party, hosted by Treetop Hideaways. This will be your chance to reconnect with your favorite entrepreneurs throughout the day. Kick back around the fire after a full day of incredible visits!
Dates:
March 2-4, 2018
Registration closes February 14. However, the hotel room block officially closes February 2, so you may want to book sooner.
Schools can arrive any time Friday evening, allowing students to leave once classes are over.
We will leave the hotel on Saturday promptly at 8:30am to visit our first stop. Activities and site visits will last the entire day and end after dinner.
Schools can choose to leave as soon as they'd like on Sunday – there are no planned programs.
Cost:
$125/participant
Ticket price includes meals on Saturday lunch and dinner. Breakfast will be provided at the hotel.
Schools must pay for travel and accommodation on their own (see details on the hotel block below).
Schedule:
Saturday, March 3
7:30 am               Breakfast at hotel
9:00 am               Visit Glass Street
10:30 am             Hike w/ Lookout Mountain Conservancy
12:30 pm             Lunch at Edney Innovation Center
1:30 pm                Visit Bingo's Market
2:30 pm               Visit Tomorrow Building
3:30 pm               Visit Mad Priest Coffee
4:45 pm               Tour of Main Street with co.starters
6:00 pm               Dinner at Treetop Hideaways
Lodging:
Sullivan Foundation has reserved a hotel block at the 'Staybridge Suites Downtown Chattanooga' that will be open until February 2, 2018. The room rate is $129/night plus taxes and fees. You can choose from either:
One–Bedroom Double with (2) Full Beds and (1) Sleeper Sofa
Queen Studio with (1) Queen Bed and (1) Sleeper Sofa
Reservations can be made for the "Sullivan Foundation" by calling the hotel direct at 423-267-0900, or through the Central Reservations System at 800-238-8000.
You may also use the code "SFS" when booking online. Once the block is full, participants will be responsible for finding and booking alternative accommodation in the city.