There's room for everyone at A Place at the Table, a pay-what-you-can cafe in Raleigh, North Carolina, that provides delicious, fresh and healthy meals and coffee drinks to customers regardless of their income.
Opened in January 2018, A Place at the Table is one of many social enterprises featured in the Sullivan Foundation's upcoming Fall 2019 Social Entrepreneurship Field Trip to Raleigh. The field trip, which takes place Sept. 13-15, will take changemakers in the Sullivan network to a range of nonprofit and for-profit enterprises in the Raleigh-Durham region.
The deadline to register for the field trip is Friday, Sept. 6.
Maggie Kane, the café's executive director, hit upon the idea for A Place at the Table several years ago after learning about pay-what-you-can concepts through the nonprofit One World Everybody Eats, according to Indyweek.com. She spent many hours at a similar operation, F.A.R.M. Café in Boone, N.C., to learn its ins and outs and consulted with successful restaurateurs in Raleigh for more guidance, all while rounding up financial support from local churches, faith-based organizations and businesses.
"It took three years to spread the word, to tell people who we were, to have people support us," Kane told Indyweek. "We then had to find a location. A lot of landlords turned us away. People turned us down because we weren't a sexy restaurant they wanted to put in their space."
But "sexy" isn't really what A Place at the Table is about. "Wholesome" is a better word. It's a café that specializes in delicious, healthy meals—breakfast and lunch—prepared with an artisanal touch. Menu items range from avocado toast, quiche and eggs, and yogurt and granola bowls to sandwiches like the Smokey Chipotle Pimento Cheese, the Caprese Panini and the Turkey Gouda Melt. Customers can also opt for soups and salads featuring local seasonal ingredients.
As for the prices on the menu, they're perfectly reasonable—and merely suggestions. Customers can pay the full price or at least half of it, and if they can't afford either, they can volunteer with the café. In that case, they'll be assigned jobs that fit their abilities—from pulling kitchen duty to wiping tables or washing windows.
Customers who can afford to pay more than the suggested price are encouraged to do so, with the extra money going back into A Place at the Table's overall operations. "Other (pay-what-you-can) cafes' operations show that 80 percent of people need to be paying the suggested donation or paying more for their meal," the café's website states.
Customers can also purchase $10 tokens and give them out to others in need. After all, A Place at the Table is as much about bringing people together as it is about food. "We are a welcoming and inviting space that provides an opportunity for all people to come and experience conversation and community while enjoying an excellent, fresh and healthy meal," the website states. "People long for a community, a place to fit in, a place to feel welcome, and a place to be a part of something bigger than just themselves."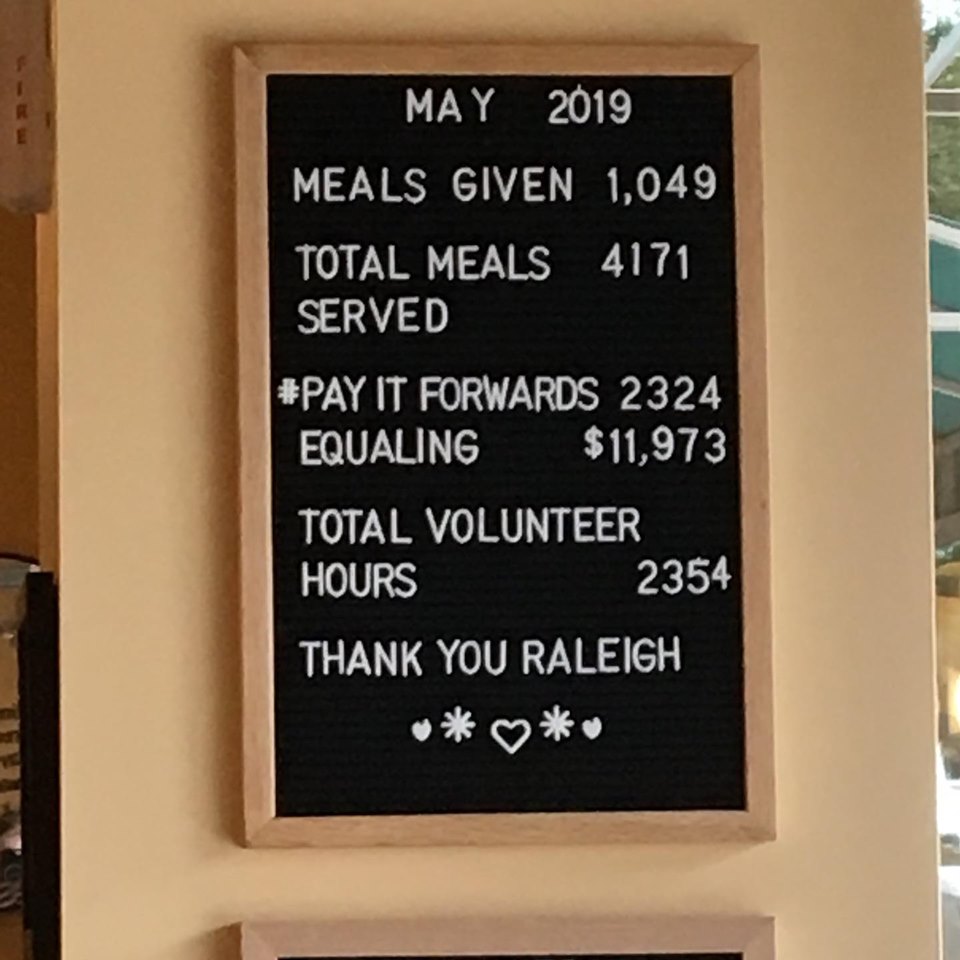 A Place at the Table's staff includes an executive chef, three sous-chefs and two baristas, among others. Kane grew up volunteering in soup kitchens and homeless shelters, and after dining in soup kitchens herself to get the full experience, she realized something was missing. "I hated not getting to choose what I wanted to eat, having a plate of food I didn't like, and being rushed," she told Indyweek. "You had to stand in line and then eat in five minutes. There was no community in that moment."
Dining should be a communal experience, Kane believes, and a meal should never feel like a handout. That was her goal for A Place at the Table. As she told Indyweek.com, "I think there is a dignity in getting to choose what you want versus being handed a plate, in being served, having someone bring it to you, filling your water glass for you, and getting to sit down and savor it."