When Frederica McClary-Myers, a recipient of the 2004 Algernon Sydney Sullivan Award, was first recruited to Coker University in Hartsville, South Carolina, to play basketball and volleyball, her coaches emphasized that the school's motto was "Where Everybody Knows Your Name." In McClary-Myers' experience, "That was absolutely the case. It made the entire experience grand and personal and created such fond memories. It just really felt like home."
Since 2019, McClary-Myers has worked as director of Fulton County Judicial Behavioral Health Services in Atlanta. There, she manages programs serving individuals involved in the criminal justice system, including Mental Health Court, DUI Treatment Court and the ReEntry Program.
McClary-Myers said mental health is often overlooked in the system. "It's surprising to a lot of individuals that aren't in the field, the number of individuals that are impacted by mental health issues to some capacity," Myers said. In particular, she said, the onset of COVID-19 in 20202 "amplified some of the things that individuals were already experiencing. So I think awareness of the need to recognize and address mental health is vital to the continuation of our progress as people and beneficial for society."
From working with those in need of behavioral health services, McClary-Myers has learned that mental health issues and substance abuse can happen to anyone at any time. "There are stressors that occur that are universal, and it just depends on an individual's coping capacity and background as to how well they are able to maneuver and manage those stressors," she said.
Related: Police psychologist Kimberly Miller works with through law enforcement to help the underserved
A Zest for Life
A native of Manning, South Carolina, McClary-Myers pursued dual degrees in psychology and sociology with a concentration in criminology. "It was a lot, and there were many sleepless nights and social sacrifices," she said. "But it was great because those that I went to class with and organizations I was a part of were very understanding."
She noted that going through college with such a full plate taught her the power of collaboration and teamwork. After all, she was just as busy outside the classroom. She also served as the senior class treasurer, New Student Orientation chair, Psi Chi co-treasurer and president, Coker College Ambassadors secretary, Judiciary Review Board member, Finance Committee member, and Student Development Committee member.
She was also elected to the prestigious Who's Who Among Students in American Universities and Colleges in 2003 and was named Homecoming Queen that same year.
"I think it was just a zest for life," she said. "I've always been one that's been quite interested in multiple facets of life. And the different organizations offered on campus provided opportunities to be able to learn more about different areas. It made me learn to prioritize."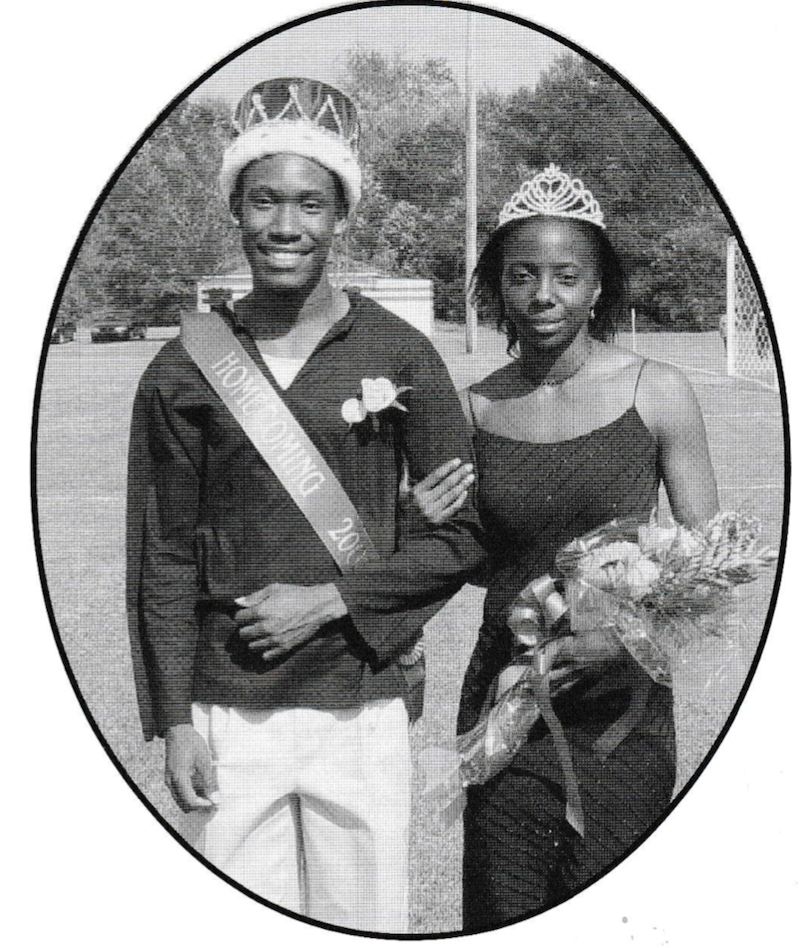 Coker University recognized her zest for life—and for serving others—with the Algernon Sydney Sullivan Award. "It was such a wonderful surprise and honor when I received the award, [considering] the time that was given to present that award to me [and] to be able to hear the commendation from the faculty and staff," McClary-Myers said. "I was very humbled by it. To me, I just felt like I was doing what I liked to do, which is learn about a lot and get involved in things. To understand that there was actually an award given for that was just very surprising."
After the marathon race of her college career, McClary-Myers took the year after graduation to join other Coker alumni on study-abroad trips. She spent time around Europe and Korea, learning about new cultures and strengthening her sense of adulthood. "I think it was very formative for me to take that time to pause before entering the workforce."
In 2005, McClary-Myers began attending Argosy University, working on her masters degree in clinical psychology. "I felt it was the best course to be able to help people in the capacity I wanted to help," she said. "I'm just a person that wants to help. That's my passion, and I feel like my purpose is to help."
Related: The church and the classroom are holy places for Dr. Ray Penn
Fighting Misconceptions About Mental Health
She's in the right job for that. Without the services she and her team provide, many incarcerated people with mental illness and substance abuse issues cannot be safely released back into the community. According to the Superior Court of Fulton County's website, 16 percent of jail detainees nationwide have some kind of mental illness. That figure is even higher at the Fulton County Jail—more like 20-25 percent. One-third of the jail's detainees receive some type of psychotropic medication, and half of them receive some kind of mental health service. In short, the Fulton County Jail is the largest de facto mental health facility in Georgia.
McClary-Myers pointed to one common misconception: the idea that these individuals have moral impairments for which help is easily accessible.
In fact, the lack of awareness and resources is the most difficult part of her job. "Even though Atlanta is a metropolitan area and we do have a number of resources, there never seems to be quite enough," she said. If education on mental health and substance abuse can be bolstered and continued, she added, particularly with the opioid crisis and instances of gun violence, she hopes rising awareness will lead to increased funding and more homeless shelters and treatment facilities.
Regardless of the limitations within the system, Myers' favorite part of her job is helping others in a nontraditional capacity, creating alternative solutions rather than increased legal consequences that limit a detainee's capacity to excel in the future.
She often remembers one woman, who was in her early 20s, who had a developmental impairment and arrest history related to criminal trespass and domestic violence. After they'd worked together for a while, the woman called Myers 15 or 20 times daily for guidance and affirmation. "The good thing is, we had a great rapport and working-therapeutic relationship," McClary-Myers said. "I worked with her to build up her self-worth and her trust in herself and her own decision-making."
That young lady went on to establish her own residence and later had a family of her own, McClary-Myers said. "Stories like that will always stick with me, of seeing the individual's growth."