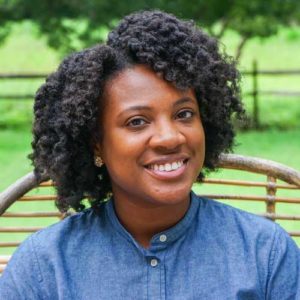 Last fall, we talked with Diane Ford, who is the operations coordinator of Forward Cities and a former Ignite Retreat attendee. Forward Cities is a network of more than two dozen cities across the United States dedicated to advancing inclusive innovation and economic development in their communities.
This year, Diane will be serving as a facilitator at the Ignite Retreat, to be held April 5-7, 2019, in Raleigh, NC. She will join a group of other talented changemakers who lead the retreat and help college students figure out what they're passionate about and how to take their dreams and turn them into plans and actions. We talked to Diane about her experience with the Ignite Retreat and how it has affected her work as a changemaker.
How did you first find out about the Sullivan Foundation?
I attended the Ignite Retreat in 2015. That was my first one. I found out about that because I was looking to join a social entrepreneurship club at my school. I went to an interest meeting, and it had been brought up that they would take students on this retreat and you could learn what means to be changemaker. You would learn about the entrepreneurship community. I had spoken about the retreat before with someone else, too. I was interested in the club because I had an idea for an honors project to help figure out solutions to food deserts in my area. The president of the club at the time said I should come on the Ignite Retreat. They said there were entrepreneurs who had businesses aimed at these problems, and I could meet them.
Can you tell me some about your first Ignite Retreat?
It was awesome. I knew immediately I wanted to come back after being there for two days. The topics were on point with what I was interested in at the time. I went on the personal track. It gears towards people who don't know what they want to do, but who want to support social causes and entrepreneurs. I found myself there. I loved hearing about cool things that innovators were doing. I didn't know if I'd be an innovator, and I wanted to figure out how to be a part and which passions and causes to get behind. It caught my interest most that I could be part of something bigger than myself without being the driver. I could still be playing a role doing something and taking action on it.
What made you want to be a facilitator?
Part of it was my personality. After going to first retreat, I fell in love with the facilitators. I started to build relationships that led to me becoming a facilitator. Spud remembered me from my first Ignite Retreat. I was in contact with him, Chad [Littlefield], and Gabbie [Deculus]. They were supporting me on projects at my school. At the time, my school was revving up on becoming a Sullivan campus. I became the president of that club. I was building a track record and a network, and it hit me, "I could come back and do this with you guys." I've been through three retreats as student, and I returned last year to show the board members around, too. I've always been in the loop with the Ignite Retreats. Spud said, "If you want to, you could come back and facilitate." It was a cool opportunity because at the last retreat in the spring, Chad had asked me to jump in and conduct an ice breaker. So it was the first instance of my being a facilitator, and I did well enough to where they said, "You're good at it, and you can come back."
Can you tell me about your journey as a changemaker and about the Forward Cities project?
What stuck with me most from the first Ignite Retreat that didn't fade as a young changemaker was that we can be changemakers today. I assumed the role of president of the social entrepreneurship club, but I needed to see something come out of it. There needed to be some action involved with me being part of club. So much about being a changemaker, even though you're a supporter, is still action.
My club advisor brought up a project in Detroit, Detroit Soup. They source funding for local entrepreneurs. It's a crowdfunding idea, but it's tied to hosting dinner and a competition for the local community to vote on which project they wanted this money to go to. I thought, "We can do something like this at our school." I threw one together and called it Campbell Soup. I did that my last two years as president of that club at Campbell. I put something together so that my successor could take over and continue to host Soups.
I wanted to figure out what to do on my own as a grad. While I was at the Ignite Retreat, I was forming an idea. I was figuring out what am I passionate about and what do I want to take action on? I wanted to focus on more funding for black entrepreneurs and talk more about entrepreneurs among the black community.
I crafted an idea and held a dinner at my home. It was like the crowdfunding dinner idea, bringing young black entrepreneurs in my area together to talk about the black economy and what we have to offer to other entrepreneurs in the area and to other people interested in supporting local black businesses. I hosted the dinner, but some of my coworkers at Forward Cities came to dinner and offered their thoughts and to be a part.
I connected with Forward Cities through Sullivan. The CEO of Forward Cities sits on the Sullivan board. We met through an alumni dinner that Sullivan was hosting for award recipients. I wasn't a recipient, but I went to get to know the board members so I could take them on the tour of the Ignite Retreat. While I was there, I networked with Christopher Bergen. I let him know about the work I was doing through the Sullivan Foundation and the things I was planning. It was all connected with the people I met. I am trying to weave my own way in this ecosystem, but at the same time, at every step, I'm building more connections and connecting more to an economy that's equal and equitable for people to access, especially for people of color.
What do you expect it will be like to come back as a facilitator now?
I anticipate that it will be nostalgic. I'd like to be a benefit to students and to see first-hand and get a different perspective on what being changemaker looks like fresh out of the Ignite Retreat. The experience that has traveled for me is that I couldn't wrap my head around what would that work look like on me. How do I wear this work and get an internship and worry about a career? Now, I have this testimony to show that you can combine you what learn at the Ignite Retreat into your life. Your dreams can be fully realized if you focus yourself that way. That's the message I hope to be able to spread and for students to be able to connect with. It could be real. It isn't something you learn and put down and not worry about for years. You can get started right now. My connection with students is that I can be someone for them to look to and say, "That could be me." So many times, our dreams are forecast and far out, but you can have dreams that could happen tomorrow.
What would you say to young changemakers just starting down their path?
Direct your energy to positive thoughts. A lot of the time, you won't know what will happen. You'll know what want to see in life and on your journey. You will end up where you're supposed to end up. Focus your attention on being positive and doing things you're passionate about, and it will all fall into place.
You can meet Diane Ford and learn more from her about how to turn your passions into action at the Ignite Retreat this fall. The retreat will be held in Raleigh, NC, on October 19-21. It is open to all college students, no matter your major or where you may be on your changemaking journey. You can find out more about the Ignite Retreat and register online at the Sullivan Foundation website.
Editor's note: This story has been updated to reflect the dates for the next Ignite Retreat.