Sullivan Foundation partner school Guilford College has presented the prestigious Algernon Sydney Sullivan Awards for 2020 to Dewey and Barbara Trogdon from the Guilford community and Berenice Fuentes Juarez from the student body.
Dewey Trogdon is a Guilford College alumnus who graduated in 1958. He and Barbara, his wife, have lived their lives rooted in working-class values formed as children growing up through the Great Depression and World War II. Those formative years informed their strong work ethic, generosity and focus on family, friends and individuals in need of a hand from time to time. Together, Dewey and Barbara represent grace, giving, friendship and a sense of community, according to a Guilford College press release.
Related: Algernon Sydney Sullivan Award winner Justala Simpson of Huntingdon College prepares for a career in ministry
Berenice Fuentes Juarez, the oldest daughter of Mexican parents, identifies as Mexican-American and is a first-generation college student—now a Guilford alumna. Raised in Oakland, California, she double majored in public health and biology with a minor in Spanish, all while building an exceptional record of leadership and service at Guilford.
Juarez worked with Soy un Lider, an annual college preparation and empowerment conference for Latinx and refugee students hosted by Guilford College, and Latinx Impact, a community-based program for high-school students, as well as campus organization Hispanos Unidos de Guilford. She also served as a research assistant for 200- and 300-level biology courses taught by Professor Melanie Lee-Brown.
Dewey and Barbara Trogdon
Dewey Trogdon is the former CEO and chairman of Cone Mills and past president of the American Textile Manufacturers Institute. He has been a mentor to many in the business world.
He also is an amateur historian on two counts: about the former Atlantic and Yadkin Railway and the town of Summerfield, N.C., where he and Barbara were born. As a young volunteer firefighter, Dewey used his mechanical skills to help build many of the original fire trucks for the Summerfield Volunteer Fire Department. He also served as an assistant chief of the department and provided care for people injured in accidents and fires when emergency services were scarce.
Related: Steffi Kong, winner of the Mary Mildred Sullivan Award at Converse College, "excels at everything she does."
In a letter to the editor of the Greensboro News and Record in 2000, Dewey, a Korean War veteran, wrote: "For me, Korea was the beginning of an aversion toward shedding our blood and national wealth and committing young Americans to oblivion as a result of uncertain national goals."
Dewey graduated from Guilford with a bachelor's degree in economics and completed additional study at Harvard University, the University of North Carolina-Chapel Hill, and the University of Virginia. He has received Guilford's Alumni Excellence Award and Charles C. Hendricks '40 Distinguished Service Award. He and Barbara have been loyal benefactors to Guilford College and are members of the Macon Society (total gifts of more than $1 million) and Francis T. King Society (with a planned gift). Dewey served as a member of the Guilford College Board of Trustees from 1980 to 2004 and has been a Trustee Emeritus since then.
When reflecting on contributions both of his parents have made to Guilford and the larger Triad community, their son Mark Trogdon, a 1983 graduate, said their acts of service have followed "a basic tenant of, it's what you do to help others/organizations because you believe it is necessary to help them."
Mark added that for decades his mother Barbara "has provided financial support to numerous hard-working people striving to create a sustainable existence and promising future for themselves and their families. She has done this without fanfare, driven by a genuine goal of simply helping others while maintaining their dignity and integrity … not drawing attention upon herself or those in need," he said. "She did this when we had minimal family resources and later on in life when they (my parents) had more to share."
"I am extraordinarily proud of my parents and (of) Guilford for recognizing them," he said.
Berenice Fuentes Juarez
In 2019, Juarez was honored by the N.C. Campus Compact with its annual Community Impact Service Award, given to students who demonstrate a deep commitment to community involvement and an ability to inspire their peers. Juarez was one of only 22 students statewide to receive the Community Impact Service Award last year, first presented by the Campus Compact in 2006.
The fact that Juarez has received that kind of recognition, including this year's Sullivan Award, is no surprise to her biology professor, Dr. Melanie Lee-Brown. Lee-Brown met and first taught Juarez when, in her sophomore year, Juarez enrolled in her Scientific Inquiry: Bioterrorism class. At that time, the Scientific Inquiry course was part of core course work for biology majors, Lee-Brown said. She described the class as the "first introduction to self-generated research" for students in the major.
Related: Davidson College bestows Algernon Sydney Sullivan Award on student with a heart for the homeless
Typically, students in the class are organized in groups of four to design a research project around a prompt from the professor. "She (Juarez) did really well," Lee-Brown said.  "[W]ithin her group, I recognized that she was a leader. She was one that was always working towards them setting goals and getting those goals accomplished within their group. And beyond that, she was somebody that really seemed to care about the folks in her group."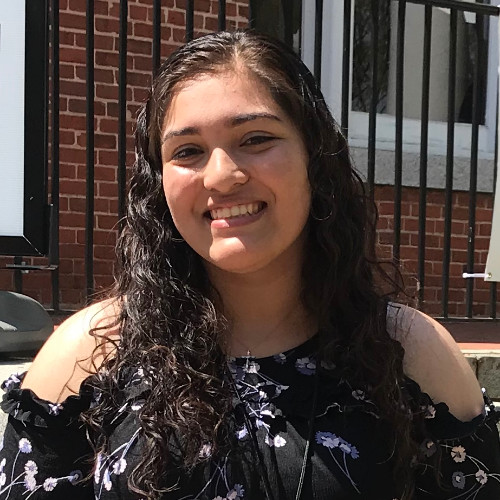 Juarez is not only "very service-minded," but also a broad thinker, Lee-Brown said. She is someone with the ability to bring people of different backgrounds together and "help to get people excited about the work. That was both inside and outside the classroom," Lee-Brown said, whether Juarez was rallying classmates to volunteer with a Soy un Lider conference or ensuring biology students had access to extra lab time and other resources they needed.
"She faced a lot of adversity in her personal life on top of all of this," Lee-Brown noted, "so it's even more amazing what she ended up accomplishing in her time here."
"She's been through a lot and she has a lot of strength," the professor added. "I think she has a lot more strength than she thinks she does at some points."
After reflecting on Juarez's growth during her studies at Guilford—as a leader, a female scientist and a young woman of color juggling many responsibilities—Lee-Brown summed up her thoughts about her former student and advisee: "She's an excellent combination of strength and softness, and outward responsibility, and caring and maturity. "This (Sullivan) award was perfect for her, because it did highlight so much that is Berenice."
If the academic year had concluded as planned for Guilford's Class of 2020, the graduates would have been joined in celebration on the campus quad last month by this year's Sullivan Award recipients. Instead, with spring commencement plans halted by the global COVID-19 pandemic, current plans call for all three 2020 Sullivan Award honorees to be recognized at Guilford's 2021 commencement.
This article was edited slightly from the original version appearing on the Guilford College website.