Many ex-offenders who want to "go straight" face an uphill struggle when it comes to landing a job. For them, Father Gregory Boyle must seem like a godsend.
Boyle founded Los Angeles-based Homeboy Industries, which offers employment training and opportunities in a wide range of fields, from baking and retail to cellphone repair, for the formerly incarcerated.
The U.S. has one of the largest populations of ex-offenders in the world, and most employers aren't exactly clamoring to hire them. "We work with the population that nobody desires to work with, and it's a principle of this place that we stand with them," Boyle says on the Homeboys website.
When the priest, who calls himself "Father Greg," became pastor of the Dolores Mission Church in east Los Angeles, his parish had the worst poverty and the highest concentration of gang activity in the city. In response, he and his team developed what they describe as "the largest gang intervention, rehab and re-entry program in the world."
Social entrepreneurship is a key part of the mission. Homeboy Industries has created almost a dozen social enterprises that offer 18-month job training programs for the formerly incarcerated. Clients learn marketable skills by working in a bakery, a retail shop that sells Homeboy swag, and a catering business, among others.
The Homeboy Bakery, for example, supplies products—including cakes, rolls, muffins, pretzels, scones and more—to other Homeboy enterprises, such as Homeboys Farmers Markets, Homegirl Catering, and the Homeboy Diner located at L.A.'s city hall, as well as to local restaurants and cafes.
Homeboy Electronics Recycling employs 25 people. It recycles more than 5,600 PCs and repairs 3,900 iPhones every year, according to the website.
The Homegirl Café, a Zagat-rated restaurant specializing in Mexican fare and grilled-cheese sandwiches, provides a safe space for women who have experienced domestic violence and the challenges of single parenthood as well as gang involvement and incarceration.
The organization even makes its own Homeboy-branded chips, salsa and guacamole for sale in grocery stores around the U.S.
The Homeboys website also tells the personal "transformation stories" of many of its clients, such as Emily Chapa, who now serves as a substance abuse counselor. "I'd been using since I was 15 years old, and this is the longest I've ever been sober in my life," she said. "I may have abandoned my kids as they were growing up, but today I'm different. I'm a good grandmother. One thing we need to learn as women is that being emotional is not a weakness but a strength. We need to learn to use our voices and take care of ourselves, or we can't take care of anybody."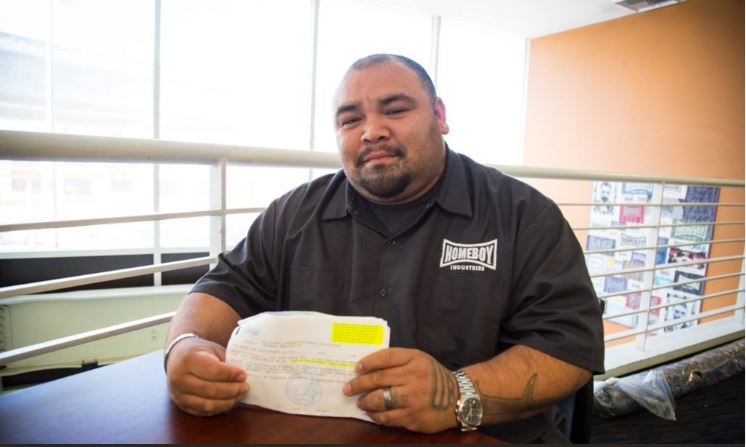 Homeboy Industries also provides its clients with milestone experiences that most of us take for granted, according to Homeboy trainee Fernando Martinez (pictured above). "I've been sober for a year and four months," he said. "That in itself was a big accomplishment for me. I never thought I would be living a sober life. It's helped me shape my life to achieve things like getting my driver's permit. I've never gotten anything big like this before. I'm now able to succeed at a lot of things I never would have been able to by myself."
Homeboy Industries has earned recognition from former Vice President Joe Biden and actor Jim Carrey (see video below). "I believe this room is filled with God," Carrey said during a visit to the organization. "You are heroes to me, and I admire you … You've made a decision to transcend and leave darkness behind."