Isobel "Issy" Rushton was installed as president of the student body at the University of South Carolina, a Sullivan Foundation partner school, just as the COVID-19 pandemic was shutting down the world.
The native of the Gold Coast in Australia was half a world away when she went to work helping her fellow students and the university navigate the pandemic and focus on returning to campus. For her leadership during this challenging period, Rushton was one of two members of the Class of 2021 to receive the university's highest undergraduate honor, the Algernon Sydney Sullivan Award, which is given each year for outstanding achievements, campus leadership, exemplary character and service to the community.
Ardash Shidhaye was the other Sullivan Award recipient from UofSC this year. Read about him here.
Rushton participated in the university's Future Planning Groups as well as emergency management team meetings. She helped create and lead a citywide social responsibility campaign called #IPledgeColumbia that encouraged city residents, including those on and around the University of South Carolina campus, to wear a mask and follow other COVID-19 protocols to keep themselves and others safe.
Rushton also was named the 2021 UofSC Outstanding Senior and received the President's Award as well as being named the 2020 Greek Woman of the Year for her work leading the Alpha Chi Omega sorority.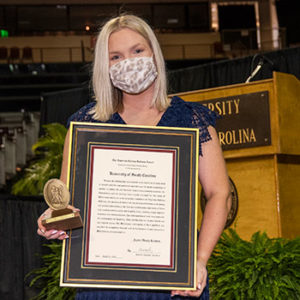 "I believe that my most noteworthy contribution to Carolina isn't my list of achievements, rather the stories of personal connection and shared triumph," Rushton said. "I have built an unwavering community here at Carolina and, through my every engagement, have worked to inspire the future students that will walk the Horseshoe long after I'm gone."
A double major in experimental psychology and criminal justice, Rushton serves as a University Ambassador and Presidential Ambassador and as a student representative on the Presidential Commission on University History.
"It is a deeply emotional honor to reflect on my time at Carolina," Rushton says. "This institution has built me into a woman that values knowledge, citizenship and unflinching determination."
This article has been edited slightly from the original version appearing on the University of South Carolina website.