By Katie-Bay Hayford, Auburn University
Ja'Lia Taylor wants to make a difference in people's lives, and she's using her time at Auburn University, a Sullivan Foundation partner school, to do so.
Taylor, a special education doctoral candidate in the College of Education and master's student in the Raymond J. Harbert College of Business, recently formed the Young Professionals in Training program at Auburn as a mentoring and tutoring program for students grades 5-12 from underrepresented populations near Auburn.
The program—aimed at exposing students to majors and career paths at the university—involves faculty, staff, students and alumni serving as mentors who meet with mentees once a month to build relationships and discuss topics, such as social and emotional health, community projects and career paths.
Related: This Algernon Sydney Sullivan Award recipient is also a gymnastics star at Auburn University
Young Professionals in Training, in partnership with nonprofit community service organization The Curtis House, supports college readiness. Students who participate in Young Professionals in Training will gain access to Auburn First, Auburn's dual-enrollment program. Those who earn at least six credit hours and maintain a 3.0 cumulative GPA by Aug. 15 of their senior year of high school qualify for automatic admission to the university.
Taylor started a similar mentoring and tutoring program near her hometown of Smithville, Georgia, and was inspired to start Young Professionals in Training at Auburn while serving on the Presidential Task Force for Opportunity and Equity.
"President [Jay] Gogue is one of my mentors here at Auburn, and he talks a lot about the power of the individual," said Taylor. "I figured I could just jump out there and get it started since I had a similar model that I started back home. The difference is, this program will also offer a pathway to Auburn University."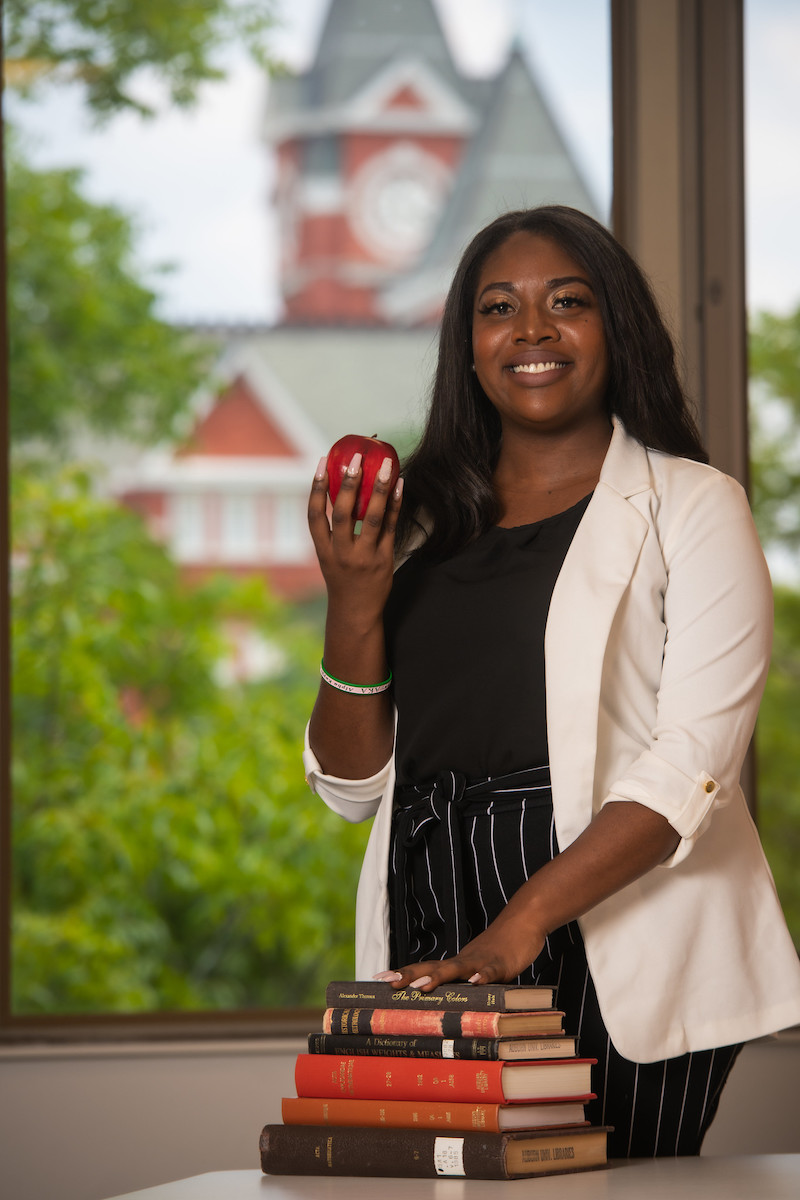 Taylor believes all students deserve a fair opportunity to improve their circumstances, no matter their socio-economic status.
"This program will provide students and their families with the necessary support for them to improve their lives," she said. "We do this by providing the mentoring and tutoring sessions for the students and the workshops for the parents."
Many Auburn faculty and staff members, including Gogue, will welcome the first cohort of students this month, support the program and cheer on Taylor for her efforts.
"Faculty and staff have been crucial in the development of the program, as well as Tamarcus Milner, president of The Curtis House," said Taylor. "Faculty and staff consist of George Flowers, Cheryl Seals, Venus Hewing, Kimberly Mulligan-Guy, Adrienne Duke, Soledad Peresin, Jason Bryant, Alli Bracewell, Andrew McGill, Michele Cole, Wendy Franklin and Martina McGhee, who developed the curriculum for the students in the program."
"I want the students to explore in a way that makes sense to them and engage with their community in an authentic way that is relatable," said McGhee, assistant clinical professor of elementary education in Auburn's College of Education. "Each grade level will learn how to be an active agent in sustainability and be academically encouraged to explore career paths that might be unique. The team is excited to see the curriculum implemented and looks forward to kicking off the program."
Taylor first presented the idea for the program to Joffery Gaymon, vice president for enrollment at Auburn, and Provost Bill Hardgrave, who quickly offered their support.
"When Ja'Lia shared her idea for the program, I knew it was something that would make a difference and allow the Auburn Family to participate in something bigger than themselves," said Gaymon.  "I'm excited to see what amazing things come from this program."
Students on the advisory board for the program also contributed greatly to its development. Those students are Jailin Sanders, Lane Jemison, Mya Strickland, Donielle Fagan, Elizabeth Devore, Oluchi Oyekwe, Shikia Carter and Jeremy Gray.
The Office of University Outreach and the Truman Pierce Institute will house the program with training for mentors and tutors on Aug. 8. The program begins on Aug. 28. Faculty, staff, students and Auburn alumni are encouraged to sign up to volunteer by clicking here.
This article has been edited slightly from the original version appearing on the Auburn University website.