It's not easy to launch a magazine from scratch, and it's certainly not cheap. Even most seasoned professional journalists would shy away from the challenge without backing from an investor with deep pockets and plenty of patience. But Jasmine Babers did it anyway and made it work—and she was just 15 at the time.
Babers, a workshop facilitator at the Sullivan Foundation's upcoming Spring 2022 Ignite Retreat, started Love Girls magazine when she was still attending Rock Island High School in Rock Island, Ill. Love Girls is a nonprofit publication with a mission to "build self-esteem by providing young women leadership opportunities and a safe place to tell their stories."
Babers, a University of Chicago at Illinois alumnus and a creative strategist for the Day One Agency in Chicago, will lead the Problem Track workshop and inspire fellow changemakers at the Spring 2022 Ignite Retreat, taking place April 1-3 in Staunton, Va. Held twice a year, the Ignite Retreat brings together a team of facilitators, coaches and conspirators who lead college students on a journey to discover how they can change the world in a positive way, whether through social entrepreneurship, the nonprofit sector or public policy leadership, among many possibilities. The deadline to register for the Spring 2022 Ignite Retreat is Monday, March 14.
Click here to learn more about the Ignite Retreat and to register.
"This isn't my first retreat, so I'm lucky to know what I have to look forward to," Babers said. "I was drawn back because I know the magic that happens during this event and how special these young people are, and that alone keeps me coming back again and again!"
Love Girls magazine tells the stories of "everyday girls," shining a spotlight on social issues—from depression to racial justice and bullying—as well as covering mental wellness, self-care, makeup and fashion, relationships and other topics that appeal to young women. The magazine's staff consists entirely of girls and young women and provides hands-on experience in journalism, photography, graphic design, marketing and business management.
Related: Spring 2022 Ignite Retreat promises a "mind-blowing" experience for college changemakers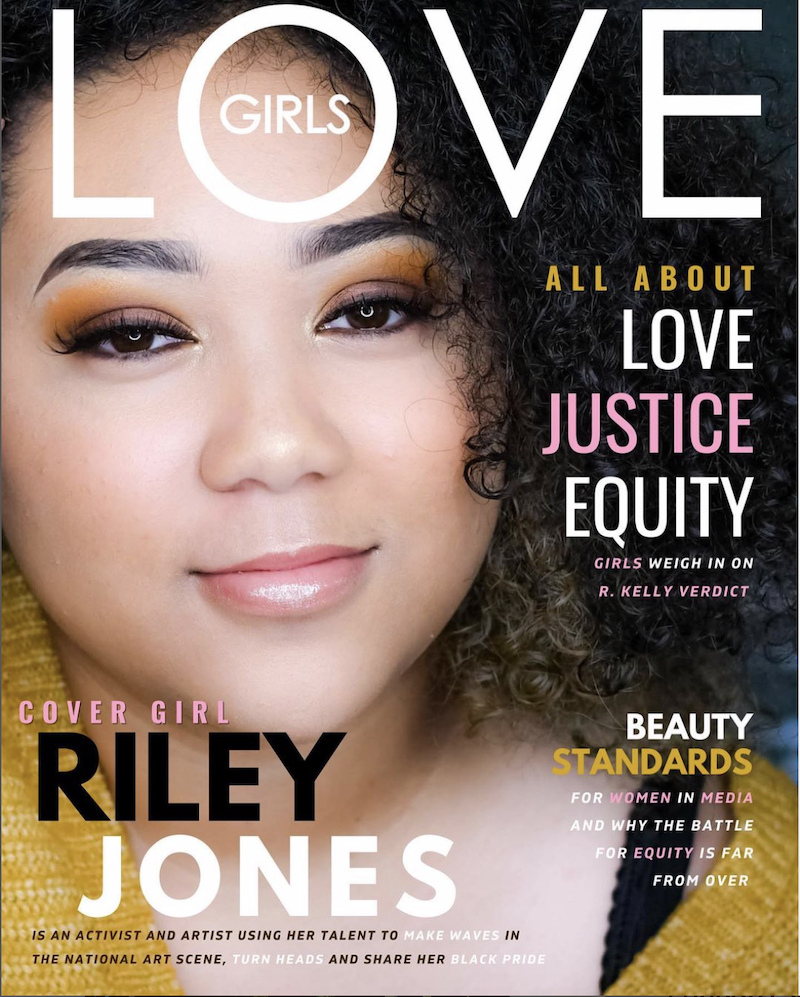 "The magazine was born from the desire to create space for girls to talk openly about problems, passions and successes," Babers recalled. "It was important that this space was created by girls for girls. Cyber-bullying in my high school had reached an all-time high, and girls needed support and a platform to stand up against injustices and uplift one another."
Determined to make a difference at her high school, Babers recruited other female students to develop, write and design a magazine to serve as that platform. "I gathered some girls from school at our local public library and told them my thoughts, and everyone was excited to write and interview and take photos!" she said. "It honestly was a community project from the moment it began, and that's also a huge reason why it's been so successful. I could have never dreamt of all this on my own!"
Related: How Ignite Retreat speaker Sanah Javani overcame alopecia and learned to love her natural self
Babers wanted to show off her team's work in print as well as in a digital version. "So from the beginning we had to fundraise," she said. "I was really adamant that the magazine needed to look and feel high-quality—from color down to the paper. We sold ads to local businesses at super-discounted rates, and we got grants from amazing non-profits who trusted us. It's actually kinda remarkable, looking back at how much trust and faith people had in our project from the beginning. I'm so grateful for those supporters!"
Babers made sure to spotlight all types of girls, not just homecoming queens and cheerleaders, in Love Girls. "One of my favorite things that we pride ourselves on is that anyone can be a cover girl," she said. "Representation is so necessary and, in that same regard, the understanding that if you're being the best person you can be and working really, really hard, people will see that and want to celebrate that—regardless of how you look."
Babers treats her cover subjects like the celebrities you'd normally see on the covers of glossy pop-culture magazines. "Shooting the cover is a production and a really special experience for our cover girls," she said. "We use top-of-the-line photographers, make-up artists and stylists—almost always women—and conduct our shoots like any other editorial magazine. I'm all about the glam and the experience and taking extra care of our cover girls because they deserve it.".
One of Babers' favorite cover subjects was Carlie Newton, who received a liver transplant at just three months old and still bears a prominent scar from the surgery. Newton was working to raise awareness of the lifesaving potential of organ and tissue donation, so Babers gave her a voice and a platform with Love Girls
"Not only does she have an amazing story, but the clouds that day were crazy beautiful in the background and she was showing her scar to the camera," Babers said. "But she looked so badass that, when I saw the photo for the first time, I knew the heading had to say something about her being a 'wonder woman'!"
Social justice weighs heavily on Baber's mind, and she works as an activist to highlight issues affecting girls and women of color (WOC). "It's so hard to narrow down what issues I'm most passionate about because injustice intersects in so many different ways," she said. "But throughout my life I've been drawn to work around equity—especially when it pertains to black women and girls. Growing up, I experienced racism, sexism and even ageism, and I've made it my mission to figure out ways we can create opportunities for women of color to lead and develop skills and confidence. I'm also passionate about the foster care system as well as sustainability."
Related: Josh Campbell brings "deep listening" superpower to Spring 2022 Ignite Retreat
Love Girls also hosts the annual Love Awards, a community event that honors young women for their accomplishment and shares their powerful untold stories. It's one of the largest youth-driven award ceremonies in Illinois' and Iowa's Quad Cities, where it was founded. The purple-carpet celebration also showcases up-and-coming performers in the fields of music, spoken-word and dance. More than 75 young women have been honored since 2013 in categories that include Teacher's Choice, Athlete of the Year, Community Service, Academics, Performing Arts, Leadership, the Amy Rowell Young Woman of Worth, and Girl of the Year.
Babers will be making her second appearance at the Ignite Retreat this spring. In her first appearance, she was a keynote speaker. She was scheduled to coach a workshop at the Spring 2020 retreat, but it was canceled due to the pandemic.
"The Ignite Retreat is one of my favorite events of the year!" she said. "It's so unique in its design around young people who want to make a difference. I always leave inspired, curious and ready to help. I remember keynoting at the retreat a few years ago, and that was truly the first time I told my story in its entirety. I talked about the magazine but also growing up in foster care and struggling through my high-functioning anxiety. Afterwards, so many participants came up to me, and we laughed and cried, and they even swag-surfed around me. It was just one of the best experiences of my career so far. I'm getting emotional just thinking about it!"
She said she hopes this year's Ignite Retreat changemakers will "grow great friendships and great ideas from our time together."
"I love to think about activism holistically," Babers added. "Your passions and hobbies don't have to be—and really shouldn't be—excluded from your social justice work. I think people get so caught up in trying to figure out the perfect solution that they forget that making the world a better place can be really simple and fun! I like to think I help participants think creatively and use their own personal stories to create the change they want to see."
This article was edited from the original version appearing on the Sullivan Foundation website in 2020 and contains new material and quotes.
Click here to learn more about the Spring 2022 Ignite Retreat.