By Abi Dobson, Alice Lloyd College
When Katherine Mason, a senior kinesiology major at Sullivan Foundation partner school Alice Lloyd College (ALC), was young, her mom was active in volunteering and took Katherine to volunteer events led by her local church and school. Growing up around those events, Katherine saw their impact on her community, and she knew she would always want to take part in them. During her time at ALC, Katherine has continued on her path as a changemaker and taken advantage of opportunities to place service above self.
Back home in Bristol, Tennessee, Katherine volunteers with the Girl Scouts of the Southern Appalachians, helping with weekend events such as DIY Summer Day Camp, Christmas Craft Day and Cookie Season. From volunteering with Girl Scouts to volunteering at ALC, Katherine learned that although the people she met were strangers to her, deep down, they were all the same. Meanwhile, on campus, Katherine has also discovered that volunteer projects do not need to be extensive and elaborate; they can be small but important acts of kindness, like helping a student on campus find resources they need.
Related: University of Alabama students build wheelchair lift for 10-year-old girl's Christmas gift
"I can interact with people on a daily basis more than I can go out in a community," Katherine says. "I have noticed some of the little things can make the biggest difference."
Katherine further develops her volunteering skills by participating in ALC's Leadership Education program. The program focuses on leadership philosophy, citizenship and cultural development, all of which build upon a strong traditional liberal arts academic program. To be selected for the program, students have to complete Leadership 101 and The Bridge Program. Once in, they must attend four leadership seminars, attend workshops, and have 40 hours in community service documented from outside the program. "My favorite part of the Leadership Education Program is learning leadership skills within everyday activities like community service or attending a convocation," Katherine says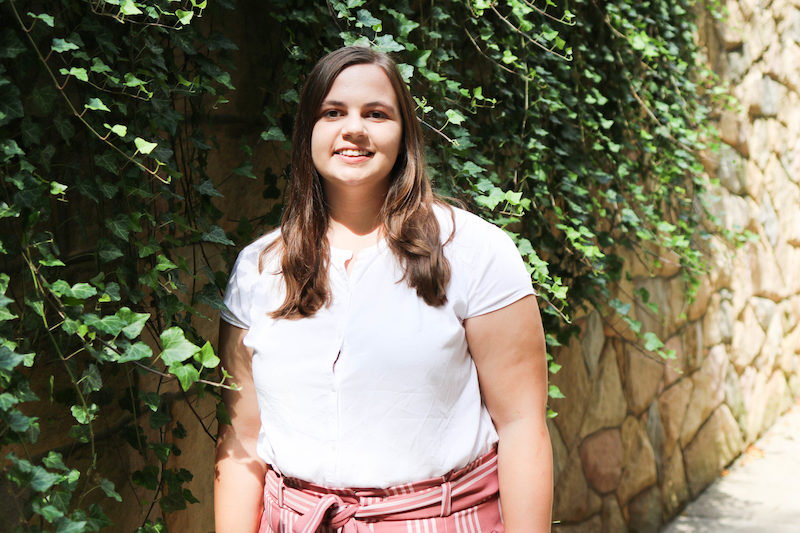 ALC is one of just 10 work colleges in America; all students are required to work at least ten hours a week to help offset the cost of tuition. Katherine completes her hours in Career Services, where she helps organize convocations for ALC's Convocation Program. The Convocation Program brings in speakers from various careers and backgrounds to help enrich students' lives academically, spiritually and culturally. Katherine plays a key role here, scheduling and serving the speakers, while marking students present and and tracking their progress. "I believe the work-study program is helping me prepare for the future by teaching me professional skills that I will need in the workforce, and it also helps teach me time management," she says.
Related: University of Kentucky students help spread "Rae of Sunshine" to combat stigma of mental illness
After graduation, Katherine plans to attend physical therapy school and return to the Bristol region to practice her profession. "I have seen the need for people to return, and this obvious need has increased my desire to stay in the area."
While working towards her bachelor's degree in kinesiology, Katherine has been on the Dean's list and participated in the Allied Health Club and Voices of Appalachia. Best of all, perhaps: ALC is where Katherine met her husband, Cory Mason.
This article has been edited from the original version appearing on the Alice Lloyd College website.