For LaDarryl Banks, a nursing student at Sullivan Foundation partner school University of Alabama, being a nurse is more than caring for individual patients—it's about serving the community.
"We need people who are passionate and invested in our communities and making positive changes in health care," Banks said. "We are making progress, slowly but surely."
Banks will graduate from UA's Capstone College of Nursing RN Mobility (RN to BSN) program in May. As an RN and office manager at Cahaba Medical Center's West End location, a nonprofit healthcare center in Birmingham, he not only provides care to historically underserved populations but also works to improve their community, which he, too, calls home.
Related: Ole Miss pharmacy professor helps the underserved of the Mississippi Delta
One of his biggest areas of impact has been assisting his colleagues in securing grants for school-based health centers and COVID-19 mobile clinics in west Birmingham.
"One of my favorite parts of being a nurse is going beyond providing someone the healthcare resources they need and teaching them how to manage or treat their condition," Banks said. "By going to our schools and using the mobile clinic, we can reach those who can't come to us."
Banks said he decided to pursue a career in nursing because he has always been a natural empath and caregiver.
"I learned compassion as the middle child in my family and also watching my grandmother and her nurses during her time in hospice care," he said. "Nursing is my calling and my passion—it's always my goal to not make my work about me, but, rather, the impact that we can all make when we work together."
Banks began his nursing education at Lawson State Community College, where he received his Associate of Science degree in nursing. After obtaining his registered nursing license in Alabama, he knew he wanted to attend UA's RN to BSN program, he said.
"I always recommend the UA program to my colleagues. The faculty and staff at CCN understand the challenges we have faced in health care throughout the pandemic and beyond," he said. "They understand the stress related to our jobs, and they go above and beyond to help students be successful."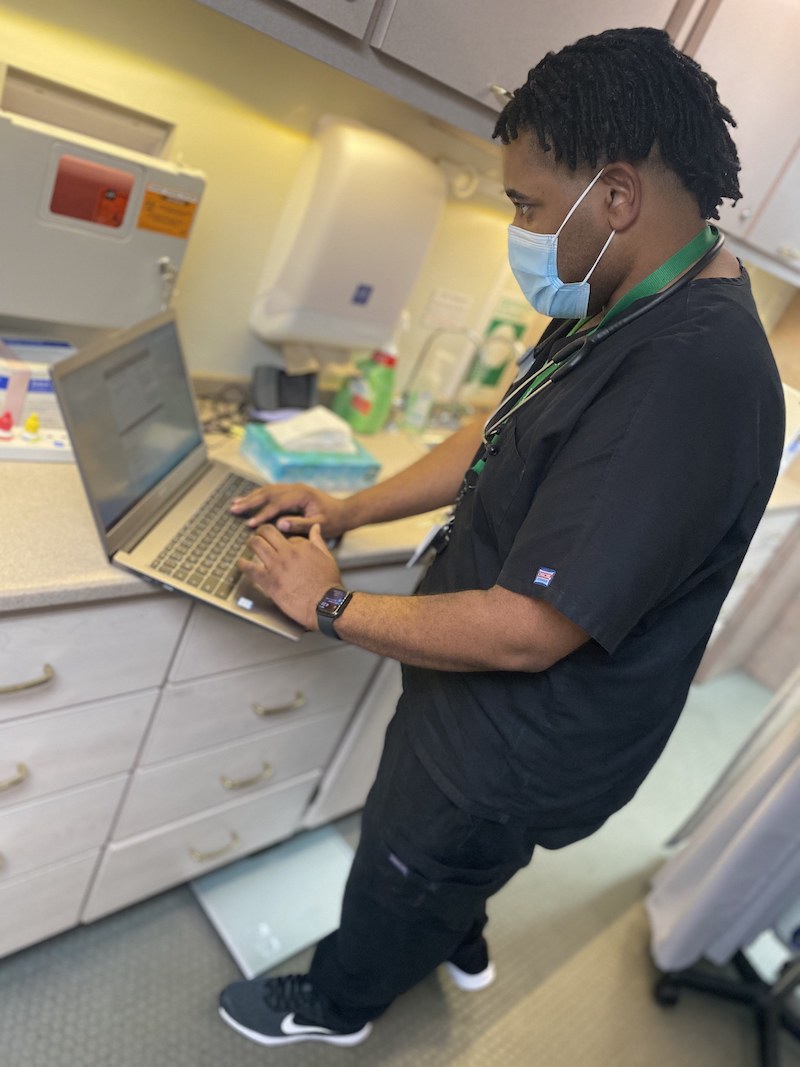 Banks recently received the 2021 Outstanding RN Mobility Student award given by the CCN Epsilon Omega Chapter of Sigma Theta Tau International nursing honor society. This award recognizes a student who demonstrates outstanding achievement and ability in scholarship, professional involvement and leadership.
Related: Dr. Sarah Imam of The Citadel teaches the human side of medicine
In addition to working fulltime and being active in the community, Banks adds home health visits on the weekends and plans to pursue advanced nursing education.
"I plan to continue my education and apply to UA's Master of Science in Nursing degree program with a specialization in the Dual Nurse Practitioner Concentration in Psychiatric Mental Health and Family Nurse Practitioner," said Banks. "I realize I am just a dent in the universe, but my calling and focus remain to learn more about how to not only treat but manage addictions and diseases continuing to plague our area."
Banks added, "I am a firm believer in treating a patient's mind, body and soul for recovery."
This article has been edited slightly from the original version appearing on the University of Alabama website.