Lucy Burch, a recent graduate of Sullivan Foundation partner school Huntingdon College, describes herself as a "multi-passionate personality." Rev. Rhett Butler, Huntingdon's chaplain, calls her a "unicorn," an athlete, changemaker and spiritual leader on the campus.
Burch can now add another descriptor to her resume: She's her alma mater's 2021 recipient of the Algernon Sydney Sullivan Award.
A native of Florence, Alabama, Burch was a star on the Huntingdon Hawks tennis team, a USA South Athletic Conference All-Sportsmanship Team selection and an ITA Scholar Athlete. She also served as president of the Student Government Association, a Huntingdon Ambassador, a member of Campus Ministries and the Community Coordinator of the Huntingdon Leadership Academy.
"Her most significant contribution to campus life is her work within Campus Ministries," Butler said. "I do not have any other student that comes close to the amount of work, prayer and joy that Lucy brings to the ministry. To be frank, I am not sure I would have made it through my first few years in college ministry without Lucy's steadfastness."
Burch will attend Asbury Theological Seminary at Duke Divinity School in the fall of 2021. And her optimistic outlook and faith will likely take her far. In the midst of the pandemic, after the tennis season was canceled, she said, "When it comes to situations like the state the world is in, I think of this analogy. Not everyone is the supporting character or the extras in the movie of your life. It is not all about you. Other people have their own movies being filmed too. We have to look at the big picture. When we do that, it leads to community, which I believe is what truly makes the world go around … We are all in this together."
Related: UA Sullivan Award recipients focus on food insecurity, drug and alcohol addiction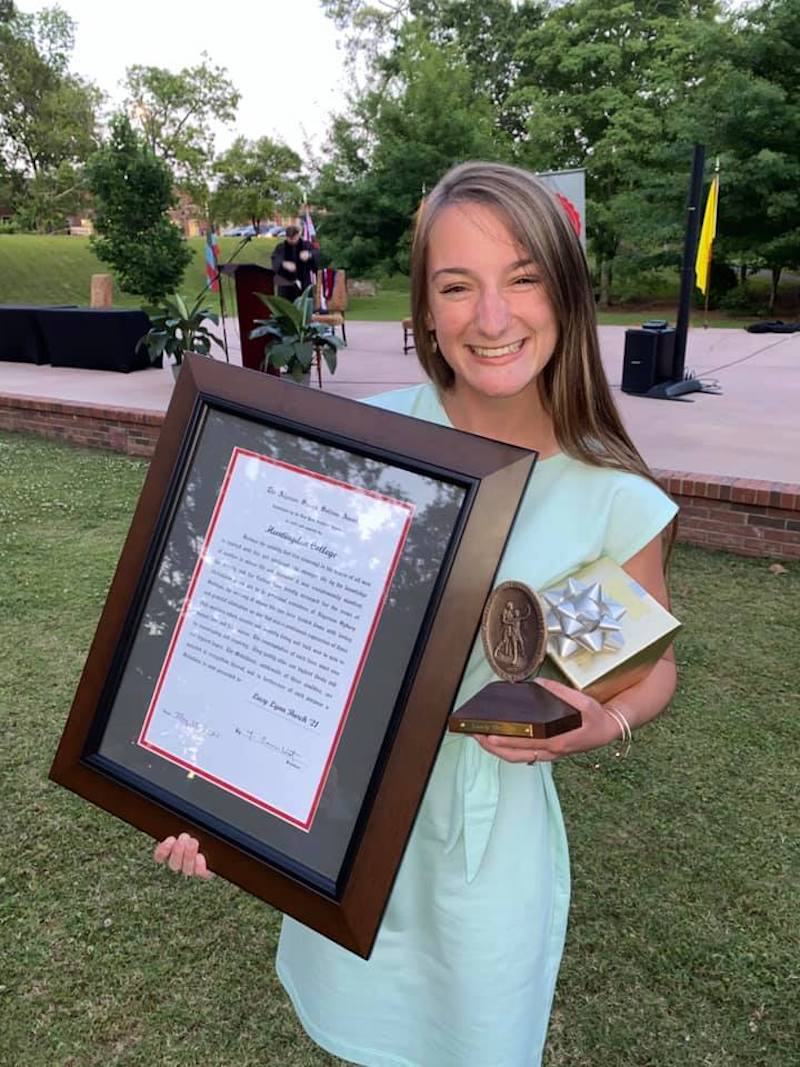 "You are not alone," she added. "In fact, you are seen and heard. We are all sitting in darkness right now, but the darkness cannot overcome the light. In the words of Kate Bowler, 'The second to last thing is always way worse than the very last thing.' This is not the end, but only the beginning of something brand new."
Burch said she chose Huntingdon because she wanted to play tennis for the Hawks. "But I still wanted to feed my multi-passionate personality," she explained. "I wanted to be able to be a student leader as well as an athlete. Huntingdon provides the opportunity for you to do that and thrive."
And thrive she did, as a Dean's List Scholar throughout her four years at Huntingdon as well as a member of the Order of Omega, Lambda Pi Eta and Gamma Sigma Alpha honors society and the Chi Omega sorority.
"Lucy is a bit of a unicorn for Huntingdon College," Butler noted. "She has a clear sense of calling, a multitude of spiritual gifts, and a well of faith that will sustain her for years to come. She is a blessing to this campus in every way."