A dozen or so young Black men sat in Mary Baldwin University's Jane Miller Welcome Center and shared thoughts about their day on campus. They'd spent the past few hours meeting MBU professors, staff and students, visiting residence halls, classrooms and athletics facilities, grabbing coffee and lunch in the dining hall, and more.
"Pick the word or phrase that best expresses how you feel right now," suggested Associate Vice President of Student Engagement Dr. Learie Nurse, who was leading the discussion.
The graduating high school seniors paused before answering. Some wavered, struggling with emotions as they uttered words and sentences like "amazed," "surreal," "dream-come-true," "perfect," and "I just can't believe it."
Related: Service is a top priority for students in Mary Baldwin's Program for the Exceptionally Gifted
For these young men, Mary Baldwin had rewritten expectations around what college would look like. They all grew up in the roughest and most underserved areas of New York City's inner city boroughs. When they imagined college life, they'd envisioned amphitheater classrooms crammed with hundreds of learners, professors burdened with so many students they couldn't learn anyone's name, loud urban campuses that sprawled like small cities—the list goes on.
"I loved how beautiful the campus was, how you could step outside a building and look out and see so many trees and mountains," said Kwame Opoku, a star basketball player who intends to study criminal justice and become a lawyer. "Everyone was just so nice. They seemed genuinely glad to meet me, to learn about my goals, to get to know me, and to figure out ways they could help me find my place here and succeed."
The visit to MBU, which took place in April, had also inspired reflections about the young men's incredible academic journey. They were graduating from Southeast Queens Eagle Academy, which is part of a six-school, all-male college preparatory system that serves 4,000 of the most socioeconomically disadvantaged students of color in New York and Newark, New Jersey.
Virtually all of them were slated to become the first in their family to pursue a college degree.
"Where I come from, most people will laugh in a kid's face if they say they're gonna go to college—it's more normal to drop out [of high school] than graduate," said Isaih Scotland, who plans to major in psychology and pursue a career in psychiatry. "So, to be standing here right now, we've beaten the odds. It's taken so much work, so much dedication. Honestly, it's hard to let myself believe I've really made it."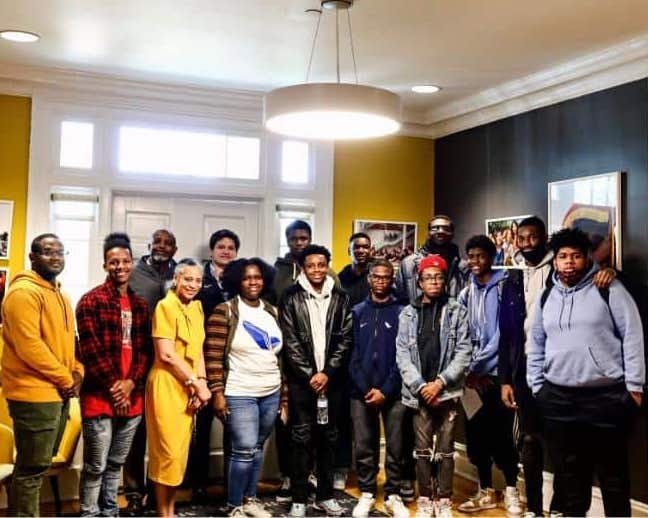 The visit was the result of a new partnership between Mary Baldwin and Eagle Academy spearheaded by MBU Vice President of Student Engagement Ernest Jeffries and Vice President of Enrollment Management Matt Munsey. The initial connection was made by Board of Trustees chair Gabby McCree, who introduced Jeffries to Yevette Vargas, head of development at Citizens Bank in Staunton, Va. Vargas subsequently invited Jeffries to represent MBU in collaborating on a project to create a program for young men of color to help close knowledge gaps and reduce barriers to their success. An Eagle Academy representative was part of that team and approached Jeffries about forming a separate partnership.
All of the students from the Eagle Academy visit have applied to MBU and been accepted, with five—including Opoku and Scotland—making deposits for fall semester that day. At least two more have since followed suit.
Related: How one Mary Baldwin student is using her MBA to improve education for dyslexic youths
"From the beginning, this partnership felt tailormade for us, Eagle Academy, and—most importantly—these students," Jeffries said.
Academy graduates are highly motivated and have a strong sense of professional direction. But they're used to learning in a small, tight-knit community environment that's structured to meet the needs of underserved students living in areas suffering from higher rates of poverty, substance abuse, violence and toxic family dynamics.
Put another way: They've been treated more like family members than clients. That can make adjusting to a 50,000-plus student, majority-white institution like New York University tough.
In fact, a recent study of U.S. public universities found Black students at such schools are 250% less likely to earn a college degree than their white counterparts. Worse, one in four coming from low-income, first-generation backgrounds will drop out within two semesters, and about 90 percent leave school without a degree within six years.
The net effect is devastating: U.S. bachelor degree holders earn about $900,000 more lifetime income and 75% more money annually than those without a degree. Black families possess less than 15% of the median wealth of white families and are three times less wealthy than Hispanic families.
"This partnership is all about closing that gap for these students and their future families," said Jeffries. MBU is particularly suited for the task, he added, because "our specialty is offering highly personalized, highly hands-on educational experiences within an authentic community setting that's also affordable."
With around 1,000 total residential students, Mary Baldwin's size makes it next to impossible for learners to ghost through their first semester unnoticed and anonymous. The effect is amplified by a positive campus culture: Faculty, staff, alumni supporters and upper-level students make it their mission to cultivate relationships with incoming students and help them find their niche within the #MBUfamily. Veteran diversity, equity, and inclusion thought leader and Chief Diversity Officer Andrea Cornett-Scott has fast-tracked participation in one of the nation's top programs for students of color—which graduates more than 95% of participants that complete first-year programming.
Jeffries and Munsey have also worked closely with MBU University Advancement to offer Eagle Academy students innovative financial aid packages that, in many cases, bring tuition-related costs to zero.
"All of this is exactly what these students need to ensure they will continue down the path to succeeding in high-impact careers," Jeffries said.
Opoku, Scotland, and classmate Malakhi Thomas all agreed.
"It's crazy how at home I feel here," said Thomas, who plans to study psychology at MBU and become a licensed therapist. "You know nothing's going to be perfect, but after touring a bunch of other schools, to me, this is as close as it gets. There's a voice in my head saying, 'This is right, this is where you belong.'"
Scotland seconded Thomas, but with a caveat: "My only regret is that I can't start right now—the next couple of months are going to be torture!"
This article has been edited slightly from the original version appearing on the Mary Baldwin University website. MBU is a Sullivan Foundation partner school.