Sullivan Award recipient Josh Nadzam came by his passion for helping others naturally—because others helped him when he needed it the most.
A 2011 graduate of the University of Kentucky (UK), Nadzam survived a hardscrabble life in poverty-stricken, drug-infested housing projects near Pittsburgh. Now he's a driving force for positive change, an experienced social entrepreneur – he cofounded On the Move Art Studio in Lexington, Ky. – and an in-demand speaker and consultant. He's also returning as a coach for the Sullivan Foundation's upcoming Fall 2022 Ignite Retreat, taking place Oct. 7-10 in Black Mountain, N.C.
Click here to learn more about the Fall 2022 Ignite Retreat.
As Nadzam explained to Kentucky author Steve Flairty of the online newspaper KYForward.com, he was raised by a single mom who "worked inconsistent hours at miserable jobs and inconvenient times just to ensure we could have food on the table and a roof over our heads. Things got so bad that my mother had to save up money to declare bankruptcy. Through her hard work and the assistance of various governmental programs, we managed to scrape by as we clawed our way through life."
Adding to the family's stress was his father's alcoholism and multiple suicide attempts, followed by the death of Nadzam's best friend in a car accident when Nadzam was 17. Despite these personal struggles, Nadzam, with his mom's constant encouragement, kept his grades up and excelled as an athlete at school, which proved to be his saving grace.
After a fracas on the basketball court in which Nadzam knee-butted an opposing player from behind, he gained a new mentor in Coach Tom Karczewski, a.k.a., Coach K. The coach reached out to the youth shortly after the game and soon realized the full extent of his problems. "He totally fell apart," Coach K told Flairty. "I remember tears streaming down his face as he told me that he was all alone at home with almost nothing to eat. His mom was in the hospital. He was so frustrated with life that he had to take his aggression out on someone. He told me about his father and all of the issues with him. He was just hopeless."
From then on, Coach K and other coaches took a special interest in Nadzam, ensuring that he had food to eat and constructive projects to keep him busy – and at a safe distance from the local drug scene. With their help as well as the guidance of another mentor, his aunt's boyfriend known as "Uncle Brad," Nadzam made it through high school, walked on to the track and field team at UK and soon won a full scholarship. He became one of the top milers in the SEC and won the Sullivan Medallion for community service in 2012 while pursuing his masters degree in Social Work.
As a dedicated community servant, Nadzam has been involved in and led many community initiatives, including #BringUsHome, Josh's Run to Frankfort, and the 24 Hour Homeless Challenge. He also received the Lexington Leadership Foundation Social Entrepreneur of the Year Award as the co-founder and director of On The Move Art Studio.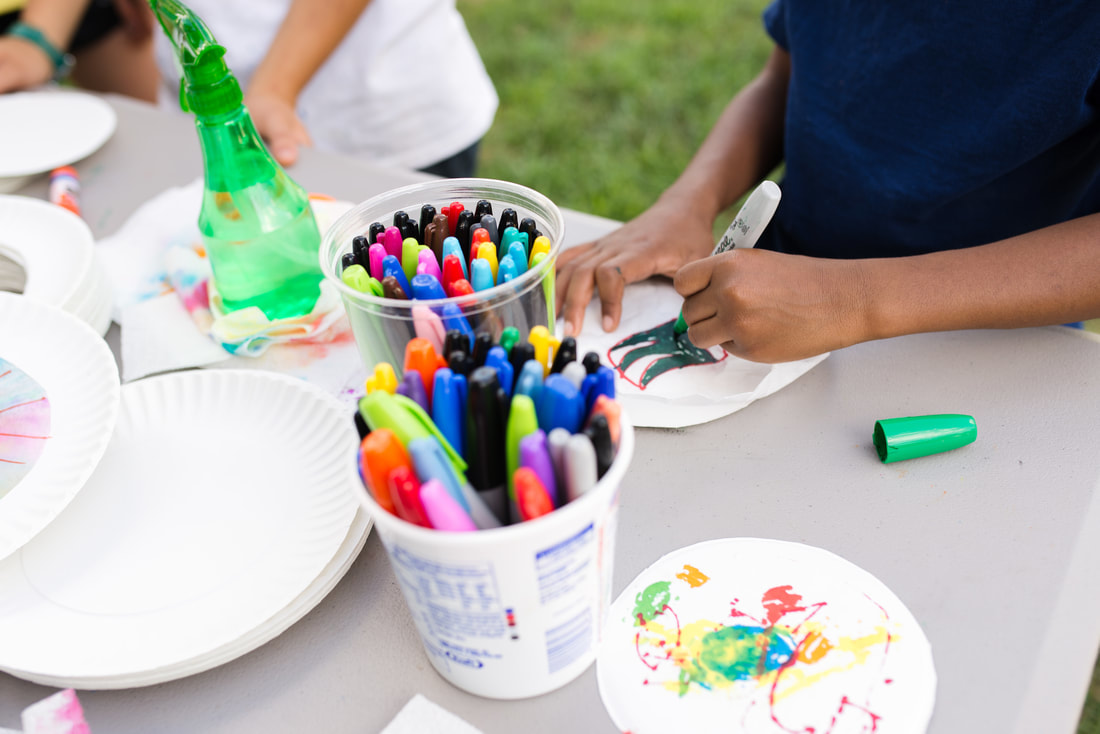 On The Move Art Studio is a mobile art room created in a refurbished vintage trailer that travels to underserved neighborhoods and hosts free arts classes for at-risk youth. "Children from impoverished homes are often 'left out of the picture' when it comes to city development and engagement," the On the Move website notes. "They become further marginalized as they are pushed back into their low-income neighborhoods."
On the Move Art Studio reengages these children while trying to decrease their exposure to negative influences. The organization has served more than 10,000 children since it started and has recently begun raising funds to renovate a second trailer.
In June 2020, Nadzam organized Run for Black Lives, a 26-mile marathon that served as a fundraiser for the Kentucky NAACP. Despite conceiving and organizing the event in less than a week, he ended up raising more than $7,000 from 130 donors.
"Racism, discrimination and the injustices experienced by black Americans are completely unacceptable, and I want to do everything I can to play my role in dismantling the systemic structures that perpetuate these issues," Nadzam told the Sullivan Foundation at the time. "I want to be an ally, fight for social justice, and make our country welcoming and fair for all Americans."
"I'm always trying to think of various ways I can effect change, so, in addition to policy changes, protests, and other forms of activism, I believe each one of us has a set of skills we can use to contribute to the cause," Nadzam added. "Mine happens to be running. So I thought I could raise awareness for this issue and also raise funds for an organization that is constantly fighting this battle by running from my home city to our capitol in Kentucky.
It's no wonder Flairty included Nadzam in his "Kentucky's Everyday Heroes" series for KYForward.com. "Josh Nadzam knows all about redirections in his life," Flairty notes in the conclusion of his article. "You just might call him an expert on the subject, along with a few other things, namely poverty, tragedy, triumph and purpose. As far as expertise on the subject of defeat, well, he has very little knowledge … because he has never accepted or dwelled on it."