By Jacqueline Lamothe
Sullivan Foundation partner school Mercer University's Tift College of Education is collaborating with the Real Impact Center in Macon, Ga., to to inspire young girls to pursue science, technology, engineering and math (STEM)-related fields.
The faculty invested in this project include assistant professors Dr. Elaine Thurmond, Dr. Meenakshi Sharma and Dr. Justin Ballenger. STEM Education Innovation (SEI) Lab Fellows and current Ph.D. students Tynetta Jenkins and Caitlin Hochuli are also involved in developing the curriculum for the collaborative program.
Related: Past Algernon Sydney Sullivan Award winner Dr. Cagney Coomer helps prepare girls of color for careers in science
Dr. Ballenger is the director of the SEI Lab, which examines methods for advancing STEM education through innovations in practice and policy to improve educational outcomes and engagement for all people. The lab implements educational programs and disseminates information concerning research-based best practices.
The Tift College of Education partnered with the Real Impact Center due to its dedication to providing marginalized young women with engaging educational experiences in STEM fields, which aligns with the SEI Lab's mission.
The collaboration stemmed from Dr. Ballenger's experience in the Woodrow Wilson Georgia Teaching Fellowship summer program, which was hosted on Mercer's Macon campus several years ago. There, he met College of Professional Advancement Associate Professor of Science Dr. Sabrina Walthall and Real Impact Center Director Geneva West. Since then, the College of Education has supported the program through summer camps and other initiatives.
"I was in conversation with Mrs. West, and she mentioned some of the needs of the Real Impact Center," Dr. Ballenger said. "We possess unique capabilities to be able to support them, and we were able to draft an agreement with us supporting curriculum development for their enrichment summer programs, which has been working quite well."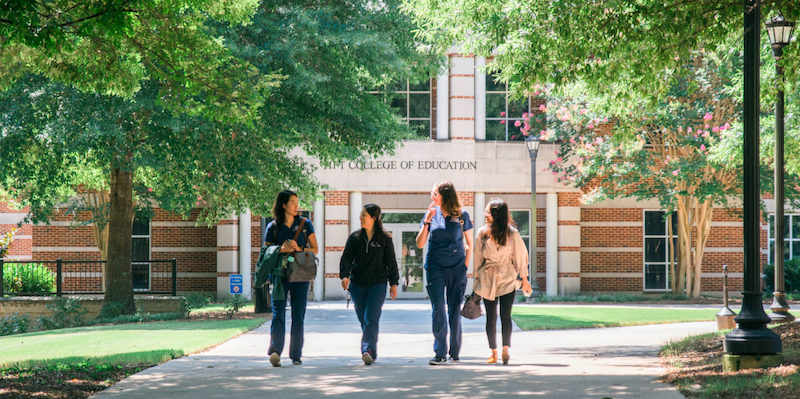 Formal collaboration began during last summer's virtual STEM summer camp implemented and designed by Jenkins and Hochuli. West then approached the Tift College to see if the SEI Lab could support the Real Impact Center throughout the year.
"The vision is to provide rich STEM learning opportunities to the students in an out-of-school context," Dr. Sharma said. "Our goal is to design a next-generation science standards-aligned curriculum that emphasizes science and engineering practices and student sense-making."
Mercer's faculty and staff have been instrumental to the vision of this collaboration. Dr. Thurmond, particularly, provided insight into the planning and administrative process, as she was involved in receiving STEM funding at a middle school where she previously worked. She teaches the STEM and the Youngest Learner course for Mercer's Early Learning and Development major and assists with Mercer's STEM Con.
Related: Bellarmine University offers STEM scholarships for low-income, high-achieving students
"Seeing the process and the needs of marginalized students, I had no problem jumping on board to assist Dr. Ballenger with STEM activities for students in Middle Georgia," Dr. Thurmond said.
The project will also heighten community involvement through a concerted effort to host STEM-related events that promote awareness for these career fields.
"Real Impact has done a number of things to boost community engagement, such as hosting an annual Women in STEM conference," Dr. Ballenger said. "This will transition into the Macon STEM conference when COVID-19 will allow. They've also been recognized by the city for their efforts and supporting women in STEM."
The Tift College of Education understands the importance of cultivating love for STEM in marginalized young women through the development of STEM identity, which provides a sense of belonging and comfortability in these fields.
Hochuli said she experienced firsthand the lack of a STEM pipeline from her years in elementary through high school and into her engineering studies in college. "A lot of the support I had from K-12 dropped and, even though I had the skills and confidence, I realized my passions aligned with what got me there," Hochuli said. "I want to see a lot more girls get into these fields that have the confidence and the support from other women."
Jenkins saw the importance of positive STEM identity development in her experience teaching at an urban high school.
"When I would ask ninth- and 10th-graders, 'What do you want to be when you grow up?,' doctor, engineer or scientist was never on the list," Jenkins said. "I found power in being able to deliver a science lesson and get students of color excited about it and get them to think, 'I can do this. I am smart enough to do this, and here are some scientists and doctors that look like me.'"
This article has been edited slightly from the original version appearing on the Mercer University website.