As a senior on the Auburn University gymnastics team, Meredith Sylvia is a standout on the beam, but sports isn't her only passion: She's also a dedicated community servant leader and one of three recipients of the prestigious 2021 Algernon Sydney Sullivan Award, which honors students who place service above self.
Meet the other recipients of Auburn University's 2021 Algernon Sydney Sullivan Award.
Sylvia, who hails from Macungie, Pa., recently finished her time on the Plains as one of the gymnastics program's most consistent beam workers, having competed in the event in all but two meets throughout her four-year career. The multiple SEC Academic Honor Roll honoree has also been a staple in the Auburn community since she arrived on the Plains in 2017, serving hundreds of people in greater Lee County.
Most recently, she has dedicated many hours to the Lee County Humane Society. With the restrictions that came from the COVID pandemic, Sylvia sought out other ways she could help the community and became a foster home volunteer, taking in animals from the local shelter. To this day, she has fostered animals that need homes and provided relief to over-flowing shelters in the area. Sylvia has cared for more than 20 different animals since the pandemic started last spring.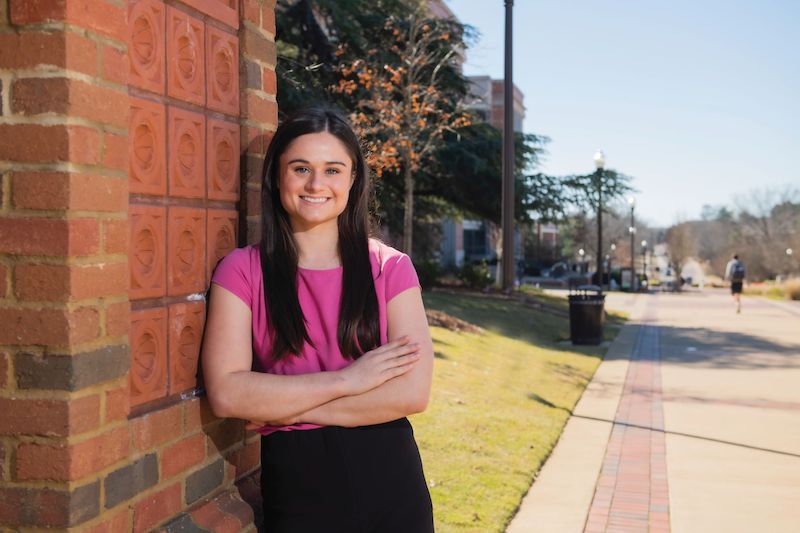 Prior to the pandemic, Sylvia spent many hours with local elementary and middle school students. The aspiring middle school teacher worked with Our House, a non-profit that provides resources to underprivileged families, tutoring and mentoring middle school and elementary students by providing help with classwork. In addition, she encouraged positive behavior and excitement for learning.
Related: Auburn's Sullivan Award recipients are part of a proud lineage dating back 70 years
Sylvia had also served the community on many occasions with her team as well as the Student-Athlete Advisory Committee. With the team, she has participated in the yearly Auburn Downtown Trick or Treat event, where athletes greeted fans and passed out candy to kids. Sylvia has also spent time with local elementary students, showcasing gymnastics skills and encouraging the importance of exercise. She has been involved in a handful of Habitat for Humanity service projects through Auburn SAAC. She volunteered in 2017 and then served as the coordinator of the service project in 2019.
Sylvia will graduate with a degree in conservation biology at the end of the spring 2021 semester. She plans on earning a Master of Arts in teaching and hopes to become a middle school science teacher.
The Algernon Sydney Sullivan Award has been presented at Auburn since 1951 as a reminder of the noblest human qualities exemplified by Algernon Sydney Sullivan, a prominent humanitarian and first president of the New York Southern Society, now the Algernon Sydney Sullivan Foundation. Each year, Auburn bestows the honor on one male and one female student from the graduating class.
This article has been edited from the original version appearing on the Auburn Tigers website.