By Courtney Hammett, Converse College
Molly Glibbery Austin never imagined that, a few years after graduating with honors from Sullivan Foundation partner school Converse College, she'd be spending a lot of time in prison. But she has found a calling within the walls of the Florida Department of Corrections (FDC), where she provides music therapy for male inmates.
Before her graduation in 2015, Austin was involved in Delta Omicron, Model Arab League and academic coaching, and she served as president of Musicians Helping Others. "Converse is always home," and "I miss it every day," she said. "The Music Therapy program has really blossomed."
So how did it lead to prison work in Florida?
"It's kind of a crazy story," she said. After completing a music therapy internship in hospice, she worked for two years at an eating disorder clinic. Then, she worked towards a Master's of Music degree in Music Therapy at Florida State University, which she completed in December 2018. While there, she learned that the prison system needed music therapists to volunteer their services.
Related: This LGBTQ scholarship is the first of its kind in the SEC
The position went from volunteer to part-time to full-time, as the FDC developed one of the first holistic mental healthcare programs of its kind. Austin conducted research for her graduate thesis in the prison, and she hopes more research like this will be done in the future.
"It's pretty innovative for prisons to have such complex mental health treatment," Austin said.
The program involves individual therapy, group therapy, classes, yoga, music and art. The idea is to help patients "in the least restrictive environment possible," with care suited for the individual. The Residential Continuum of Care provides the appropriate amount of supervision and guidance, judging which inmates pose risks to themselves or others, which need extra help to get to appointments, and so on. Various professionals weigh in on treatment plans, so Austin is playing a part in her patients' futures.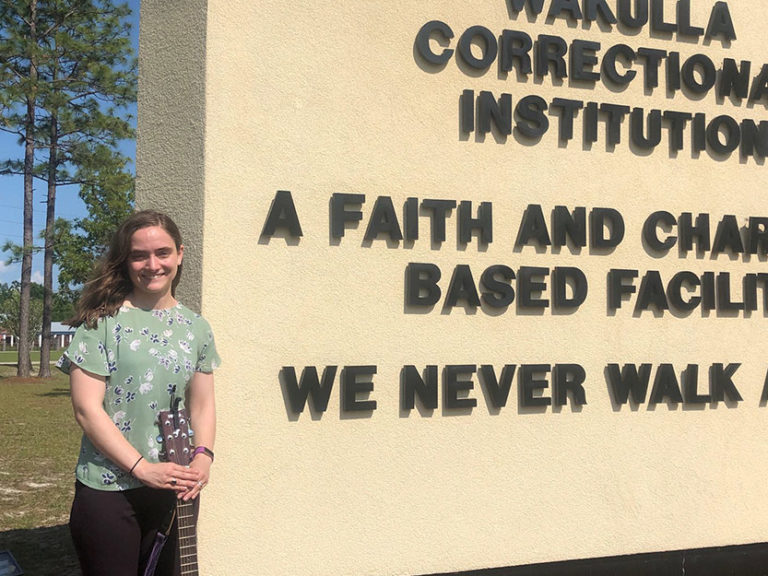 How does she work with prisoners who have done awful things? Some crimes, like those involving children, are hard to overlook. "Maybe you can prevent this from happening again," she said. But, she added, "It's tough sometimes." She used to avoid looking at inmate records—therapists aren't allowed to ask, but charges are public and accessible. "I can know as much or as little as I want," she said.
However, she couldn't avoid hearing about charges, and sometimes knowing them could help address symptoms. So she developed a process where she gets to know the person first, then looks them up at the right time. There are plenty of tragic cases in what she calls a "convoluted legal system," which prompts her to want a law degree sometimes. For the senseless cases, compartmentalizing to separate the person from the crime is key. Working with her patients is mostly great; Austin likes them and has "always been drawn to help people who are underdogs."
The hardest part is motivating patients to want treatment. That's the genius of music therapy. "We're therapy ninjas!" Austin said. When working with music that her patients enjoy, "they don't realize it's work."
Related: North Carolina Wesleyan College joins the battle against human trafficking
Through the process of institutionalization, inmates may lose their identity and sense of self after a long time behind bars. Some may also lose cognitive ability. Music therapy helps them regain their personhood, Austin said. Even something as simple as choosing a song or instrument is a humanizing event. "They can be individuals today," she said. "They can have a choice."
When they learn a chord on a musical instrument, they get praise and feel validated and excited. They feel human.
From day one, Austin said, "the goal is to prepare for release" and to "prevent recidivism." American prisons are notorious for their revolving doors, wherein petty crime leads to a snowball effect. "What I'm doing is [primarily] for the welfare of my patients," she said. But society at large also benefits. With therapy and education, many inmates are eventually able to lead fulfilling lives on the outside. In the meantime, the men are learning to cope with their situation and are less likely to harm themselves or others.
This article has been edited from the original version appearing on the Converse College website.