Mississippi has too many stray dogs. Pet lovers in northern states are eager to adopt, but there aren't enough dogs there to meet the demand. That's where Neely Griggs comes in.
Griggs, a public policy major and 2020 recipient of the Algernon Sydney Sullivan Award at the University of Mississippi, has made it her mission to fill the gap, rescuing local strays and transporting them to loving homes up north—that is, when she's not reaching out to help her fellow humans in need.
Related: Learn more about the Algernon Sydney Sullivan Award here.
As the Transport and Intake Coordinator for Mississippi Mutts in Oxford, Griggs keeps doggie tails wagging happily as they ship off to meet their new families. She coordinates the transfer of animals to partner organizations, such as Wright-Way Rescue in Chicago, that place the pups in forever homes.
"Growing up in rural Mississippi, my family had a lot of pets, so I grew up with a love for animals," Griggs said. "I was definitely the child who wanted to rescue every animal I found."
Mississippi's stray dog problem is well-documented. Some have been abandoned by their owners, while others simply wandered off from home and never found their way back. Thousands of dogs are raised in the notorious "puppy mills"—breeding operations in which allegedly "purebred" animals often endure cruel treatment and unsanitary living conditions—that dot the state.
Related: Hotel for dogs in Biloxi, Mississippi lets guests foster or adopt stray pups
Many of the dogs haven't been spayed or neutered, which makes them likely to bring even more homeless pups into the world.
"Pet ownership is very common in Mississippi," Griggs said. "However, people often don't realize the responsibility of owning a pet, such as the financial burden and time commitment. This has led to an overabundance of unwanted animals in our state."
And even when they're rescued from a hard life in the streets or the puppy mills, too many of man's best friends still end up dead. Although some shelters have a no-kill policy, most can't afford to care for the dogs over the long term and eventually have to euthanize them.
"Stray dogs can cause problems even in rural communities, and in many towns, shelters are not equipped to handle the number of stray animals," Griggs explained. "This leads to the killing of many unwanted animals and the use of extremely limited shelter resources. That's why it's necessary to transport animals out of the state. Specifically, shelters in cities like Chicago often have prospective pet owners on waitlists to adopt. They are just waiting for one to become available."
"Transporting animals elsewhere is beneficial for the home state because there are less stray animals and more resources for shelters, but the animals transported elsewhere find healthy and happy outcomes," Griggs added. "Most importantly, they can live long lives and bring joy to a family."
When Griggs isn't saving our four-legged pals, she's working hard for underserved populations in the Oxford area. She spent the past summer interning for the Rust College Community Development Corporation in nearby Holly Springs, Miss. The organization helps people facing issues such as housing instability and food insecurity while supporting local businesses and securing funding for community development projects.
Griggs said she was introduced to the Rust College CDC through her role as an intern with the McLean Institute for Public Service and Community Engagement. "My main roles included assisting with the grant application process, directly volunteering with the Holly Springs school district's food distribution program and creating marketing materials for the Holly Springs High School Career and Technical Center. I also helped create a grant application guide for the Rust College CDC, specifically drafting a grant-application decision matrix and timeline for future interns and employees to use in the grant application process."
"Although I had a theoretical understanding of capacity building through my studies, my summer experience allowed me to gain a functional knowledge of the practice," she said. "I'm so grateful that I was able to learn more about how capacity building looks in an organization and also assist in activities that would help create lasting value in Holly Springs."
Related: This 12-year-old social entrepreneur makes bowties to help shelter animals get adopted
Additionally, Griggs has served an internship with the Mississippi Department of Human Services (MDHS) office in Oxford, helping people in need apply for public assistance. She said the internship taught her customer service and conflict management skills that will come in handy for her career goals. "But more importantly, through my internship at MDHS and with encouragement from my supervisor, Kendra Campbell, I was able to become heavily involved with the Oxford community," Griggs said.
As the hometown of Ole Miss, Oxford is a largely affluent community, but not everyone has it so easy. "As a student, I had known Oxford as a picturesque, small college town, but at MDHS I witnessed the struggles that families and individuals face daily," Griggs said. "As a student, it's easy to forget that there are people on campus and in the community who struggle to obtain their basic needs like food and housing—things we often take for granted. I'm grateful for this experience, for not only showing me that every community has opportunities for growth but also introducing me to other leaders in our community who continue to inspire me in my academic and career goals through their passion for creating programs to fill these gaps and reach typically underserved populations."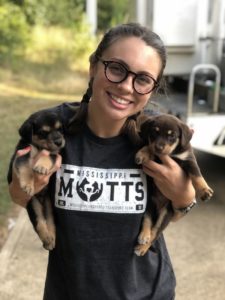 Griggs' commitment to service made her a natural choice for the Sullivan Award, according to UM faculty and staff members who nominated her. One of the nominators noted that Griggs' internship with MDHS "is perhaps the most prominent example of her selfless service to her community. She would talk to me often about the aid applicants that she would interview and assist day-to-day, expressing genuine empathy [and a] desire to help these people in whatever way she could. This experience helped her gain a better understanding of the underserved in the Oxford community and only increased her desire to do whatever she could to improve these people's lives."
"She is my role model," another nominator wrote in a letter recommending Griggs for the award. "I am just one of the many people in the community whose life she has touched in a positive way. I am absolutely sure that she will only broaden her outreach in the pursuit of her goals, which all center around community development. She is determined to improve the state of affairs in her home state of Mississippi."
But where exactly will the future take her? "I'm not really sure yet," she said. "I'm working on my thesis now and know that will take up a lot of my time over the next few months. Right now, I'm planning on taking a gap year to do a year of service and would love to continue doing capacity building for nonprofits."
In other words, wherever she goes next and wherever she stays, Griggs plans to help make it a better place for everyone.