More than 40 percent of black-owned businesses in the U.S. have shut down since the COVID-19 pandemic started—a troubling statistic for National Black Business Month, which is celebrated in August. Entrepreneur Mandy Bowman, a leader in the #buyblack movement, wants to celebrate those companies that still remain while making it easier for customers to find them, with the help of digital technology.
Bowman, who majored in entrepreneurship and global business management at Babson College, developed Official Black Wall Street (OBWS), a directory and resource platform highlighting black-owned businesses, in 2015.  She followed up with an app version in 2017, and today it features 6,000 businesses.
OBWS helps users find black-owned businesses in their area ranging from pharmacies to restaurants. Users can also get an alert when they're near a black-owned business and receive directions and business information about the companies. For a fee, black business owners can get their businesses listed at the top of search results, message their customers directly via the app and offer special discounts and promotions.
Bowman grew up in Brooklyn and saw how gentrification drove a lot of black-owned companies out of business. "That inspired me to go out and support as many black-owned businesses in my community as possible," she explained to RollingOut. "I created this little spreadsheet, did my own research and found a lot of really dope businesses right in my backyard. I decided I should share this with other people and get them to support [black-owned companies] as well."
Bowman was startled to learn that, as CBS News reported in June, the coronavirus pandemic knocked hundreds of thousands of black-owned businesses out of commission early in 2020. Research from the University of California at Santa Cruz found that there were more than 1 million black-owned businesses in the U.S. at the beginning of February 2020. By mid-April, 440,000 of those businesses had closed down for good—a decrease of 41 percent. During the same period 17 percent of white-owned businesses closed their doors.
To show support for black-owned businesses, OBWS has partnered with Snapchat to create three cash-based awards in honor of Black Business Month. These include the Official Black Wall Street Entrepreneur of the Year Award, with a cash award of $15,000; the Innovator of the Year Award, offering $10,000; and a $5,000 award for the Social Entrepreneur of the Year.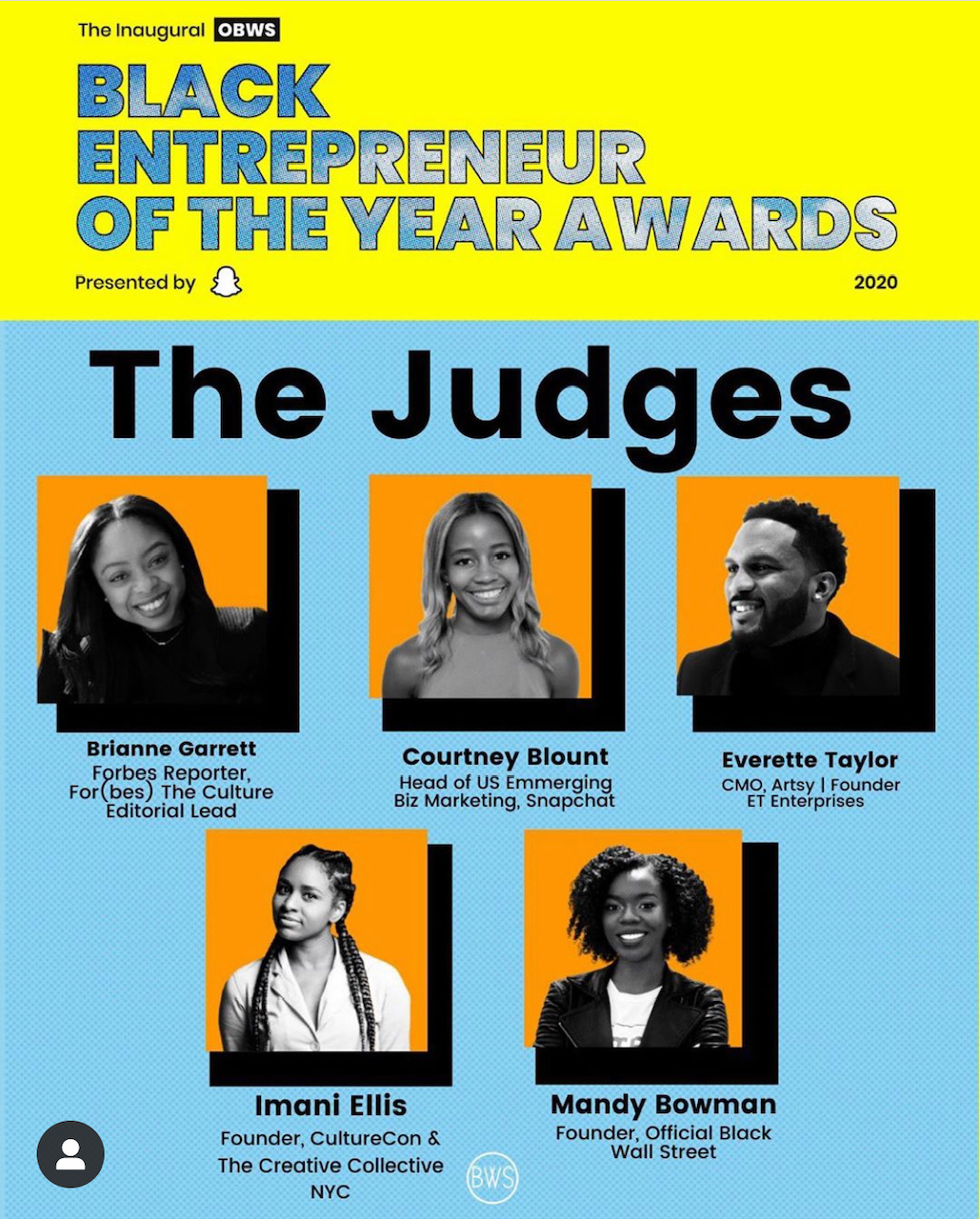 Fifteen finalists will be selected by a panel of judges, including Bowman; Brianne Garrett of Forbes; Imani Ellis, director of communications for NBC Universal and founder of The Creative Collective NYC & CultureCon; Courtney Blount of Snap Inc.; and serial entrepreneur Everette Taylor. The finalists will be spotlighted across the OBWS and Snapchat platforms. Winners will be announced on Friday, August 28.
"Our goal is to create more opportunities to support black-owned businesses," Bowman said in a press release about the awards. "We're elated to kick off the awards as one of many initiatives centered around black-owned businesses."