By Clinton Colmenares, Furman University
A steady rain couldn't dampen the spirits of about 50 students, faculty, staff and guests who gathered inside Hartness Pavilion at Sullivan Foundation partner school Furman University in early April to dedicate the installation of a peace pole.
Outside, between the dining hall and Furman Lake, the peace pole, installed the day before, stood as a stalwart symbol of reflection. Painted pencil yellow, the square wooden pole, standing about seven feet high, reads "May peace prevail on Earth" in English, Spanish, Arabic and Chinese.
The Cothran Center for Vocational Reflection presented the pole after students encountered other poles during trips to the Corrymeela Community in Northern Ireland and to Montgomery, Alabama.
The pole "represents Furman's hope and commitment toward peace in our community and the entire world," according to Abijah Leamon, one of several students who spoke at the ceremony.
Related: Campuswide collaboration brings period equity to Furman University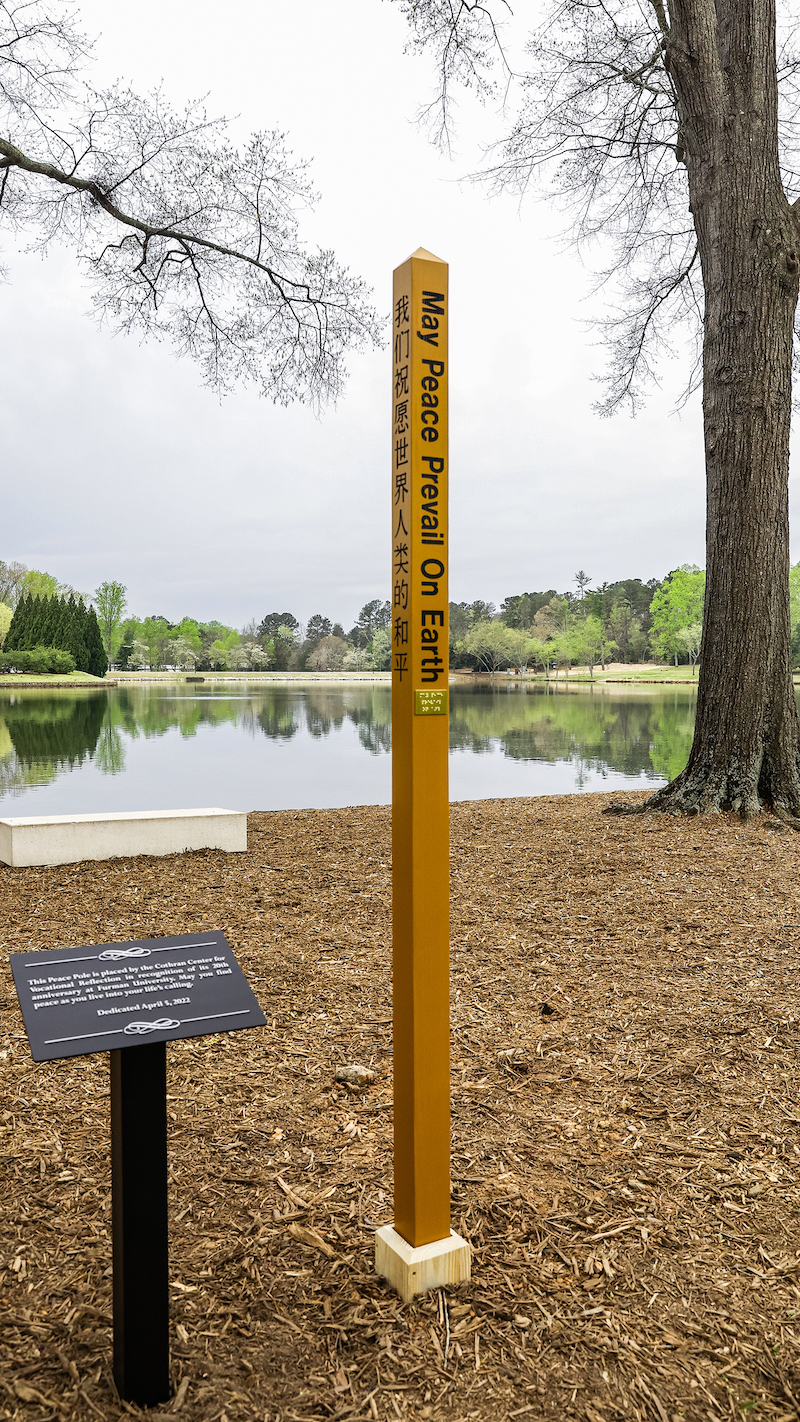 John Harris, director of the Cothran Center, said the peace pole "is also a reminder of the peace that can be felt individually and internally by those who work toward understanding their own vocations and callings. Personally, the peace pole reminds me of the special experiences we have had with our students in locations where these poles already exist."
There are more than 250,000 peace poles around the world.
Furman President Elizabeth Davis said the peace pole symbolizes the Cothran Center's mission of reflection, which is central to "The Furman Advantage." She also thanked Jeanette Cothran, who was in attendance, and her husband John, for their gift in 2013 that endowed the center.
"I hope this peace pole encourages us to pause and appreciate what we have and to pray in your tradition for people for whom peace is fleeting or foreign," Davis said. "Let us use this peace pole to motivate us to spread peace wherever and however we can."
This article has been edited and condensed from the original version appearing on the Furman University website.