Many Americans desperately need the stimulus checks being issued by the government to pay utility bills, buy groceries or make their mortgage payments as the coronavirus pandemic continues. But for more privileged Americans it's free money that they can spend however they choose—and a group of volunteers from North Carolina hopes they'll spend it to help others in dire need.
The group, including Sullivan Foundation Ignite Retreat alumnus Jordan Bowman, has launched a website called Pledge My Check, which encourages people in financially stable positions to donate all or part of their stimulus checks to help those affected by the COVID-19 pandemic.
Related: The quest for water: Ignite Retreat alumnus Elizabeth De Wetter organizes 6K fundraiser to build wells in Zambia
Kevin Miller, a Raleigh, N.C. social entrepreneur and one of the project's creators, said that, right before the stimulus checks started going out, he "saw Best Buy advertising $1,200 TVs and thought to myself … if people can use their check to buy a TV, how can we try and convince them to turn that money towards doing some good?"
More than $50,000 was pledged from 100 people across 15 states in the first week. As of this writing, the site has raised nearly $90,000 from 145 donors, and the number continues to rise. The organizers' goal is to reach $1 million in pledged donations.
Individuals are encouraged to donate directly to the people, causes or organizations they want to support. Pledge My Check does not accept or process the monetary donations; instead, it provides an online record of the pledges and sends follow-up emails to make sure the donations were made.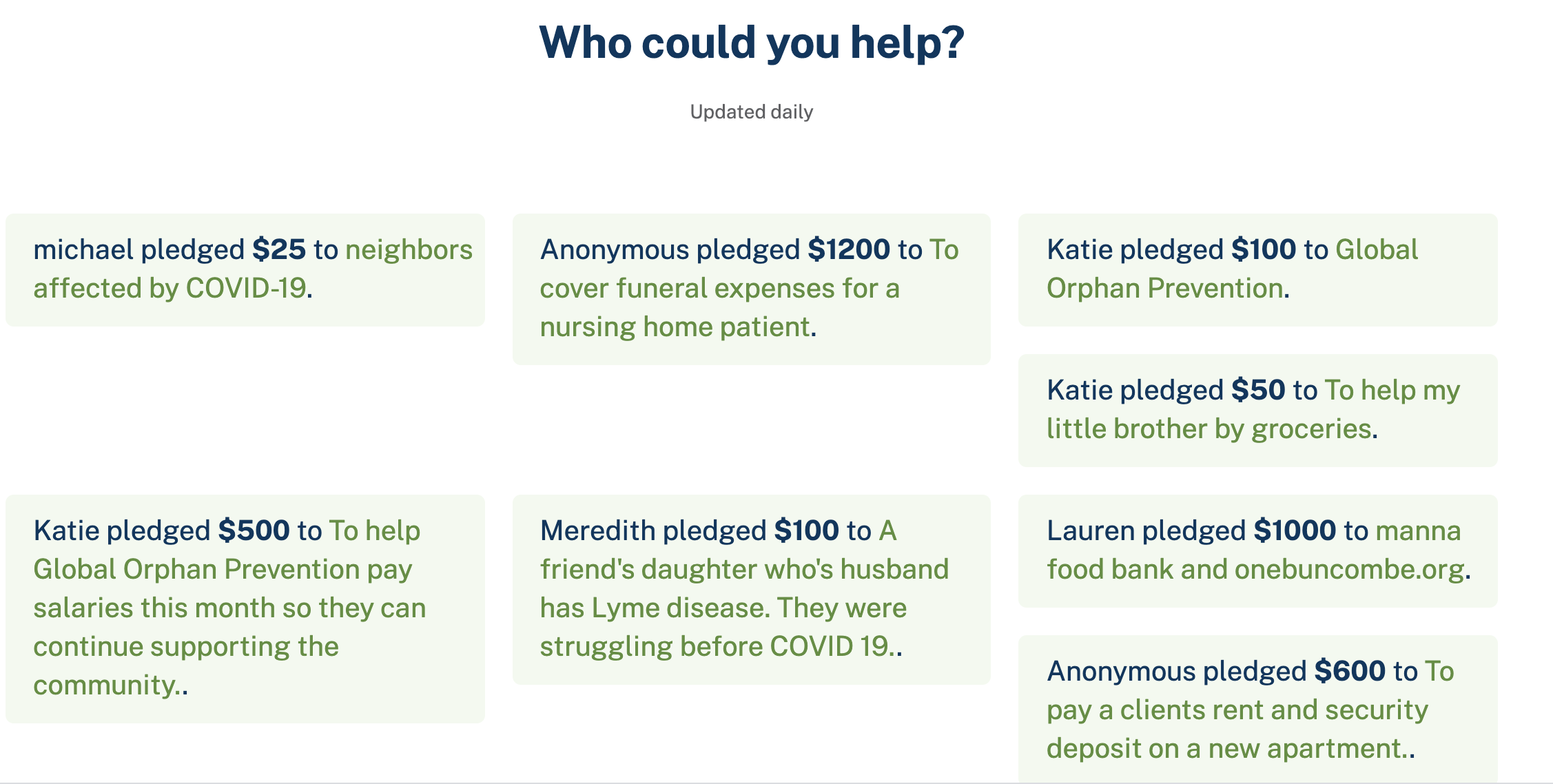 "The idea is to encourage folks to pledge in a way that is life-giving to them and others," said Bowman, a business administration major at North Carolina State University. "There is complete freedom in how people pledge, but we are encouraging them to consider local causes and to be creative in how they can use this money to support their neighbors, nonprofits and small businesses."
The site records and displays recent pledges from donors like Kirsten. "My husband and I decided to donate 50 percent of our total checks," she said. "We've made monthly gifts to several organizations: Heifer International, UNICEF, The Arts and Science Center of Southeast Arkansas and Doctors Without Borders."
Related: Wofford College social entrepreneurs plant a SEED. for global change 
Other highlighted organizations include Meals on Wheels, DonorsChoose.org and GiveDirectly. The site also allows organizations to create their own custom pledge pages for free.
The Pledge My Check initiative is the work of an all-volunteer team based in Raleigh-Durham. "This project is all about bringing out the best in our communities," said co-creator Ryan O'Donnell. "When the stimulus checks were first announced, I felt this was a simple way for people to help their neighbors."
Lead designer Bethany Faulkner agreed. "I'm fortunate to be in a stable financial situation," she said. "I wanted to help, and this stimulus check is an opportunity to redirect that vital financial support to those who need it most in our community. We built this tool to enable that and make it a community effort, even as we're separated in our own homes."
In addition to co-founding Pledge My Check, Bowman serves as executive director of Journeymen Triangle, a mentoring organization that teaches emotional intelligence to middle- and high-school boys. He attended the Sullivan Foundation's Ignite Retreat in the fall of 2018—his second semester at North Carolina State. "At the retreat, I found inspiration and encouragement to continue building the Journeymen program," he said. "I was able to practice and refine my pitch, and I met really awesome students and facilitators that I am still connected with today."
"The Ignite Retreat came at a pivotal time in my path and led me to double down my time and energy investments in Journeymen and other social entrepreneurial ventures," Bowman added. "By the end of 2018, I had raised enough money as board president of Journeymen to resign from the board and come on as the first paid staff member of the organization. Last year [2019] I was able to hire a program director, and we grew our program 300 percent!"
Bowman expects to graduate from North Carolina State in either May 2020 or December 2020, depending on the pandemic. Meanwhile, he also works part-time as an associate for North Carolina State's Business Sustainability Collaborative, which teaches students how to use business as a force for good. And he's building a virtual community called Brother Hang. He says Brother Hang "allows men from across the world to belong in a community that cares about authentic connection and developing the mature masculine together. We share vulnerably our emotions, struggles and successes."
"I am now heading into the close of my chapter at NC State and am looking forward to being a student of life full-time!" Bowman added. "I am excited about pursuing other projects and ventures. When the opportunity presented itself to build and grow Pledge My Check, I jumped in, and I can't wait to see what other adventures are waiting for me as we enter into this new, beautiful, post-COVID-19 world."