After graduating from The University of Alabama, a Sullivan Foundation partner school, on Dec. 10, five mechanical engineering students stuck around in Tuscaloosa for an extra week to perfect their senior design project—a mechanical wheelchair lift. But it was more than just a class project: It was also a Christmas gift for a 10-year-old Tuscaloosa girl who is an incomplete quadriplegic.
They presented "Rachel's Lift," a blue-and-white custom wheelchair lift with a Script A emblazoned on its side, to Verner Elementary School student Rachel Williams at her home on Dec. 14.
For Rachel and her family, Christmas came early. "Blue is my favorite color, so I'm so excited they made it blue," Rachel said. "It will make my life easier because it will be able to lift me, so my parents don't have to."
"Getting this is like ordering something, but better," Rachel said. "It's the best Christmas gift I've ever had."
Melissa Williams, Rachel's mom, said she was astonished that the recent engineering graduates could take the barebones concept they submitted and turn it into a built-from-scratch reality.
"It's life-changing for our family," she said. "It's like winning the lottery."
As Rachel grew, her dad, Chris Williams, said, he became concerned that they might cause an injury physically lifting her out of her wheelchair and transporting her to the bathtub, vehicle and other places.
But with the custom lift, that worry has rolled off his strained shoulders. "It has a boom that connects directly to her chair and can maneuver 180 degrees," Chris said. "It's not bulky or cumbersome, is portable and can be transported easily. We were very fortunate that it was able to come to fruition. The education and community outreach at the university is top-notch. It's not just theory they're learning over there but practical application."
Related: Down syndrome is no barrier to entrepreneurship for this Clemson LIFE graduate
Kate Radovich, Chloe Denorme, Casey Largin, Hunter Dowdy and Mason Janes built the lift. In March, they were given options for a final design project before graduating. The wheelchair lift jumped off the list. "We all had a shared interest in adaptive technology and ranked this one first," Denorme said. "I started volunteering with people with disabilities back in high school in Ohio. I did adaptive snow skiing."
"I thought about how different pieces of equipment failed them or weren't good enough," she added. "This project gave me an opportunity to continue in that type of work."
Radovich said she started working with people with disabilities at her home church in Texas. "I also got to tour a hospital making prosthetics and thought that was really cool, so I picked mechanical engineering as a major and biology as a minor so I could combine them in biomedical adaptive technology."
Largin also had a history of working with adaptive technology. His grandfather makes prosthetic limbs and builds wheelchairs, and his mother teaches special needs classes. The wheelchair lift senior project was right up his alley. "For me, it was just a wonderful opportunity to help a wonderful family," Dowdy said.
Janes said his cousin is an engineer who works in adaptive athletics. That piqued his interest in the project.
The project took more than nine months to complete. Denorme said the family had set specific parameters for the lift, namely that it had to attach to Rachel's wheelchair, be easily transportable, able to lift her 30 inches off the ground and lift 400 pounds.
Related: Social enterprise trains blind women to detect early signs of cancer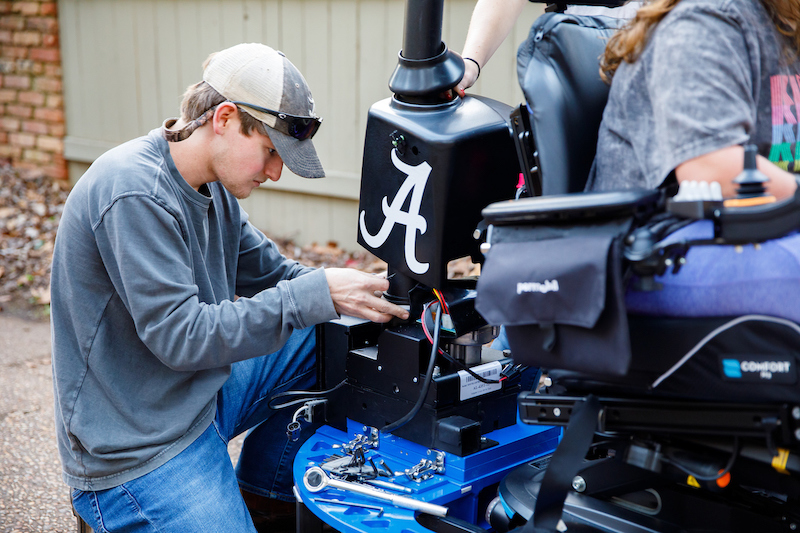 To design the lift, the team used an old wheelchair donated from Children's of Alabama as a model. "We're grateful to Children's for giving us the chair," Denorme said. "It couldn't be used any more, so we took it all apart, hacked at it and remade it to help us make our lift. We custom-made the lift's aluminum baseplate that slides together and breaks down so it can be put in a bag for the family. We had a difficult time, though, getting the aluminum base welded, so we took it to Fitz-Thors Engineering in Bessemer, and they offered to machine it out of one piece of aluminum for us for free, which helped us tremendously."
Legs were added for stability and a battery box on the back, which is how the lift is powered. An attachable sling is used to carry Rachel.
"This is something she's going to be using every day of her life," Largin said. "This will make it easier to do simple things."
Dr. Paul Puzinauskas, an associate professor of mechanical engineering and the student challenge projects coordinator, said it's rare for students to finish projects after getting their final course grade and graduating.
"We had to finish," Denorme said. "The work wasn't done yet. We had a little girl to keep a promise to."
This article has been edited from the original version appearing on the University of Alabama website.