Ashley Lucas and Ashley Koranteng met when they were both undergraduates at Sullivan Foundation partner school George Mason University. Their friendship blossomed, especially when they realized they had similar goals: They wanted to find ways to inspire and help teen girls navigate growing up.
Together, they created a program called Rise and Thrive, which officially launched in September 2019. The program is aimed at cultivating a community of "young ladies that will grow into women who are confident, intelligent, and leaders in all aspects of life through mentorship, education and experience," according to the Rise and Thrive website.
Related: De'Angelo Wynn, Shenandoah University SGA president and combat veteran, joins social-justice protests in Virginia
"Sometimes young girls don't have someone in their lives who is closer in age than their parents to inspire them. Our program is intended to encourage young girls to chase their dreams and help give them the tools to do so," said Koranteng, who was a member of the Honors College while an undergraduate at Mason and graduated with a BS in community health. She is currently pursuing a master's in public health in epidemiology at Mason.
Over the past year, Koranteng and Lucas have been working with local schools to implement their programming. The original (pre-pandemic) concept was for Koranteng and Lucas to meet in person with teen girls once a week, either during or after school for a safe space to talk. In these meetings, Koranteng and Lucas would guide participants in discussions about such topics as healthy lifestyles and appropriate use of social media. In addition, the program is intended to help participants with etiquette, professional development, academic enrichment and responsible finances.
"We wanted to help girls in the areas that they aren't necessarily taught in school, but [which] are important for their growth," said Lucas, who was on the women's track and field team while at Mason and graduated with a degree in biology. She is currently pursuing a master's degree in nutrition and integrative health at the Maryland University of Integrative Health.
Some of their plans include practical instruction. For example, Koranteng and Lucas want to teach girls the etiquette for formatting emails to professors and potential employers. "It seems small, but girls aren't necessarily taught this. And it can make a big impact on how they are perceived," said Koranteng,
Most important, however, they wanted teen girls to have a place to talk, where every voice was heard, no matter their background, Koranteng said.
Since the coronavirus pandemic hit, Koranteng and Lucas have had to change their plans to offer their program virtually instead of in-person. They are working on a pricing model for implementing the conversations online. While virtual meetups would look different than in-person, they also allow the program to potentially reach teen girls across the country.
"With more girls attending school virtually, they have Chromebooks and hot spots, so they could participate and may be in even greater need of mentorship," Lucas said.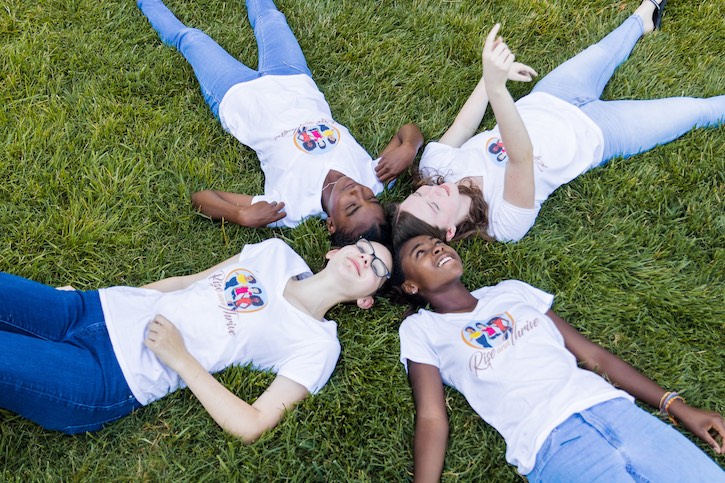 This summer, they hosted a six-week session, with about 80 participants meeting online once a week, from all parts of the United States and Canada.
Jacquelyn Somuah's 15-year-old daughter has been participating in the summer program. "It's been good. It's kept her happy and busy," Somuah said. "They play games and talk about things. I'm glad she has a group of girls to talk to."
Somuah, who lives in Dumfries, Virginia, added that having young women leading the program is helpful. "She is more likely to listen to them when they give advice because they are like big sisters," Somuah said.
Koranteng agreed that the summer program has been successful. "We hope to reach more teen girls in the fall," she said.
This article was edited slightly from the original version appearing on the George Mason University website.