As the 2018-19 term comes to an end at Sullivan Foundation partner school Rollins College, the Department of Social Entrepreneurship (SE) recognized a dozen student changemakers for their achievements and innovations in April.
Rollins' internationally recognized program offered the first SE major in the world to be accredited by AACSB-International, the highest-quality standard for global business education. Dr. Tonia Warnecke, the George D. and Harriet W. Cornell Chair of Social Entrepreneurship at Rollins College, and Professor Josephine Balzac-Arroyo, an assistant professor of social entrepreneurship, presented the awards and shared details about the winners with the Sullivan Foundation:
Social Entrepreneurs of the Year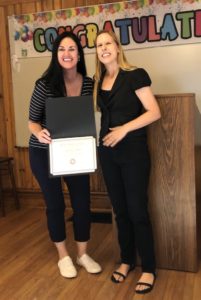 Brittany Chaney (left, with Professor Warnecke): A social entrepreneurship major involved in multiple nonprofits, Brittany founded FosterU, a a social venture that helps foster youth better their lives through technology and education. Brittany won first place in the Rollins College Ideas for Good pitch competition this spring and was a regional finalist in the Hult Prize global competition for social venture startups.
Charles Bonker: A senior majoring in social entrepreneurship, Charles was a junior in high school when he founded Cranberry Lake Technologies, which sold used books on Amazon.com and employed people like himself with autism and other special needs. He later co-founded Love Your Neighbor Books, a benefit corporation that collects book donations for partner organization Opportunity, Community, Ability (OCA), which resells the books on Amazon. Like Cranberry Lake Technologies, Love Your Neighbor Books provides jobs for people with special needs. With the help of Rollins' Social Innovation and Entrepreneurship Hub, Bonker and his team conducted a book drive last year that brought in thousands of books for OCA.
Kinsley Gerks: A social entrepreneurship minor, Kinsley is the former CEO of In the Spotlight Events. She is the co-founder and chief marketing officer of BatterEASE, a social enterprise formed as a for-profit and non-profit hybrid. BatterEASE provides customizable, upcycled batteries that effectively harness renewable energy and help address energy poverty, which impacts 1.2 billion people around the world. BatterEASE was a regional Hult Prize winner. Accepted into the Rally Social Enterprise Accelerator, the company recently pitched and won $10,000. The company already has established partnerships and contracts, requiring Gerks to play dual roles—as both social entrepreneur and student.
Changemaker in Action Awards
Hannah Jackson: Hannah, an SE major, has demonstrated considerable leadership in changemaking efforts on campus. She has served as social events chair for EMBARK, which supports and mentors 40-plus underrepresented students, and as secretary of the Black Student Union. She also has been a facilitator at the Emerging Leadership Institute, a weekend retreat for first- and second-year students that helps them enhance their social, personal and leadership skills. Among other community activities, Hannah volunteers at Killarney Elementary School and leads activities for kindergarten students.
Kalese Justice: Kalese is an SE major and Bonner Scholar and a UNCF scholarship recipient. In 2017 she received the Rollins Emerging Leader of the Year Award. She has coordinated numerous community immersions with the Center for Leadership & Community Engagement as a student coordinator and has been actively engaged with various nonprofits around the Orlando community through the Bonner Scholar program.
Arianna Montrose: Arianna is an SE major with a minor in communications. In 2017 she was named the Boys and Girls Club Florida Youth of the Year. She is a Global Social Impact intern for Tupperware, the community chair for EMBARK, and vice president of the Black Student Union.
Leading Change Awards

Tatiana Fagan: Tatiana is an SE major and 3/2 student who will pursue her MBA at Rollins' Crummer Graduate School of Business. She is a student ambassador for the Social Innovation and Entrepreneurship Hub and has been extremely active with the Hub, hosting and coordinating numerous events. In her biggest achievement at the Hub, Tatiana was one of the lead organizers and coordinators for the Rethinking Fashion event, which highlights clothing companies that practice ethical and environmental sustainability. This year's event was elevated to an entirely new level and was a huge hit.
Matias Meirelles Van Vliet: Matias, who minors in SE, has worked with the Social Entrepreneurship & Innovation Hub since 2016 in a variety of capacities—as a marketing assistant, organizer of Ideas for Good, and on other projects. He helped spark fellow students' interest in starting social enterprises by cofounding BatterEASE and working for that company for more than a year. He also worked to start an impact investing student club on campus. Abroad, he has spread the ideals of SE by interning at Ashoka and Sistema B, focusing on social impact metrics.
Ryan Abronski: Whether organizing the Ideas for Good pitch competition, leading a successful book drive on campus, or coordinating multiple student ambassadors at the Hub, Ryan is dedicated to social entrepreneurship and strives every day to apply the tools and insights he has learned through the SE major to his work outside the classroom.
Reed Andary: Whether staffing the SE table at Changemaker Day or the R-Compass Fair, or attending lunch with a faculty candidate, Reed, an SE major, always shows enthusiasm for getting involved and being an ambassador for the SE program.  He came up with the idea of founding an SE Student Advisory Board to provide guidance to the SE department and spread awareness across campus about social entrepreneurship. He helped to select a founding group for the advisory board, and broader calls for participation will come next year.
Maxim Zaruddny: An SE major and longtime advocate for SE on the Rollins campus, Maxim organized the Hult Pitch competition at Rollins; provided significant behind-the-scenes support to BatterEASE as they prepared for the Hult Regional Finals last year; and will serve on the SE Student Advisory Board in the fall.  Off campus, he supported the social enterprise Ideas for Us with project management.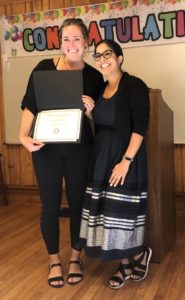 Outstanding Academic
Carlye Goldman: An SE major with a Global Health minor, Carlye was a candidate for the Fulbright Scholarship and is currently interning at the Edible Education Experience (EEE). Carlye recently began the process of officially making EEE a community partner of the school. She was previously an ESL teacher and will work this summer with a nonprofit in Patagonia and teach English in Colombia. With the highest GPA of all of the SE graduating seniors, she's a stellar student, truly one of a kind, and we couldn't be prouder of her.