Sarah Kessler is a Girl Scout on a mission: to educate consumers in Grand Rapids, Michigan, about the problems posed by "fast fashion" and the need to shop sustainably.
According to the West Central Tribune, Kessler, 16, has been working on her Gold Award, the highest achievement for a Girl Scout (similar to the rank of Eagle Scout in the Boy Scouts of America). To earn the award, she had to develop and execute a project that would have a lasting positive effect in the community.
After learning about the environmental impact of fast fashion and the plight of low-paid factory employees working in the industry, Kessler decided to help local shoppers make better buying decisions. She created two shopping maps covering a large swath of northern Minnesota. One map highlights stores that carry responsibly made, locally made and/or Fair Trade Certified products. The second map focuses on those stores that offer second-hand goods.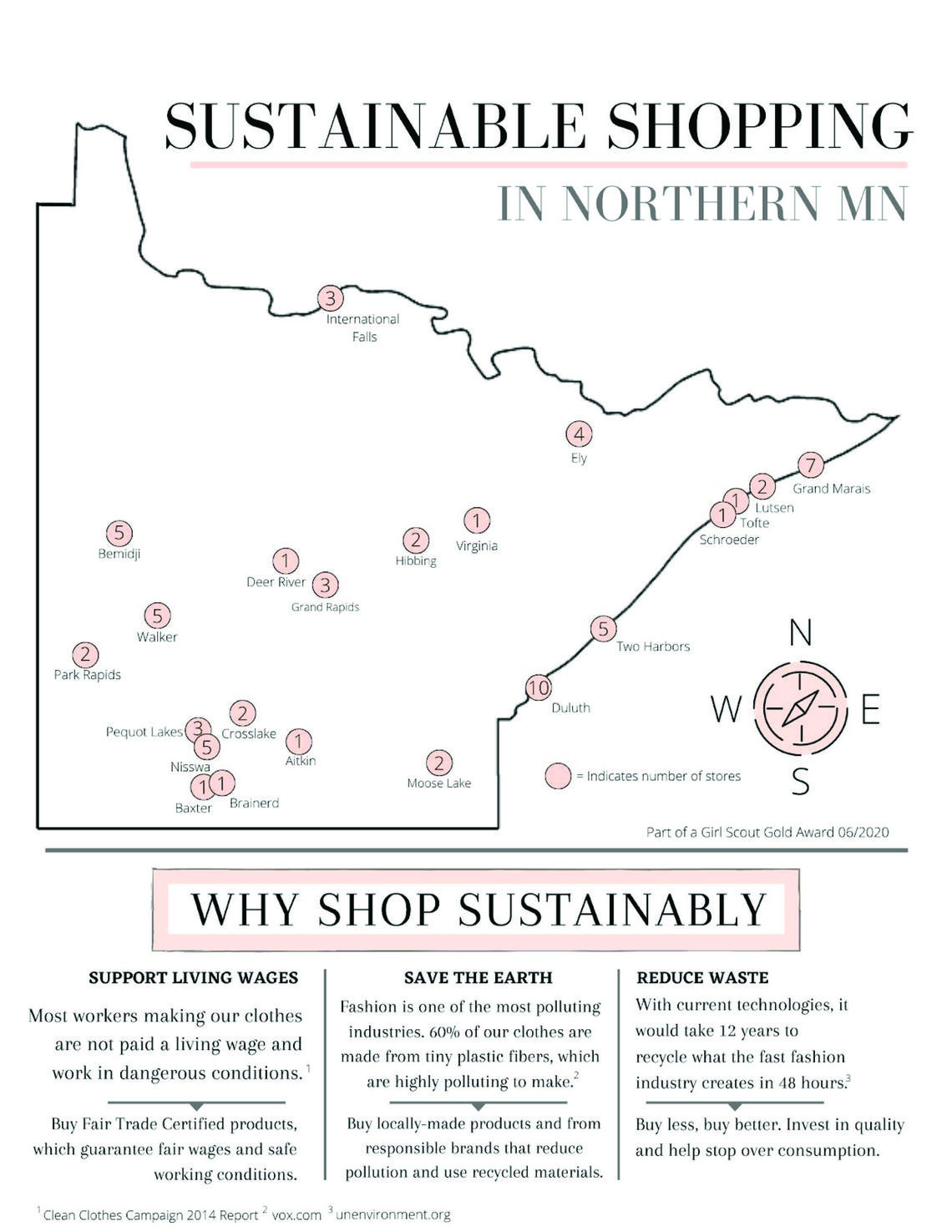 "When I kind of learned about how badly we need sustainable fashion, I was just really shocked, because I'd been into fashion my whole life, and I'd never heard this before," Kessler, a member of Girl Scout Troop 1483, told the West Central Tribune. "I was just really amazed, and I wanted to give people the opportunity to know how their actions affect so much more than they think it does."
For her Gold Award project, Kessler contacted more than 80 stores within a 300-mile radius to gauge their commitment to sustainability. She took into account whether the stores were paperless or offered single-use plastic bags. "It was really inspiring to see how many stores did have responsibly and locally made stuff," she said. "The more we know, the more we can make informed, ethical decisions."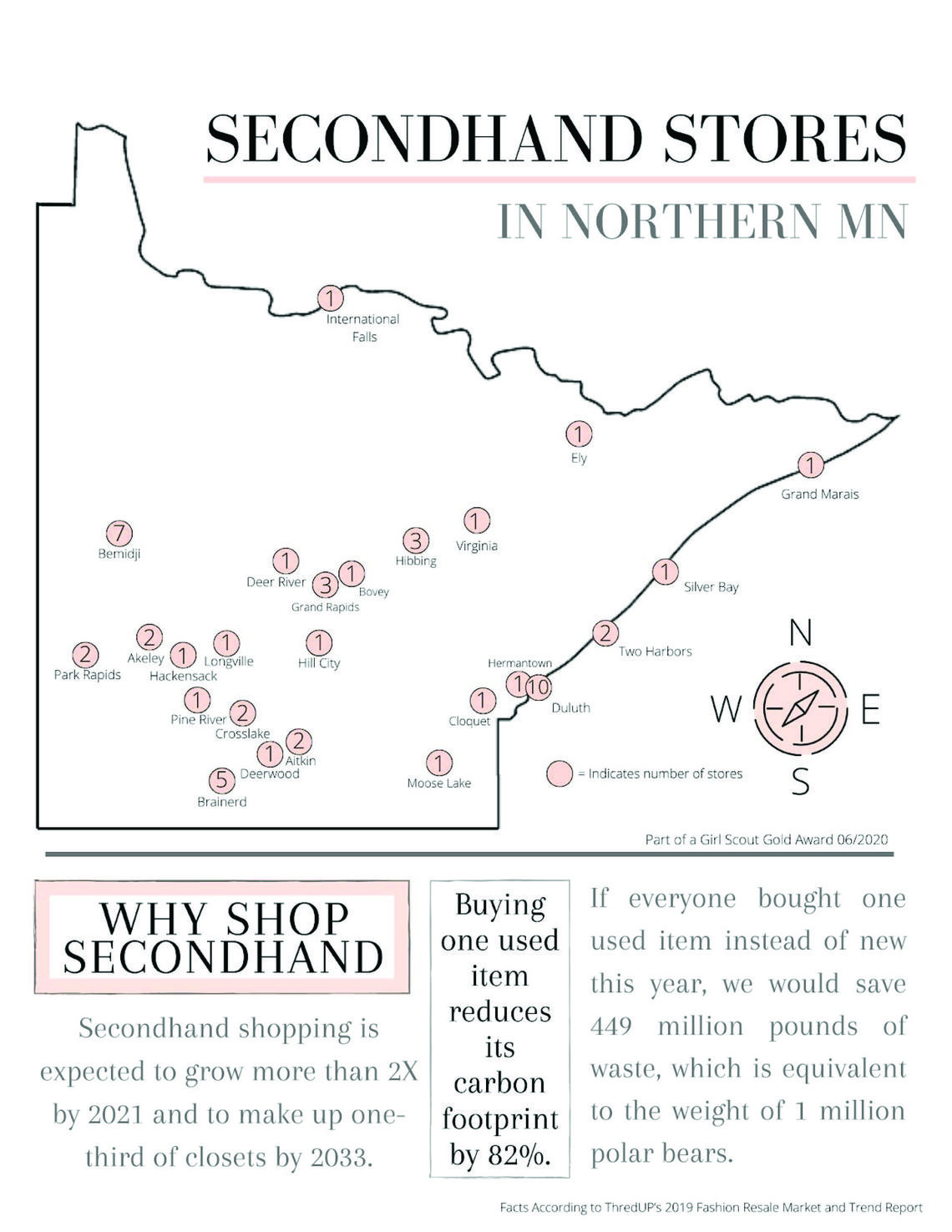 Kessler also created a YouTube video that succinctly and effectively explains the problems with fast fashion and how to shop sustainably. "We like these clothes because we can buy a lot of them for really low prices," she explains in the video. "But they're such poor quality that they wear out and fall apart really quickly and become garbage. It's disposable clothing."
She also notes that the fast-fashion industry "is a major contributor" to global warming. It releases 1.2 billion tons of carbon every year, Kessler says, and generates 20 percent of the planet's waste water (fresh water that is rendered unusable).
Additionally, 40 percent of purchased clothing is never even worn, Kessler says in the video. "One garbage truck full of clothing—that's 530 garbage bags—is being burned or dumped into a landfill every second."
Kessler's video also touches on the issue of worker exploitation in developing countries where fast fashion clothing is usually made. "People are dying at work from making our clothes. Most of the people making our clothes are being exploited and physically, verbally and/or sexually abused. They work in awful conditions every day and are not even paid enough to live. This is not OK."
The video, titled "Fast Fashion & How to Fix It," was posted on June 20 and has garnered 270 views and 20 likes. On August 10, Kessler posted a second video, titled, "Sustainable Fashion: A Beginner's Guide." (See below.)
Meanwhile, Kessler plans to distribute her sustainable shopping maps at visitor centers and chambers of commerce throughout northern Minnesota. The map can also be viewed at visitgrandrapids.com, while her project is featured on her Instagram account, @fashion_or_planet_choose_both.
"When we buy from a brand, we directly support everything they do, including environmental and social crimes," Kessler notes in the YouTube video.
"We can't survive without clean water and air," she adds. "And fast fashion is wasting it."