Coffee is easy to find in caffeine-crazed cities coast to coast, but coffee with a conscience—that's a taller order. Nick Bayer, founder and CEO of Philadelphia-based Saxbys, believes a good cup of java has the power to awaken social change even while it jolts you out of a sleepy stupor first thing in the morning. And with Saxbys' innovative Experiential Learning Platform (ELP), it can also put college students on their own path to social entrepreneurship.
Bayer opened his first Saxbys café in 2005 with a mission to "make life better"—for his community, his employees and the planet itself. It has since grown into a 30-store chain stretching across the eastern U.S., from Georgia down south all the way up to New Hampshire.
From the start, Bayer envisioned Saxbys as much more than a coffee shop. "We are a hospitality and social impact company first and foremost, with our efforts primarily rooted in education and opportunity," he said in a 2018 interview with his alma mater, Cornell University.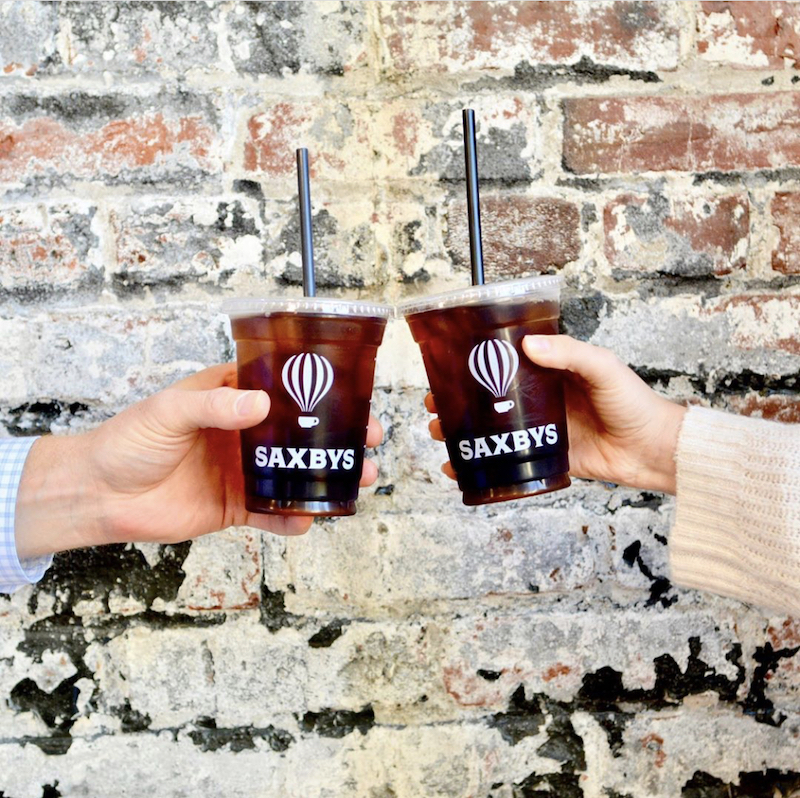 Saxbys rolled out its inaugural Experiential Learning Platform in a partnership with Drexel University in 2015, creating the country's first entirely student-run café. Students can earn full academic credit and wages through a cooperative education program. Each café is managed by a Student Café Executive Officer (SCEO) and submits a profit-and-loss statement every month to Saxbys' executive team. In addition to being paid for their work, each SCEO receives ongoing mentorship, bonus-earning opportunities and training while helping peers grow into team leaders.
The program has expanded to 10 ELP cafes at eight universities, including two at Drexel, two at Temple University, and one each at La Salle University, Millersville University, West Chester University, Pennsylvania State University, St. Joseph's University and Bowie State University. Two more cafes are scheduled to open in the fall of 2021 at the University of Pittsburgh.
The ELP Café
Working for an ELP café involves a lot more than slinging coffee for some quick cash. It's a full-blown immersion in the highly competitive world of business operations with industry veterans showing you the ropes. Saxbys' executives work closely with ELP team members to teach them skills ranging from financial management, marketing and community outreach to leading a team of their peers, social impact and systems thinking, all in a busy, bustling coffee shop frequented by their fellow students.
Bayer said the program was built around "the belief that the lessons we would teach in our cafés to undergrads and aspiring entrepreneurs would go way further than steaming milk and making lattes. In fact, it transcends the coffee business and teaches the skills necessary to be successful, civic-minded leaders in any industry."
In other words, it's the kind of learning experience that students can't get in a traditional classroom. And Saxbys chooses its team members carefully. "First and foremost, our mission is to make life better, and core values are at the epicenter of our hiring process," Bayer said. "Every single Saxbys team member goes through what we call a culture screening—where our certified recruiting team screens them first on the culture we are so proud of within the café. Because we're on so many college campuses, we're a lot of students' first job, so we pride ourselves on the training and education program we've put in place that enables team members to reach their full potential and offer the hospitality we know our guests are looking for."
Each ELP café has one fulltime position—the SCEO. "The rest of the team are current students in a part-time role," Bayer said. "At some of our institutions, the university has realized how valuable our part-time leadership roles—which we call 'team leads'—are and have started to offer credit for those positions as well on top of the Student CEO role. All café roles report to the SCEO, making them responsible for overseeing sometimes up to 70 of their peers."

Building Relationships
Saxbys also looks for the right fit as far as partner institutions are concerned. "Our Experiential Learning Platform is composed of individuals with a really unique set of experiences in higher education, teaching, real estate and foodservice," said Raymond Smeriglio, Saxbys' head of partnerships and external relations. "That team works to identify universities leading the way in innovation, entrepreneurship and experiential learning. From there, like most things at Saxbys, the partnership is built off of relationships."
"The partnership conversation usually starts at the presidential or board level," Smeriglio added. "Then, a team of intra-university officials combine with the Saxbys team to create two critical paths—academics and real estate. We create a crediting structure that benefits the students, does not hinder their graduation and keeps them eligible for financial aid. While those academic discussions continue, Saxbys continues to work with the university to identify the real estate that can turn into a beloved café and bustling Experiential Learning Saxbys."
Historically, the coffee industry has been notorious for taking advantage of farmers in developing countries. In recent years, fair-trade market reforms, particularly in terms of ethical sourcing and sustainability, have led more companies to carefully consider their impact on the farmers who grow and harvest coffee around the world.
Ethical sourcing is ingrained in the Saxbys business model. A Saxbys' team visits every country where their coffee is grown, direct-sourcing their coffee and purchasing it with a handshake at origin. "We want to be as involved in the process as possible to get the best product we can find and also to nurture and develop relationships," Smeriglio said. "We will often select from hundreds and even thousands of farms in a geographical area to determine which coffee would be ideal for Saxbys. Last year alone we visited Kenya, Ethiopia, Guatemala, El Salvador, Colombia, Brazil, Peru and Ecuador."
"It's important to us that every coffee we serve has been purchased in a sustainable and ethical way," he added. "We pay above fair-trade prices for our coffee and believe that it's critical and necessary to pay coffee farmers what they deserve. We try our best to form long-standing relationships where we can purchase from producers year after year, allowing them to have more stability in planning."
Saxbys is also committed to being transparent about its sourcing and the components of its blends. "We publish exactly what coffee is in each blend and where it came from for each of our coffees," Bayer said. "Sharing our supply chain and blend information is not a common practice, but we believe that our guests like the aspect of traceability. It also gives credit to the hard-working coffee producers that make all of this possible."
And it means university partners can feel comfortable knowing they're working with a company that empowers its coffee growers in faraway lands as well as its student team members in the ELP environment—and the local community, too. In addition to providing scholarships and fellowship funds to students from all backgrounds, Saxbys has ongoing partnerships with organizations like Big Brothers Big Sisters, the Philadelphia Youth Network, Covenant House and the National Youth Foundation, to name a few. And the ELP cafés make a commitment to hiring under-resourced students—including those who live under the poverty line or who have experienced homelessness—as well as those from more privileged backgrounds.
In addition to its current partner schools, Smeriglio said Saxbys is open to expanding its network and working with other schools that offer the right fit. They can contact Smeriglio directly via email at ray@hellosaxbys.com or by phone at (717) 599-8249. "We absolutely love having conversations about partnerships with any school that's interested," Smeriglio said.