For students at Assumption High School, an all-girls Catholic school in Louisville, Ky., community service isn't exactly performed on a volunteer basis. It's built into the school's Christian mission. Fortunately, Shayla Roberts-Long, soon to be a sophomore at Sullivan Foundation partner school Berea College and a recent Ignite Retreat attendee, needed little coercion. She took to it like an eagle takes to flying.
She was right in her element.
As high schoolers, Roberts-Long and her friend, Katelyn Johnston, spent hours picking up trash in their neighborhoods, but there was always more to be done. They soon brought in other students to help and founded Clean4Change, a nonprofit focused on sustainability and taking action on climate change. As they look to grow Clean4Change, Roberts-Long brought the concept to the Spring 2022 Ignite Retreat, held April 1-3 in Staunton, Va., and won 3rd place in the event's pitch competition.
Related: Ignite Retreat's Hebron Mekuria develops business plan to bring children's books to her native Ethiopia
Majoring in Peace and Social Justice Studies at Berea, Roberts-Long has big plans for Clean4Change. Meanwhile, she and Johnston hope to inspire other young changemakers across Kentucky—and the entire U.S.—with a Virtual Town Hall meeting taking place at 8 p.m. (ET), April 25. Here, she tells us more about her own roots as a changemaker, Clean4Change's origin story, and how she hopes to see it grow into a larger movement in the future.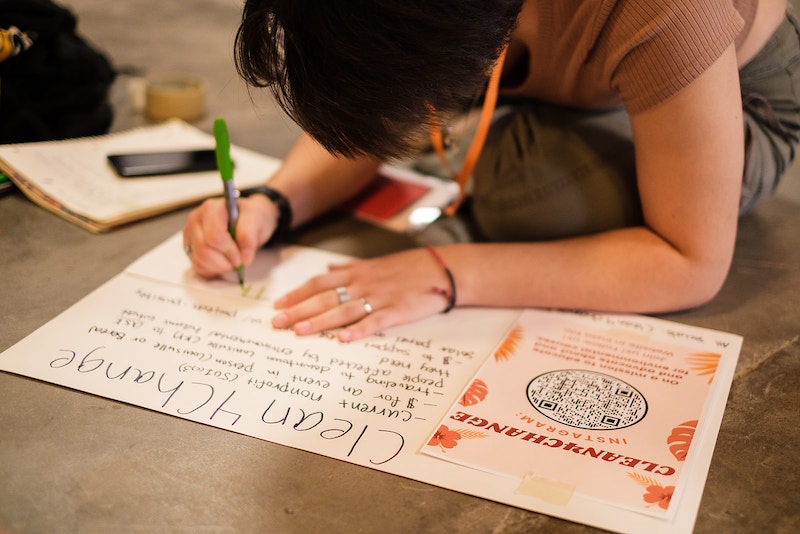 Q: Can you tell us more about Clean4Change? How did it get started and why?
Roberts-Long: I started Clean4Change with my co-founder Katelyn Johnston [a soon-to-be sophomore at Western Kentucky University]. We started this group out of inspiration from the organization Lead4Change. We started working on Clean4Change in the second semester of our junior year at Assumption High School, and then we launched our group a year later, in our senior year [during COVID]. Katelyn was one of the only people I saw outside of my immediate family and vice versa. We lived very close to each other and before we started Clean4Change, we were picking up trash together in our neighborhoods. We always had fun together and were successful, but we realized that we would spend hours picking up trash, disinfecting, and sorting through it to recycle what we had gathered. We needed more people to really clean up our community, and thus, Clean4Change was born. Since then, we have found funding, are an official nonprofit, and gather more members along the way.
Q: Clearly you are passionate about the environment? How did this passion develop in your life?
Roberts-Long: I would credit my love for the Earth to my high school and the teachers I had in school. I was raised in a family that cares about the Earth, but it wasn't talked about. My extended family owns a farm in Kentucky, and we all take pride in it, but I never remember having discussions about being stewards of the Earth—partly because for a number of years I lived in Orange, Texas. My high school really blossomed a love of service to the Earth and to people on the Earth.
Assumption required every student to have a certain number of service hours, so in a way, I was at first forced to help my community, but then I found the deep value in doing service work of all kinds. I volunteered whenever I was able, was incredibly active in my school, and in my senior year, formed Clean4Change, with Katelyn by my side. In my junior year, I was chosen to be a Fair Trade Ambassador with Just Creations, a fair trade store in Louisville, and that blossomed my love for fair trade and for equitable jobs and living wages for all people.
Related: Spring 2022 Ignite Retreat breaks record with largest-ever group of changemakers
Q: What exactly does Clean4Change do, and what are your goals for it?
Roberts-Long: Clean4Change started with a focus purely on park cleanups. We were concerned with doing that direct-action work because that was what Katelyn and I had been doing on our own. But we started to turn into an organization that wanted to address a lot more than that.
We have a strong focus on education and making information accessible to people everywhere. Learning about climate change, or about how to be sustainable, is a really overwhelming topic. Our Earth's future depends on the actions that governments, companies, and countries make within the next few years, and, to put it frankly, that's scary. It isn't hopeless, though. Clean4Change wants to teach people that we have the power to hold these power structures accountable.
Every Sunday, we post a "Sustainable Sunday" on our Instagram—a small post on any topic concerning the environment. We do research, make it pretty, and then share it with others. We also host events that teach people how to contact legislators, bring trash cleanup supplies, and encourage a connection with nature. We hope to connect with other organizations and plug into programs they are offering to create a network of support where we can make real, tangible change.
Our ultimate goal is to help people by helping the planet. Humans, mostly vulnerable communities who don't contribute very much to the world's greenhouse gases, are being hurt by climate change (and other environmental harms) constantly. Hurricanes are worsening, high levels of pollution are contributing to higher asthma rates, cities are sinking, and the list goes on. Climate change is a human issue, and we want to address climate change aggressively to help the Earth and the people on it.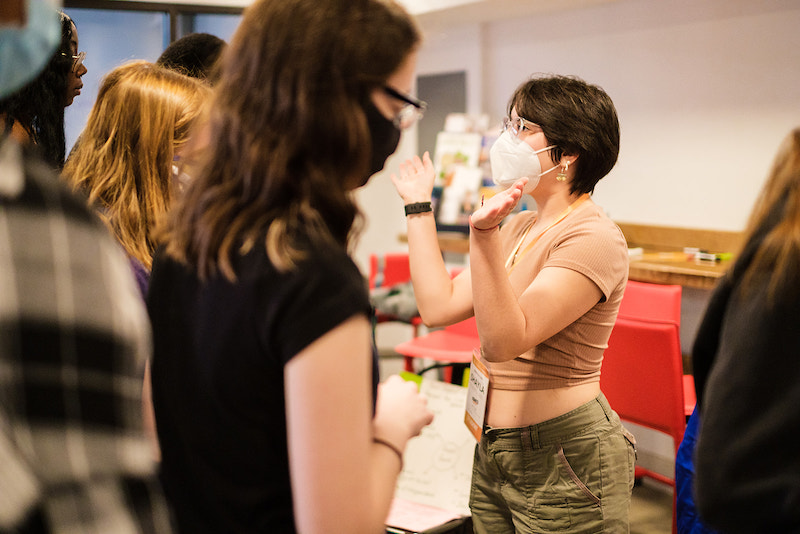 Q: Tell us about your upcoming Virtual Town Hall.
Roberts-Long: This will be our very first Town Hall! It will be on Zoom on April 25 at 8 p.m. ET. The topic is how individuals can be sustainable, so we will be teaching ways to live sustainably, as well as addressing the fact that climate change is not our fault. Individual people living their lives normally aren't the biggest polluters—it's huge companies and the extremely wealthy owners of these companies who are contributing to the pollution.
With this Town Hall, we hope to ease the guilt that people may feel about our worsening climate and encourage hope for the future by giving people creative ways to be sustainable. Not only will some of these actions—composting, gardening, creating a no-mow lawn—lower one's carbon footprint, but it may give them a fun hobby, too! We aren't environmentalists who believe in blaming people for living in a society that forces them to pollute in their everyday lives. We simply want to work with the leaders of this society to change this cycle.
Click here to sign up and attend Clean4Change's free Virtual Town Hall on April 25. 
Q: Will Clean4Change be a career for you? How do you want it to grow in the coming years?
Roberts-Long: If I can find a way for Clean4Change to be my career, I absolutely will. It's my passion, and I never get tired of working on it. If I'm not able to make a living through Clean4Change, then I will be working with some other nonprofit or activist group. Until then, I would love to continue to see it grow.
Followers are huge—it isn't just about the members that have jobs to do in the organization, but it's also important to have social media followers and people who are committed to coming to events. As I said, a good chunk of our work is based on education through social media, and if no one is following us, we have no one to educate. Within the last few months, we have been growing pretty rapidly. We keep getting new members, and that's really exciting. We are always looking for more people to be a part of our team and contribute any time or talents they can.
Q: Climate change just keeps getting worse, and many of our political leaders don't seem to care. From your perspective as a young changemaker, how do we solve this problem of poor leadership and inaction? And what role will the next generation play?
Roberts-Long: Part of why we focus so much on education is to educate ourselves. We're young people, and we don't know everything. Doing our research on different topics related to climate change is our way of learning as much as possible so that we can share that information and make changes with the knowledge we have gathered.
I think that the role of this next generation in the fight against climate change is holding leaders accountable and making them listen. For so long, governments have pushed aside the issue of climate change, and now, the people most vulnerable in the world are looking climate change in the face. This issue is a hard one to solve, and Clean4Change is still finding its place in the legislative side of addressing climate change. One thing is for sure, though: We're going to fight hard for our planet and all the people that inhabit it.
Q: Finally, can you tell us about your Ignite Retreat experience and how it helped further your goals for Clean4Change?
Roberts-Long: My Ignite Retreat experience was amazing. I haven't been to an event anywhere near that since before the COVID pandemic, and more than anything, it helped me find the extrovert in me again. It was just the environment that I needed to be in, filled with ambitious young people finding their place, their voice, and their people. I was able to meet so many amazing changemakers and a lot of great coaches that have helped me with my nonprofit even after the retreat. I hope to return again and continue to learn all I can.
While I was there, I received funding for my nonprofit, and I learned a lot about how to be successful in running a nonprofit like mine. For example, I learned the importance of personal connection, especially over social media. I learned more about how to talk with and about communities suffering from any injustice, and I learned so many more skills along the way. My retreat experience was truly amazing.