Rollins professors on "changing the world one student at a time"
by Tonia Warnecke and Michelle Stecker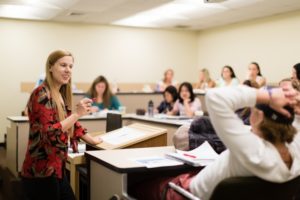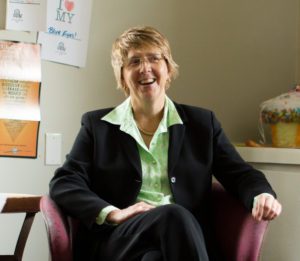 Top: Tonia Warnecke
Bottom: Michelle Stecker
What is a college to do? Students are passionate about changing the world, their parents are demanding a "pragmatic" education, and employers need graduates equipped for the demands of a 21st-century workplace. The answer to this million-dollar question at Rollins College is social entrepreneurship—an emerging field that is taking the academy by storm.
The first social entrepreneurship class was taught at Harvard University in 1993, but the field is quickly capturing the hearts and minds of millennials and their parents. Social entrepreneurship provides innovative and sustainable solutions to some of the world's most complex problems.
In 2013, Rollins College founded the first social entrepreneurship major in the world that is accredited by the Association to Advance Collegiate Schools of Business, the hallmark of top-quality business education. In the social entrepreneurship and business major, students learn to define root causes of intractable problems and use a solution-focused methodology called "design thinking" to innovate. They then build a business plan and proceed to finance and launch a for-profit business or sustainable non-profit enterprise. This builds upon the rich base of a well-rounded liberal arts education, and the new major is already one of the most popular.
Getting Started
 The history of social entrepreneurship and social innovation at Rollins long predates the inauguration of the major. The Social Entrepreneurship & Sustainability Initiative (renamed to the Social Innovation and Entrepreneurship Hub in 2015), formally launched in 2010 and based in the Crummer graduate business school, expanded campuswide as faculty, staff, and student interest grew.
After first emphasizing co-curricular opportunities related to social innovation, discussions soon shifted to the development of targeted social entrepreneurship education. Campus surveys in 2010 and 2013 indicated strong student interest in social entrepreneurship and increasing interest in related academic coursework and programs.
From there, our new Business & Social Entrepreneurship department was born, and the new social entrepreneurship and business major was created within it.
Our faculty—who have varied academic backgrounds including business, history, economics, law, communication, religion, education, environmental studies, sociology, psychology, anthropology, biology, political science, math, and philosophy—have been eager to offer a wide variety of courses for the new major and minor. Interdisciplinarity is critical because social entrepreneurship tackles diverse global challenges.
About the Major
The social entrepreneurship and business major aims to "position graduates to find or create careers that apply innovative, sustainable solutions to the world's most pressing challenges." The program focuses on interdisciplinarity, diversity, critical thinking, experiential learning, problem-based learning, and the development of both "hard" and "soft" skills. The major is divided into three parts: the business core, the social entrepreneurship core, and "impact track" electives.
In the business core, students engage with a full suite of business skill-building courses including accounting, economics, law and ethics, statistics, management, leadership, marketing, and finance. These courses were developed from scratch or overhauled to reflect the program's guiding themes: innovation, entrepreneurial thinking, and social responsibility.
In the introductory course, students learn the principles of design thinking for the first time. A required, intensive 5-hour workshop at the Florida Hospital Innovation Lab gives them hands-on practice in real-world problem solving.
The social entrepreneurship core provides targeted instruction about changemaking theory and skill-building. Emphasis on the creation of social value runs throughout the curriculum and students are exposed to non-profit, for-profit, and hybrid models of social enterprise, in addition to the concept of social intrapreneurship (using innovation within existing organizations).
"Impact track" electives enable students to explore several social issues or specialize in an area they are passionate about: the environment, health, development, race/ethnicity, education, poverty, gender, human rights, religion, peace/conflict, or inequality. In addition to normal coursework, students are required to participate in an immersive experience outside the classroom.
Worth the Journey
 It is a monumental task to create a new major and minor in an emerging field, but it has been well worth the effort. One of the keys to success is our interdisciplinary, high-performing team that is committed to changing the world one student at a time. An effective team serves as a liaison to the administration and other faculty, introduces new courses, and ultimately teaches those courses. Our team believes that "if you build it, they will come"—and so far, we have been right.