A hip-hop educator who teaches language arts through rap lyrics. A publishing prodigy who launched a successful girl-power magazine at 15. A master storyteller who has taught leadership development at companies like Nike and PepsiCo. The Sullivan Foundation's upcoming Spring 2020 Ignite Retreat has some heavy hitters in the lineup, and they've got a plan to inspire a new generation of college-student changemakers at the weekend-long event, taking place March 27-29 in Wake Forest, N.C.
The deadline to register for the Spring 2020 Ignite Retreat is Wednesday, March 11. Click here to learn more and to sign up.
Designed for college students with a passion for social change, the twice-yearly Ignite Retreats features exciting workshops, activities and opportunities to connect with a tribe of like-minded individuals who want to make a real difference in their communities, their country and their world. Over three days, a team of facilitators, coaches and conspirators lead the students on a journey to discover how they can change the world in a positive way—through social entrepreneurship, founding a nonprofit, launching a social-change project, or by simply cultivating their own leadership skills and creative talents.
Meet the Ignite Retreat facilitators: Jarren Small of Reading With a Rapper teaches ELA skills through hip-hop
The Ignite Retreat offers three workshop tracks:
Personal: For students who are still uncovering their calling and want to better understand their skills and passions, build self-confidence and explore the mindset of a social entrepreneur.
Problems: For those students who have a social issue or a set of problems they want to work on but don't know how to get involved, this workshop track helps them develop concrete and practical skills.

Project: This track is designed for students who want to dive deeply into a concrete solution, campus initiative, project or venture they're trying to bring to life.
Building a Leadership Team
This year's workshop leaders and presenters include Spud Marshall, founder of the co.space and innovation director of 3 Dots in State College, Penn.; Jasmine Babers, founder and CEO of Love Girls Magazine; Reagan Pugh, founding partner of Assemble; Jarren Small, cofounder of the Reading With a Rapper educational program based in Houston; Nicole Kelner, cofounder and COO of Coding Space and founder of Lemonaid; Josh Nadzam, cofounder and director of On the Move Art Studio in Lexington, Ky.; Adrienne Wright, executive director and CEO of U-Turn Sports in Richmond, Va.; Jason Reed, founder of Reach USA; Danielle Espiritu, learning success director of WeThrive; and Abu Fofanah, founder of Power Your Launch Marketing Accelerator.
Marshall puts together the roster of Ignite Retreat facilitators and coaches for each event. "We look for emerging leaders across the country pioneering novel solutions to a wide array of problems," Marshall said. "Our hope is that the leadership team that the students get to meet during the retreat will give them an exciting array of possible career paths and approaches they may apply to their own journeys."
Meet the Ignite Retreat Facilitators: Love Girls Magazine founder Jasmine Babers shines spotlight on "everyday girls"
"Some of our coaches have started million dollar companies, some are working on grassroots and small-scale nonprofits," Marshall added. "Others tackle challenges through public policy, while still others work through school systems or private enterprise. I'm particularly excited about the team we've assembled for the Spring 2020 Ignite Retreat. This group represents some of the folks I most respect and admire in the social change space, and it will be a humbling opportunity to spend a weekend together with nearly 100 college students."
The Ignite Retreat: A Life-Changing Experience for College Students
College students who have attended past Ignite Retreats often describe them as life-changing experiences. "The Ignite Retreat demonstrated unapologetic and honest empowerment of youth by unlocking the passions and curiosities of both extroverts and introverts alike," said Jonathan Molai, a 2019 graduate of Campbell University and attendee of multiple Ignite Retreats and social entrepreneurship field trips sponsored by the Sullivan Foundation. "It was truly amazing to see how much each individual had grown by the end of the retreat."
Related: Jonathan Molai: "My life was forever changed" by the Sullivan Foundation Ignite Retreats
Many of the student attendees arrive with ideas for personal changemaking projects that need some fleshing out. For example, Haleh Ghaffari, a student at Randolph Macon College, wants to use journaling to help promote mental health at her old high school. She has been keeping a personal journal for years that includes quotes for people suffering from depression, anxiety or self-harm. "When I was in high school, I had a really bad living situation, and I felt just so alone in the world," she recalled. "The journal was a way to not feel so alone, to feel there was something good in the world [and to inspire] self-love. As I just kept going throughout the years, it kept getting bigger and bigger."
Ghaffari plans to work with her high school counselor to create a journaling project that starts with her own journal. "The counselor will give it to other people who have gone through the same thing, and then they will make their own journal and give it to the counselor," she said. Over time, future students will have access to these journals of former students who went through depression, anxiety and other mental-health issues. "To me, it's so important … to let other people know they're not alone," Ghaffari said. "I know what it's like, and I don't want other people to feel what I felt if they don't have to."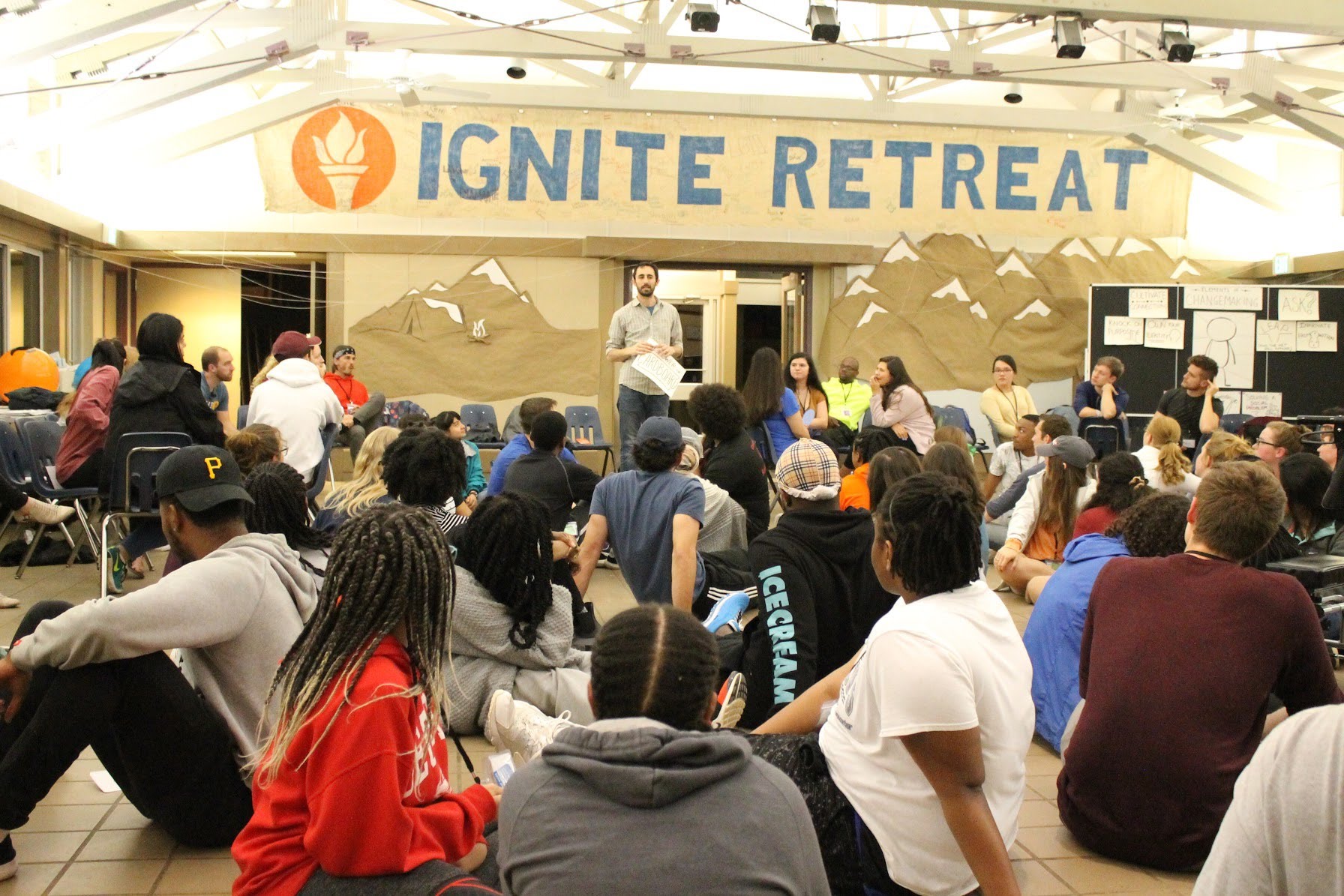 Blaise Gourley of North Carolina Wesleyan College already had a project underway before coming to the Fall 2019 retreat. He launched the IMPACT Wesleyan Business Society, a program for business school majors and minors, especially international students. "It focuses on practical skills that you might not learn in class as well as networking. We have guest speakers [from the business sector], peer-to-peer collaboration where you can present business ideas and get feedback, and practical projects that get you engaged in different activities that can be added to your portfolio."
Related: Ole Miss changemaker Cecilia Trotter learns to say yes to risks and new life experiences
Gourley said he liked the mix of people and perspectives that he encountered at the last Ignite Retreat. "Having an environment where people can collaborate without judging or comparing each other—that's one of the important keys," he said. "You can take other people's ideas as encouragement and inspiration rather than making [negative] comparisons and feeling bad because maybe you're not as far along as some others. Everyone's journey is different."
What's the best thing a newcomer will get out of the Ignite Retreat? "Looking at yourself and saying, 'I can make a difference,'" Gourley said. "From the Ignite Retreats, I've learned that the Sullivan Foundation is an organization that's making a difference in our youth, encouraging people to pursue their passions in a way that's going to contribute to a greater society. That's something I'm totally for."
Meet the Ignite Retreat facilitators: Reagan Pugh builds connections through storytelling