Years in the making, a new sculpture by Stephen Hayes, a professor at Sullivan Foundation partner school Duke University, was unveiled on Nov. 13 at the Cameron Art Museum in Wilmington, N.C. in honor of Black soldiers in the Civil War.
The museum was the site of the Battle of Forks Road, a Civil War skirmish whose victory was won by the United States Colored Troops and led to the fall of Wilmington. Hayes, assistant professor of the practice of art, art history & visual studies at Duke, created "Boundless," a life-size bronze sculpture, from the cast features of eleven African-American men connected to the site and its story.
"As a Black man in America, you see the imagery of a Black person in chains, being whipped, begging, kneeling and helpless," Hayes recently told the Washington Post. "This project is important to me because, as a creator, I get to change that narrative—by giving Black soldiers a sense of honor and pride."
Related: Stunning works of racial justice art submitted for Duke University contest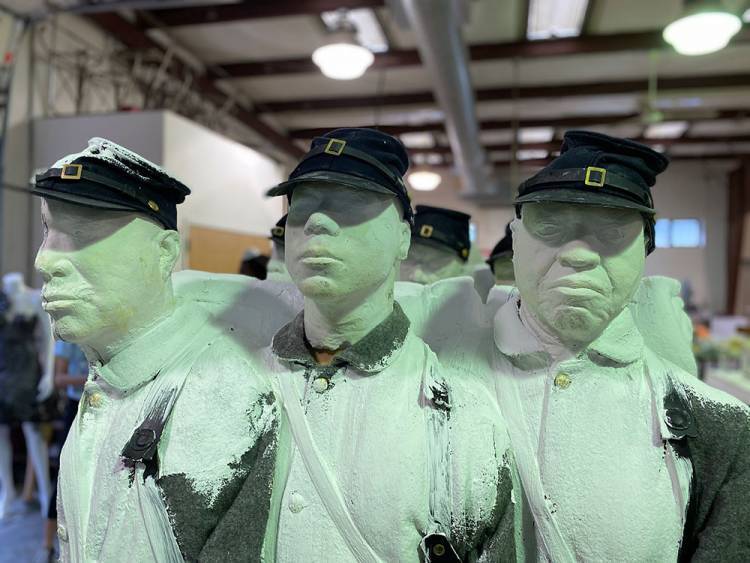 "If it brings a sense of healing, I welcome that," Hayes said. "At the end of the day, my art is here to create a conversation and allow people to speak out together."
"These men were here to fight for their freedom, but then also, where does it go today or in the future?" Hayes said in a separate interview with a Duke University staff member. "I was thinking: What if I cast a bust of the descendants of the soldiers and have them be a part of it, because it still creates that story of now and progress and seeing how far we've come? It's telling a story, and I'm also creating a place for relatives and family members to want to come to."
Hayes's work is also currently on view at the North Carolina Museum of Art, and he co-curated "Visual Vanguard: An Exhibition of Contemporary Black Carolina Artists" at the Harvey B. Gantt Center for African-American Arts + Culture.

This article has been edited slightly from the original version appearing on the Duke University website.