Puppies are cute, but a puppy in a bowtie? That's irresistible, and no one understands that better than 12-year-old Darius Brown, founder of Beaux and Paws in Newark, New Jersey.
According to Points of Light, the young entrepreneur hit upon the idea for his social enterprise in 2017, as he watched TV coverage of Hurricanes Harvey and Irma and the devastation they wrought in Texas and Florida. Among the victims were countless dogs, cats and other animals left homeless and in dire need of adoption. As overcrowded shelters struggled to find new forever homes for the animals—and were forced to consider euthanasia—Darius turned to his trusty sewing machine for the solution. He started making handcrafted bowties specifically for shelter animals to make them more appealing in the adoption process.
"My hope was that I would help the animals get noticed and be fashionable so that I could help them get adopted faster and find their safe, loving forever homes," Darius told Points of Light.
Darius has since sewn hundreds of bowties for dogs, cats, puppies and kittens awaiting adoption in shelters—and the national media has taken notice of his hard work. He was featured on NBC's Today Show in July. He has also appeared on CNN, the Rachael Ray Show and ABC World News Now as well as in People Magazine and the New York Post, among other media accolades.
Not many kids his age even know how to work a sewing machine, much less design and create stylish accoutrements. For Darius, learning to sew was a necessity. When he was two years old, he was diagnosed with speech delay, comprehension delay and fine motor skills delay. With help from his mother and older sister, Dazhai, he improved his fine motor skills by sewing and, over time, overcame the issues with comprehension and speech as well.
It helped that Dazhai was attending cosmetology school at the time and learning how to make hair ribbons for girls. "With his fine motor skills, (Darius) wasn't able to really use his hands very well—tying a shoe was challenging," Dazhai told Today. "My mother and I came up with the idea that if he helped us with things like prepping the ribbon or cutting it and sewing fabric together, it would help him. And it did. It worked!"
"I just feel like all this was God's will," his mother, Joy Brown, told Points of Light. "Him learning how to sew and his hands making the bowties, it developed his coordination, and it's like there's no problem, like nothing was ever wrong."
Darius also started wearing the dapper bowties himself out in public, prompting people on the street to ask where they could buy them. He founded Beaux and Paws in 2017 and offers bowties for sale to people and their pets. Profits from those sales help him purchase materials to make more bowties for shelters, and he also donates a portion of every sale to the ASPCA. Meanwhile, his ongoing GoFundMe campaign, "Sir Darius' PAW-some Mission," started with a goal of $10,000 and has raised more than $19,000 so far, with donations still pouring in. Darius uses the money to visit other states and volunteer at shelters and adoption centers while outfitting homeless animals in snazzy bowties everywhere he goes.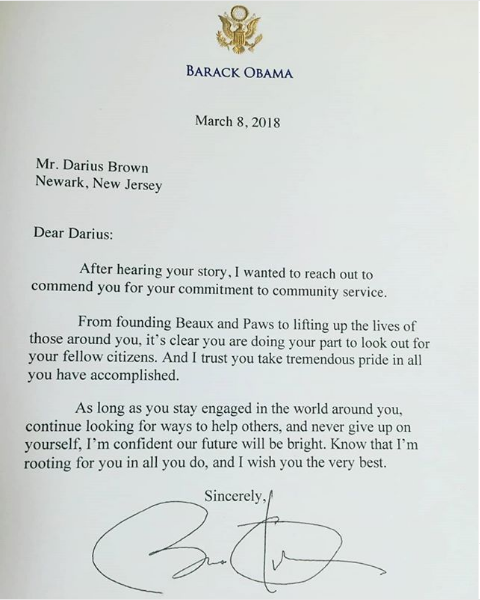 Darius' Instagram account has more than 52,000 followers, while his company's Facebook page has 4,400 followers. He even received a letter from President Obama in 2018 commending him for "lifting up the lives of those around you."
His next goal: He'd like to own a dog of his own, but pets aren't allowed in the building where he lives. Over the long term, he wants to attend Stanford University and become a business attorney while continuing as a fashion innovator. "I want to have my own clothing line, such as blazers, vests, bowties, shirts, everything," Darius told Points of Light. "I hope that I can expand my business into an empire."