Three Sullivan Foundation partner schools in South Carolina—Clemson University, The Citadel and Winthrop University—have been working together to help more teachers earn their Doctorate of Education (Ed.D).
The three universities, along with Coastal Carolina University, partnered in 2018 to establish the Consortium for Innovative Educational Practice. The consortium aims to improve student outcomes by addressing ongoing, critical educational issues in the state through research initiatives.
The program's first group of students (pictured above) started class in the summer of 2018.
Related: Honors student who fed thousands and rape survivor advocate receive Algernon Sydney Sullivan Awards at The Citadel
Students completing Ed.S. programs at any of the four institutions will graduate with prerequisite courses for Clemson's Ed.D., which speeds up their time of completion. Clemson delivers the Ed.D. program in several formats—including online and hybrid—at off-campus sites across the state. The consortium has geared the program to part-time students and full-time employees who wish to remain in the school or practice setting.
"Earning a doctorate in education is the pinnacle of professional development for teachers," said Lee Westberry, a professor and the program coordinator for education leadership at The Citadel. "In addition to personal growth, earning an Ed.D. creates many new and practical opportunities in a variety of educational career paths."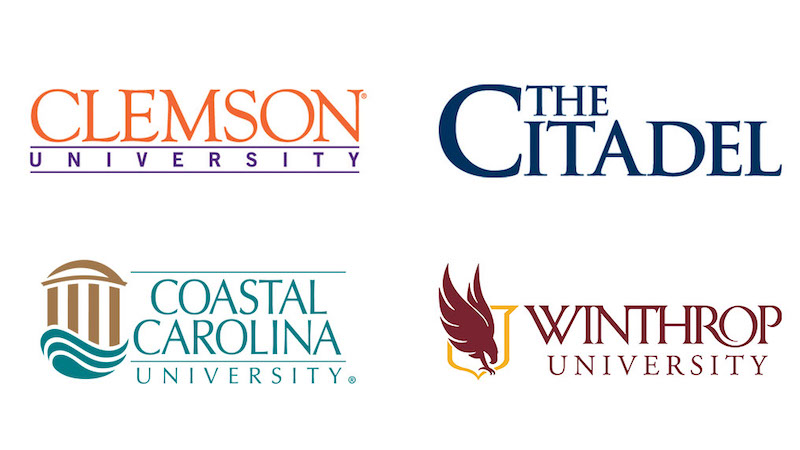 The consortium will benefit teachers and schools across the state, said George J. Petersen, founding dean of Clemson's College of Education, when the program was announced. "Together we will work to solve real and persistent issues in districts, schools and classrooms," he said. "South Carolina's children and communities will be the ultimate beneficiaries of this dynamic, collaborative and innovative program."
In each of the three years since the partnership was formed, Citadel graduates have made up much, if not most, of the students in the group. In fact, more than half of the newest Ed.D. students are from The Citadel.
"I have found myself reflecting on how the Ed.S. program has flowed seamlessly into Clemson's Ed.D. to continue my own growth as I pursue my goals," said Kevin Smith, an Ed.S. graduate from The Citadel. "I highly recommend those who are interested in making an impact to invest their time with the committed faculty of The Citadel's Ed.S. program. I believe it is the right choice for those who desire, like me, to be an educational leader of consequence."
Related: Shepherd Hotel in Clemson, S.C. to employ special-needs adults in 2021
According to Westberry, an Ed.S. is required to work as a superintendent, the highest-ranking education official. But an Ed.D. is for something more.
The Citadel's Ed.S. in Educational Leadership offers teachers an advanced graduate degree, between a master's and a doctoral, that prepares them as candidates for certification at the superintendent level. Clemson's Ed.D. program offers teachers the theoretical and practical knowledge and research skills they need to be educational leaders.
According to Jennie F. Rakestraw, dean of Winthrop University's College of Education, every new dissertation in the program brings the chance for a new, innovative solution to a problem of education practice. She said the partnership provides a structure to address educational issues witnessed in the state through jointly-designed graduate programs, research and advocacy initiatives.
"My hope is that all of South Carolina's schools, districts and communities acquire the educational leaders they need to bring about change and that young people around the state experience the educational opportunities and success they deserve," Rakestraw said. "We hope to reach historically underserved areas of the state and bring a new collaborative approach to solving educational problems."
This article has been edited from two stories appearing here and here on The Citadel's website.