America's independent farmers don't have it easy. We're talking long hours, backbreaking work, toiling in the hot sun or the bone-freezing rain. You get dirty, you sweat a lot, and, when you're dealing with livestock, you might go home at night smelling just a little bit funky. Not to mention a spell of bad weather at the wrong time can ruin everything.
Talk about building character.
At Sullivan Foundation partner school Warren Wilson College, many students do that kind of work anyway and learn a lot in the process. The Warren Wilson Farm has been thriving since it was founded in 1894, worked and supported by a student crew and current farm manager Blair Thompson. It's a "living classroom" sprawling across 275 carefully managed acres, replete with cattle, sheep, pigs, chickens—you name it.
"The work is never mundane," said one student, Georgia Ackerman, in a testimonial on the farm's web page. "The puzzles that we face every day entertain our lives with necessary and real challenges. In my mind, there's no better way to connect to one's place than by putting in the effort to grow food holistically and resiliently."
Related: Is insect agriculture key to the future of sustainable farming?
Located in the Swannanoa Valley near Asheville, N.C., the farm is a mixed crop and livestock operation specializing in grass-fed and grass-finished beef and lamb, pasture-raised pork and pastured poultry, plus corn and barley. Many of the farm's products are sold at Asheville's ASAP Farmers Market and in bulk packages and retail cuts through an online store. The meats can also be purchased by farm-to-fork restaurant owners looking to highlight locally or regionally harvested proteins on their menu.
"Their standards are very much in line with what we are committed to bring to the market," Kate Hanford, manager of the ASAP Farmers Market, said in a 2020 interview with Mountain Xpress. "It's a great program, and we love that students come to the market and work the booth."
Above all, the farm is a teaching farm for students interested in pursuing careers in sustainable farming. Warren Wilson College has sent many young farmers out into the real world, teaching them how to deal with all aspects of the business, from maintaining equipment to marketing the products and mastering sustainable agriculture techniques.
"The bottom line for us is getting new farmers and new land managers trained up," Thompson told Mountain Xpress. "This is a way to support that mission."
Students on the farm crew have to care for, feed and move roughly 65 brood cows, 20 brood sows, 750 broilers and 300 laying hens. They plant and harvest the corn, barley and hay crops, learn to manage the crops and the pasture, repair fences, and renovate old buildings. They also get veterinary experience, from delivering newborn animals to giving shots and diagnosing and solving health problems.
Related: This Sullivan Foundation partner school makes its own vino to help the wine industry.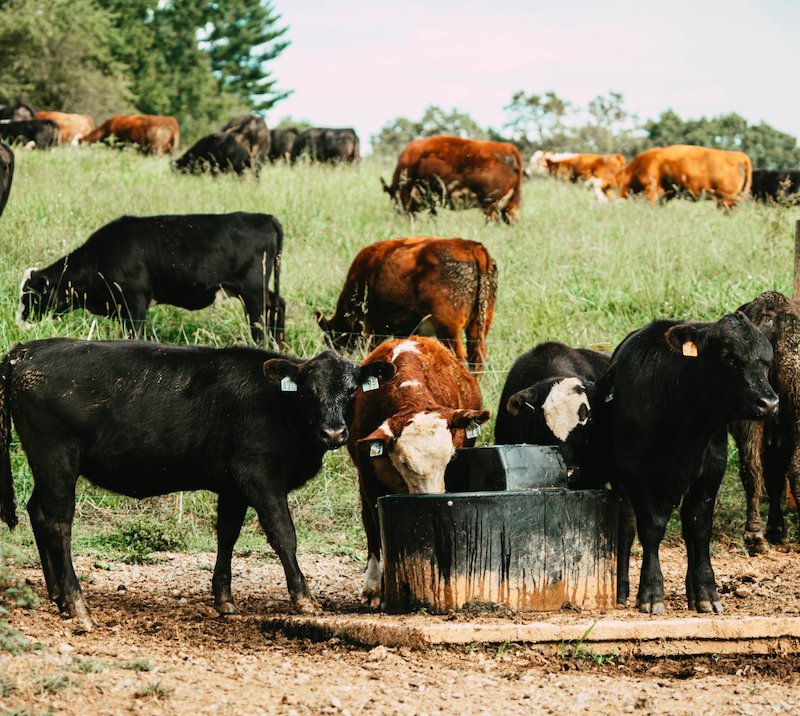 Learning outcomes at the Warren Wilson College Farm include: dependability, integrity, initiative, analytical thinking, communication skills, collaboration and appreciation of the value of hard work.
Asher Wright, a 2008 Warren Wilson college graduate, preceded Thompson as the farm's manager. When Wright took the position in 2016, he told the Citizen Times that he joined the farm crew as an undergraduate and fell in love with the college. "I was a little green," he said. "I didn't know the front end of a cow from the back end."
"Ecological agriculture systems are in dire need around the world," Wright said at the time. "The college is a part of this dialogue, a dialogue that is happening at a critical time in history. We need to make sure we stay in the conversation and continue to be leaders and innovators in this field."
Thompson took over the farm manager role in 2020 and has been working in the regenerative and sustainable agricultural field since 2006.
Working under Thompson, Ackerman said the farm "fosters an invaluable learning experience." She added, "All workers, regardless of gender, age, wealth, experience and background, are given agency on the farm, which gives them power, confidence and motivation.
"Working on the farm has taught me how much of a difference it makes when you really love the work that you are doing," noted Thomas Smythe, another farm crew member. "[You're] not working just to meet required hours or to earn pay but because you believe in what you're doing. [You're] taking pride in every project because the thought of contributing to the bigger picture is such an empowering image."