Social innovators Tessa Zimmerman of ASSET Education and Ajax Jackson of Magnolia Yoga Studio will be the next guests on the Sullivan Foundation's new live-streamed webinar series, "Navigating the Unknown." Zimmerman and Jackson will speak with Spud Marshall, the Sullivan Foundation's director of student engagement, from 5-6 p.m. (ET), Friday, March 27. The webinar will be hosted on Zoom and streamed on Facebook Live.
Details for joining the call can be found on the Sullivan Foundation's Facebook Event Page.  You can join the Zoom call at https://zoom.us/j/399894174 at the appropriate time.
The Sullivan Foundation launched the "Navigating the Unknown" series in response to the coronavirus pandemic. The series addresses the challenges faced by social entrepreneurs, innovators and nonprofits as they guide their communities and clientele through the health crisis. Each call features two social entrepreneurs or innovators from the Sullivan Foundation's Speakers Bureau, who share how they are responding to the pandemic in their communities and through their work. They also discuss the challenges they've faced and the challenges they've overcome as social innovators and changemakers.
Tessa Zimmerman, who suffered extreme anxiety in the classroom as a youth, founded ASSET Education in 2016. ASSET equips teachers with a curriculum of concrete tools to help their students reduce stress and build resilience. Composed of three modules—Mindfulness, Positive Psychology and Positive Self-Talk—the program ensures that all students walk away by the end of the academic year with at least one new stress-reducing tool that works for them.
Ajax Jackson (pictured at top) founded Magnolia Yoga Studio as New Orleans' first black-owned yoga studio. The studio's mission is to support growth, healing and empowerment through the art and science of hot yoga and community. Jackson works with her clients to develop and strengthen life skills such as courage, patience and intuition through yoga.
The first webinar in the "Navigating the Unknown" series was held on Wednesday, March 25. It featured Tony Weaver, Jr., founder of Weird Enough Productions, and Jasmine Babers, founder of Love Girls Magazine.
Featured entrepreneurs and schedules for upcoming webinars are listed below. Many of the guests were scheduled to speak or lead workshops at the Sullivan Foundation's Spring 2020 Ignite Retreat—a twice-yearly event for college students with a passion for social entrepreneurship and community service—until the event had to be canceled due to the rapid spread of the coronavirus.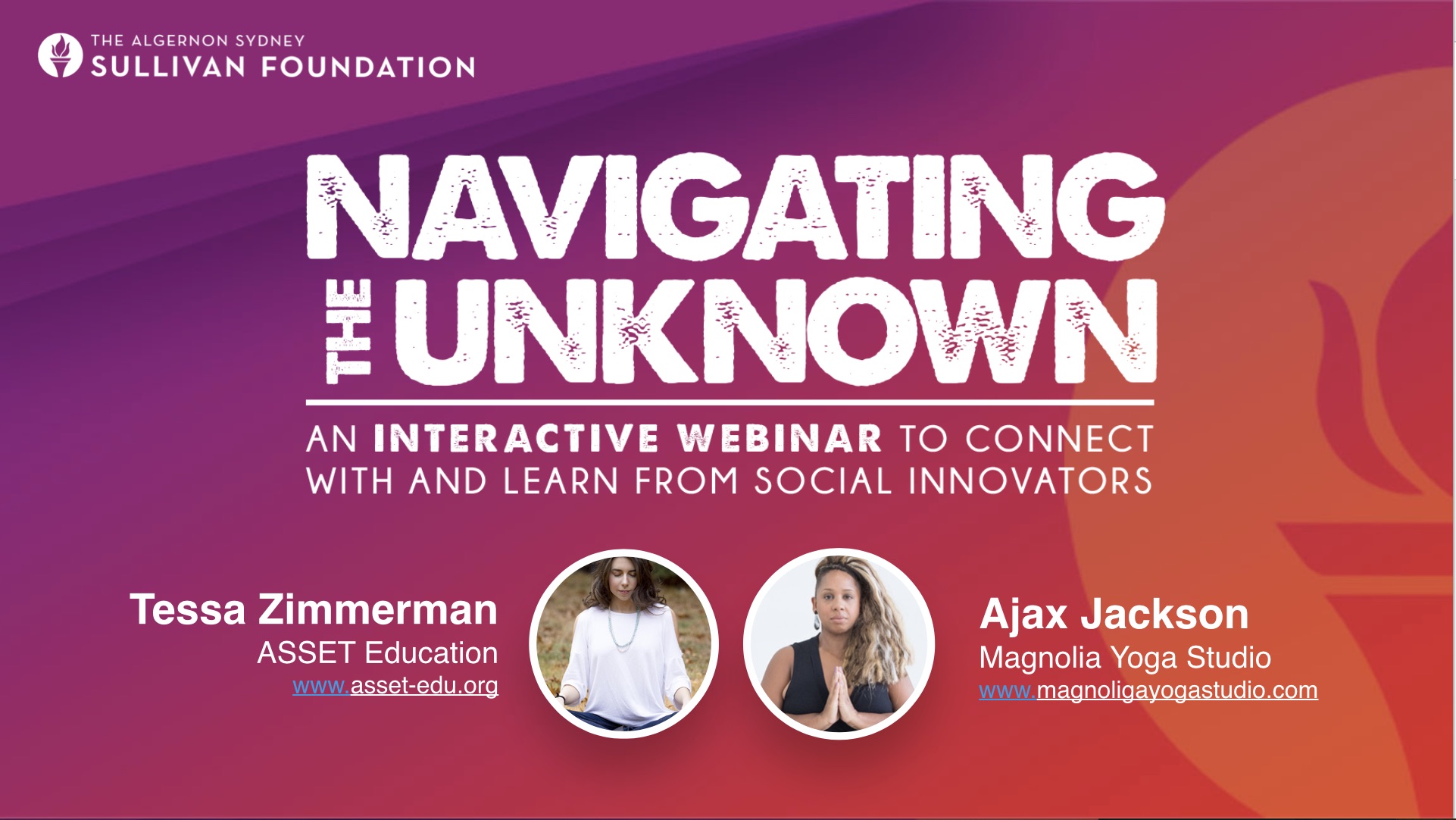 Through the "Navigating the Unknown" webinar series, college students, faculty/staff members and other members of the social enterprise sector will have the opportunity to connect with and learn from these leading social innovators. No previous affiliation with the Sullivan Foundation or its programming is required to view or participate in the call.
All webinars will be recorded and uploaded to the Sullivan Foundation's website at www.sullivanfdn.org/webinar for later reference.
Additional dates and speakers will be announced over the next few weeks, Marshall said. The schedule thus far is as follows:
Fri, March 27, from 5-6 p.m. ET
Tessa Zimmerman of ASSET 
Ajax Jackson of Magnolia Yoga
Wed, April 1, from 12-1 p.m. ET
Josh Nadzam of On the Move Art Studio
Abhinav Khanal of Bean Voyage
Fri, April 3, from 5-6 p.m. ET
Reagan Pugh of Assemble
Dustin Betz of Founders Institute