By Meagan Harkins
In her first job as an intern at the national headquarters of Cracker Barrel, Amanda Cothron Arseneau, a 1999 recipient of the Algernon Sydney Sullivan Award at Cumberland University, served the company wherever she was needed—even to the point of dressing as a jellybean at a company picnic. "That's how I got my foot in the door, and I wound up in a junior analyst position," Arseneau recalled.
But in the coming decade, the ambitious Arseneau, who is now happily self-employed in her hometown of Gallatin, Tenn., nearly worked herself to death. She has since learned to take it easy on herself, she said, and to do her part to make life a little easier for others through volunteerism, a calling she has felt since she was a kid.
Ironically, her new life began with a return to her old life and her girlhood love for collectible My Little Pony toys.
Related: The wonderful, wonderful life of Anne Matthews
That new life, of course, didn't come easily. By the time Arseneau had earned her masters degree from Cumberland University in 2001, she was already a year into her position as a restaurant analyst. From there, her career in corporate finance and information technology took her to the Coca-Cola Bottling Company Consolidated, Sumner Regional Health Systems and Dollar General. Her work included sales unit analysis, database administration and planograming, a technique for determining how and where specific retail products should be placed on shelves or displays to increase sales.
Sumner Regional, headquartered in Gallatin, was her favorite job. "It felt like coming home," Arseneau recalled. She'd previously spent her childhood there as a volunteer, directing people at the desk, helping with purchase orders and visiting patients. She later volunteered as a marketing intern for Sumner Regional during college.
But the corporate life just wasn't for her. "I climbed pretty high, but I was also becoming disenfranchised with corporate entities," Arseneau said. "I don't like people being treated unfairly. Any kind of injustice just brings out this fire in me, and it was being brought out a lot."
Eventually, Arseneau began experimenting with other jobs to decide what kind of environment she preferred. Today she runs a successful eBay store—Amanda's Treasure Dungeon—geared toward collectors and creates and sells commissioned artwork.
After years away from the corporate office, she remains grateful for what she learned from those experiences, including teamwork, balancing opinions and personalities, effectively presenting ideas, decision making, budgeting time, and honoring deadlines. "I've carried that over into what I do now, but I have a lot more freedom," Arseneau said. "That opened my eyes to things not having to be so rigid sometimes. There can be more of a workflow, appreciation for people's schedules, a little bit more creativity."
"You may think you have to put your creativity on the back burner to fit into a certain mold, but you can let it out," she added. "It has value. Even if you stay in that corporate environment, let it out a little bit. I look back at some opportunities that I missed because I thought I had to stay in that perfect mold, that I couldn't let the creativity come out in that. There were some places where I probably missed some opportunities—if I had only felt enough confidence to do that."
Related: Danielle Biggs: "Lean into your truest self and lead out loud!"
Creating Balance
Confidence didn't always come easily to Arseneau as a kid. She grew up with generalized anxiety disorder, which she describes as being nervous about something at every moment of every day. "There's no rest," she said. "There's only so long your body can do that for." One day, in fact, she found herself in the emergency room, worried that she was having a heart attack. All of that anxiety had taken a physical toll on her body. "I didn't have enough adrenaline to live on," she said. "I used it all up in this constant fight-or-flight kind of state."
Arseneau had entered the corporate world immediately after college because it seemed like the logical next step. "I had no work-life balance at that point—it was all work. I found myself bringing it home at night. With that anxiety condition, I would not let it go. It was, frankly, just making me sick."
From this experience, Arseneau learned that too much work can be crippling—it can't be allowed to consume your life. People who work long hours, she noted, "are missing what's really important. I mean, you shouldn't live to work. You should work to live."
After becoming self-employed and learning to manage her anxiety with medications and lifestyle changes, Arseneau gained a new perspective on life. "I'm clearer now, so I find myself wanting to help people still in that environment, navigating what they're going through," she said. "Find and demand a work-life balance. You will have to make some sacrifices, but don't let a career take over your world."
My Little Ponies
So how did Arseneau end up launching her online business and striking that balance? She grew up playing with My Little Ponies—the original G1 ponies were her favorites. Arseneau rediscovered her beloved toys in 2007. Dusting off her old collection, she began purchasing new pieces to create finished sets. Since she often had to order the toys in bulk to add just one piece to her collection, she began reselling the extra items. Over time, she got better at cleaning up, restoring and reselling them for a profit. Now Arseneau goes to yard sales to find vintage My Little Ponies and refurbishes them to sell to collectors, primarily overseas, on eBay. "It was kind of an accident, the way I fell into it," she said.
"I believe salvaging and restoring old items is important in remembering our culture and families," Arseneau said. "They keep us connected to the past, and I believe that's important in preparing and succeeding in the future."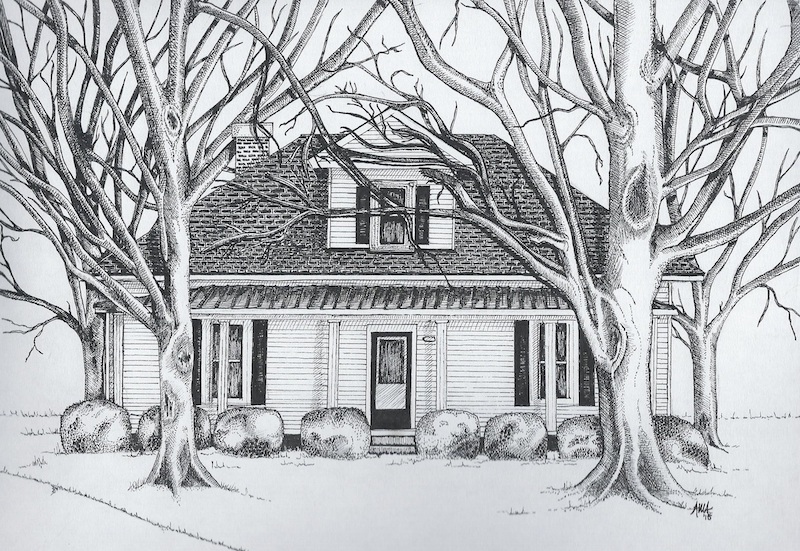 In addition to playing with My Little Ponies, Arseneau spent her childhood drawing, especially when she volunteered at the hospital. She began selling her artwork in high school and has circled back to that passion today. Requests for commissioned artwork have led to her own Facebook page and Etsy store. After being given a photo from the customer, she recreates it with pen and black ink, creating stunning pieces that preserve clients' favorite places and memories for a lifetime.
Related: The church and the classroom are holy places for Dr. Ray Penn
The Right College Atmosphere
Her time at Cumberland University gave her the opportunity to blossom as an artist even while preparing for a corporate career. The university felt like a natural fit, as she wanted to live at home, save money and stay near her parents. She was a business major with minors in accounting and computer information systems, but the artistic teen paid her way through school with choral and theater scholarships.
Arseneau had been involved in musical theater since the second grade, first performing in a snowman suit as Happy the Snowman. "When I sing or do theater, I don't want to do it in front of one or two people," she said, noting she couldn't even look at her mother when practicing for a play as a child. "But in front of crowds, I have no fear. It was just getting to fully immerse in that fictional character and bring it to life."
She was extremely active on campus. She performed with the Phoenix Players, University Singers and Cumberland Chorale and served the Fine Arts Alliance as secretary and treasurer. She was a member of Alpha Omicron Pi Women's Fraternity, Omicron Delta Kappa National Leadership Fraternity, Alpha Lambda Delta National Honor Society, Alpha Chi National Honor Society, Alpha Psi Omega Theater Honor Society, Sigma Beta Delta National Business Honor Society, and Phi Beta Lambda Business Fraternity, which she served as president.
"Cumberland changed me a lot," Arseneau said. "I was the really shy, smart, artsy girl in high school. Then, when I hit college, everything changed. I was suddenly sought after and recognized for the skills I had. It was the kind of atmosphere that I needed to grow into who I was going to be."
One day in the spring of her senior year, she sat doing her homework at the gazebo outside the administration building when an administrator walked up and told her she was being awarded the 1999 Algernon Sydney Sullivan Award. "It took me a minute to find out why they chose me," she said. "I was very humbled by it; I think I am to this day."
Arseneau loved Cumberland University so much that she stayed there to work on her MBA, this time on full scholarship with paid room and board. She also worked fulltime at Cracker Barrel, ran the box office, used her lunch hour to attend choir practice, participated in every musical, and took her classes at night.
In other words, she was never a stranger to hard work. But her later transition from corporate America to being her own boss felt both immediately freeing and awkward to Arseneau. The self-discipline it required was daunting at first, but she has learned to take advantage of and enjoy her weekends and vacations. Being self-employed has also given herself the flexibility to volunteer at local hospitals, animal shelters and horseback riding programs. In the summers, she volunteers at her church, painting sets for Vacation Bible School. "It's about using your talents where you can," she said.
Arseneau finds herself most impacted at a personal level by continuing to volunteer at the hospital, encountering countless staff members, patients and guests every day. "I learned to recognize people in need, and, over the years, I have developed a strong drive to obtain justice for those not able or willing to find it on their own," she said.
This servant-mindset came from watching her mom, Maxine Cothron, respond to the needs of her coworkers and friends. "I watched her be the person that everybody came to," Arseneau said. "She is just this person that you drift to. I saw that, and I saw that there was no hesitation [on her part] to help somebody, ever. The joy that she would give to people—I wanted to be that, to do that, to help people. There's maybe a little bit of selfishness because, when you help someone, you feel good."
In addition to running Amanda's Treasure Dungeon and her artwork, Arseneau, who has the full support of her husband, Matt, also spends her days writing speeches for individuals, preparing resumes, and helping with budgets. "There's no unhappiness with my job because I'm utilizing my skills to do what I love," she said. "There's not a day that goes by that I'm bored or want to do something different. Almost no one finds that perfect work position where you love to go to work every day, but I found that."
Arseneau spoke about the expectation to continue climbing the corporate ladder, seeking raises and loftier titles. "I want people to know that sometimes it's not about that. It's not about climbing the ladder. That may not be the place for you. You can still utilize those skills in other ways that make you much happier and help a lot more people doing it."