Spring is always a season of change, but the pandemic of Spring 2020 brought more changes than anyone could have anticipated. Here at the Sullivan Foundation, we were forced to make some difficult choices, reluctantly canceling our Ignite Retreat, Social Entrepreneurship Field Trip and Scotland Study Abroad adventure, among others, to protect the health and safety of our participants and staff. Like many others, we pivoted to virtual programming, including our well-received webinar series, "Navigating the Unknown," hosted by Spud Marshall and featuring leading social innovators from around the country.
The pandemic will continue to affect our partner schools in the coming months. Each school will adapt to the challenges and arrive at its own solutions. The Sullivan Foundation will unveil a number of online offerings for students, educators and social innovators as well as new opportunities for Sullivan alumni to become more involved in the foundation. One exciting development is the creation of the VentureSouth Sullivan angel investment group, designed to benefit students in the Sullivan network while allowing partner school faculty, staff and alumni to become members of the South's largest and most successful angel investment network.
Additionally, we will introduce our weekly Ignite Masterclass series of online workshops and networking sessions. Taught by social innovation leaders from around the country, each class features an expert mini-lecture on a specific social initiative and an opportunity for students to network with their peers at our partner schools, Sullivan coaches and other changemakers. We'll also introduce the Coaching Cohort series designed to enrich participants' personal growth, provide a deeper understanding of social problems they want to address and guide them along in developing their own social change projects.
Meanwhile, our website will feature new rich-media content with a strong educational and changemaking focus. And there's more new Sullivan programming to come—too much to cover in this limited space. The upcoming school year will be an unusual period of adjustment, but the past six months have demonstrated that unprecedented challenges create unprecedented opportunities for innovation, positive change and creativity. This issue of Engage focuses on some of those innovations and changemakers who have been making a difference in their own remarkable ways. I hope you will enjoy it and look forward to hearing from you as we keep moving boldly forward into the future.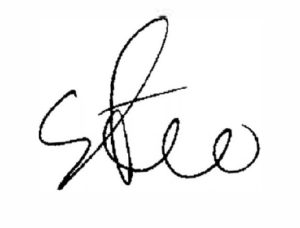 Steve McDavid
President, Algernon Sydney Sullivan Foundation